Soul, do you feel far way from God?
Do you know the comfort of God's presence when days are hard or do feel He has left you on your own?
Do you know the healing of His touch or do you feel brittle with a thousand cracks from wounds that never seem to heal?
What we think about God
has everything to do with how we relate to Him.
For the child of God, He is always constant within. We often forget this, relying on feelings rather than faith.  Full and complete, God has no need or lack. He doesn't enter into relationship with us with any ulterior motive or manipulation.
He is for us with a fierce love. He holds nothing back, not even His Son. Inviting us into His strong embrace with the breath of life, He gives energy to all that we do–simply that we might know Him as our true source of life.  For in Him we live and move and have our being–Acts 17:28.
When Christ is not our source, we struggle to make it on our own.
Sometimes it is tempting to rely on others to meet our needs, rather than trust Christ as our source for every need.
Soul source
Learning to truly live and move in Christ, we can know His fulness on a moment-by-moment basis. In the midst of it all He is with us. This is amazing grace in it's most practical form.
When there is silence to our requests, He is our strength.
When confidence flounders, He  is our stability.
When our soul aches and feelings run rampant, He  is comfort.
We are beautiful containers, lovingly designed to receive. He is the provision for every need.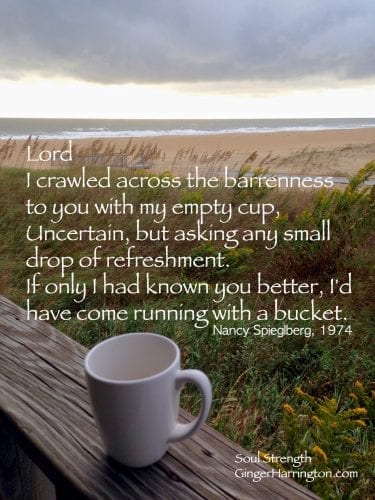 Tomorrow, I'll be sharing a personal example in part 2 of this post. You can find the rest of the Soul Strength series here.
Today I'm sharing with Faith Filled Friday, Fellowship Friday, The Weekend Brew and Blessing Counters today.