Day 2: Well maybe the worst part about taking up a 31 day writing challenge is…day 2.
Just kidding! Actually, I'm interested to see what God is going to say through this post because it has been a day of some serious soul work. It is work that I'm not ready to share, but it has been  digging-deep-under-the-surface kind of intense.  And believe it or not, it has been good.
I've got your curiosity up now, don't I? Sorry about that, but there are times when deep work of the soul is between you and the Holy Spirit. And that's okay, cause that's the way we are around here. We give each other grace to be where we are and love each other as we are. This makes us soul friends. Right?
What's good for your soul?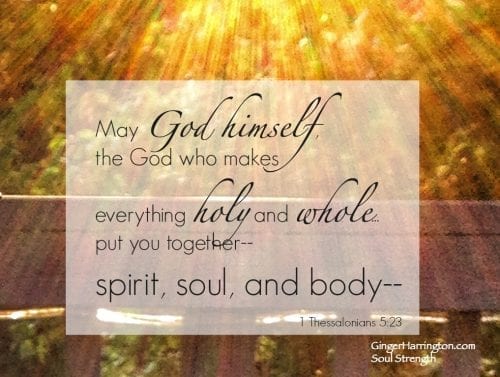 May God Himself–this is the personal touch of God, active and present. Paul asks for God to do something special.
The God who makes everything holy and whole…I can't contain myself. I'm shouting HALLELUJAH right now. This is what God delights to do–He is a God of wholeness, bringing all of us back into completeness that we were created for.
Today, I looked straight and brave into some broken places in my life, places bent and warped by the pressure of expectations, fears, and failures. I have counted the cost and uncovered the thin places that have become brittle.  How well I know this soul need for God Himself. This caring One who makes everything, including me and my broken pieces, holy and whole.
Strength for my soul.
On a day like today, a day that has been long years coming, can I tell you how precious this is? To affirm and rejoice that God Himself is doing something extraordinary in midst of the mess and beauty, the hard and the sweet, the joy and the hurt of the life I live?
Can I tell you how precious this is– that this same God is working in your life too? This Make-you-holy-and-whole work is for you. I don't know what soul-needs you have, but I know that you've got them. We all do, this side of heaven. And when you rely on Christ, He is making you holy and whole too.
No matter what.
All the way whole brings us all the way into God.
This is wholeness: complete in all its parts, in no part wanting or unsound.
Another translation says, sanctify you entirely.  This is no half-way kind of talk. God is in the process of making us all-the-way whole and holy.  This is sacred work of a life that only God can do, and there are no half-measures with God.
He is, and He will–…put you together—spirit, soul, and body—and keep you fit for the coming of our Master, Jesus Christ.
This Soul–
The word soul comes from the Greek word psychē, and it refers to the seat of the feelings, desires, affections, aversions (our heart, soul etc.)
The soul is the inner man or innermost part.  Home of our personality, our soul is made up of  mind, will, and emotions. It is through our soul that we relate to others, make choices, dream dreams, draw conclusions, and run wild with feelings.
Do you know what this means?
Think of all the work, the time, and the sheer grit-your-teeth effort we put into getting ourselves together. If God  is taking the responsibility to put us together whole and holy, we can stop trying so hard to make ourselves fit into molds of  ideals and expectations. We can take a deep, long breath and relax into His capable hands.
Spirit, soul, and body–God is bringing all our parts together, reaching to the deep places we can't get to, and bringing them into line with His plan and purpose.<Tweet.
This is one of my favorite Oswald Chambers quotes,
Now just maybe there is a Hallelujah beginning to bubble up in your soul as well.
Be sure to leave me a comment and say hello! If you know someone who needs a little soul strength, won't you share this post?
Day 2: God Himself is Making Me Whole
Day 3: Recharge with a Short Rest for the Soul
Day 4: The Soul Strength of Delighting in God
Day 5: Soul Notes: God's Smile is for You
Day 6: Soul Search: Why are You so Hard on Yourself?
Day 7: Soul Struggle: What's the Big Deal About the Flesh?
Day 8: Soul Questions: Do You Like You?
Day 10: Soul Conflict: Faith or Flesh?
Day 11: Soul Doing: What are You Up To?
Day 12: Soul Sabbath: Discovering the Rest of God
Day 13: Soul Thoughts in Pictures
Day 15: Soul Confidence: You are Enough
Day 16: Soul Messages: What are Your Feelings Telling You?
Day 17: Soul Truth: Feelings of Truth?
Day 18: Soul Blessings for Your Weekend
Day 19: Soul Feelings: Unlocking the Messages
Day 20: Soul Keeping: Taking Care of Your Body
Day 21: Soul Comfort: You are Loved
Day 22: Soul Thriving: Planting Roots of Faith
Day 23: Soul Glow: Shine Like Crazy
Day 24: Soul Puzzle: Finding the Right Fit
Day: 25: Soul Faith: Do You Believe God is Good?
Day 26: Soul Source: Are You Relying on Your own Efforts?
Day 27: Soul Source: Are You Relying on Your own Efforts, Part 2