Ginger Harrington
Cultivating a deeper life with God, others, and ourselves
Flourish
Emotional Health Workbook
Vulnerable feelings impact our functional faith and can keep us stuck in unhealthy patterns of living. This eDevotional Workbook from Ginger Harrington will help you understand and process feelings for an emotionally healthy you. Learn practical tools for the deep soul work of processing your emotions with God.
HOLY IN THE MOMENT
Simple Ways to Love God And Enjoy Your Life
A powerful encouragement for anyone who struggles to overcome anxiety, perfectionism, insecurity, or other mindsets that hold us back. Grow in holiness without the pressure of having everything "just right." Through gentle encouragement, biblical insights, and applicable ideas you can experience a deeper life of freedom in Christ. Transparently sharing my own struggles, I want to help you live from the reality of hope, healing, and holiness.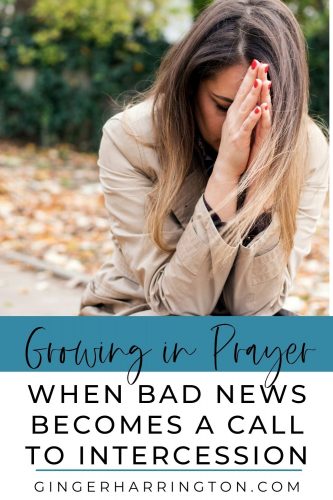 When Bad News Becomes a Call to Intercession
No matter the moment, what it looks like, what it feels like, what it brings—this is your moment to trust in God. When bad news impacts those you love, prayer becomes a vital source of strength. Trials have a way of creating a call to intercede, as we turn to God on behalf of others. Holding onto faith in the midst of the struggles of family and friends, prayer becomes a powerful part of God's work in their lives. It also opens the door to growing in prayer as the Holy Spirit helps us to pray as the situation needs. Trials teach us to pray from the deep, vulnerable places of our heart as bring our needs to God.