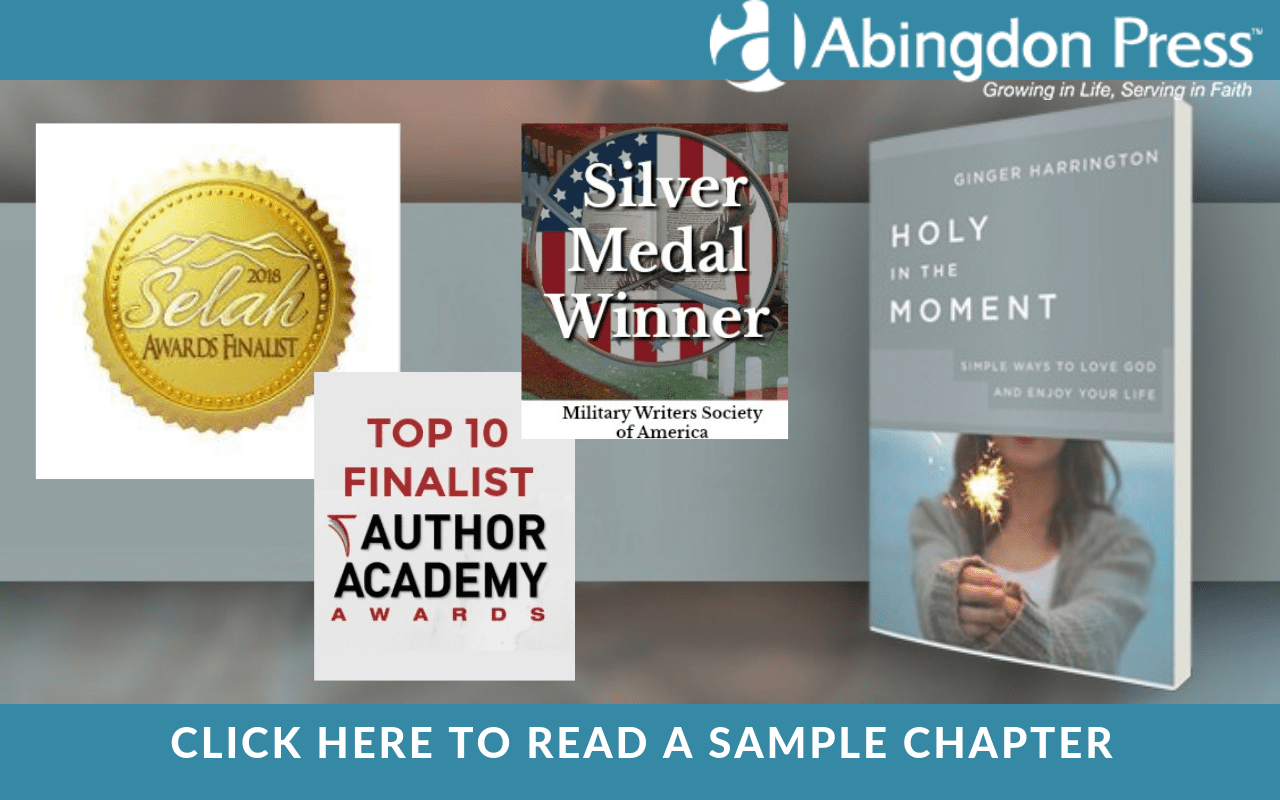 Holy moments are yours for the choosing.
Dispelling the perception that holiness is a standard of conduct rather than a gift to receive, Holy in the Moment includes Ginger's personal journey in finding help and hope for anxiety, people-pleasing, perfectionism, discouragement, and insecurity as well as biblical insights and simple ideas to enjoy a deeper life with freedom in Christ.
Confusing holiness with productivity and performance, it's all too easy to scurry through the day leaving a trail of the undone that calls out condemnations and spurs us to try harder to please God.
Feeling less, we take on more, and try harder, be better, do more is the rant of souls that have swallowed the compelling lies of this chaotic, bent world. The myth that we can do it all, have it all, and be it all drives us to lose focus with too many yes's and too many should's.
What a relief to recognize we don't have to make ourselves holy and acceptable to God. Rather than requiring our perfection, God simply asks us to offer ourselves, to place our lives in His hands.


In the book, Holy in the Moment, Ginger will help you:
overcome distractions, negative thinking, and shame
address challenging emotions, live a praying life and discover the importance of rest
choose biblical love and forgiveness
understand how work becomes holy
practice holiness in parenting and friendships
The truth is that holiness is a secret to freedom and joy, empowering us to live out of our identity in Christ. How do we bring the reality of grace, healing, and holiness into our daily experience? How do find the holy in the hard times of life? How do we bring our thoughts, emotions, and actions in line with our faith?
One choice at a time.
Order from these booksellers:
For more reader reviews and comments click here.



Check out the Holy in the Moment Podcast and Radio Tour
Holy in the Moment has been featured on a variety of podcasts, radio interviews, and live broadcasts. Click here to listen to interviews.

Share the message of Holy in the Moment on social media!
Enjoy free content to download and share.
Share on Pinterest:
Download these graphics to share on Instagram!
Tweets to share:
Holy in the Moment Bracelets
My good friend Holly Witt-Allen of Witt 'N Whimsy made fabulous bracelets for me to give as prizes for the Book Release party. These bracelets were a huge hit. For those that are interested in ordering a bracelet you can find Holly on Instagram or you can order here.