"Great speaking style! Super engaging…she was talking to ME!"
–Angela McGennis
"Ginger delivers the perfect mix of humor and heartfelt convictions."
-Patti Perrin
BOOK GINGER HARRINGTON FOR YOUR NEXT EVENT
International speaker and innovative women's ministry leader, Ginger Harrington loves sharing God's word with women. With over 15 years of speaking experience, Ginger brings encouragement, truth and authenticity to every group she meets.
SPEAKING TOPICS FOR GINGER HARRINGTON
Most topics can be presented as single sessions or a full retreat.
Thrive: Freedom to Live Fully in Your Holy Identity
Session 1: Soul Care to Thrive
Release the "get-it-all-together" lie and trust God to nurture your soul by meeting the deep needs of your heart.
Session 2: Healing the Roots
God restores unhealthy roots that keep us from living fully. Get firmly rooted as you discover how to identify thoughts, emotions, and beliefs that keep you from thriving in Christ.
Session 3: Growing in Grace
Brokenness and surrender become God's pathway to healing, wholeness, and growth when we release our rights, extend forgiveness, and trust God more deeply.
Session 4: The Joy of Thriving
Thriving is about living free rather than performing. Embrace the simplicity of daily choices to rely on Christ moment by moment. Dare to believe God did something extraordinary when He made you to thrive!
By His Spirit
Session 1: Invited by His Spirit
You are invited into a deeper relationship with God by His Spirit.
Session 2: Led by His Spirit
The Spirit of Truth guides us into all truth.
Session 3: Transformed by His Spirit
God is making us holy and whole by His Spirit.
Session 4: Victorious by His Spirit 
Victory is experienced moment by moment by relying on the Spirit.
Will God Speak to Me? Simple Ways to Listen to God
Laugh and learn practical ways of listening to God in this interactive session for deeper conversations with God. Ginger will equip you with lots of do-able ways to enhance both your personal devotions and Bible study.
Pursue Your Calling with Passion
In every season of life, God calls you to greater intimacy and freedom that empowers you step into new levels of faith, abundance, and ministry. Discover key concepts that will equip you to trust God, pray persistently, and wait productively as you enter into a deeper life with God and pursue your calling with passion!
Better Than Happy
With humor, heart, and wisdom, Ginger will help you flourish with fresh joy! Discover joy that protects your heart as you learn to overcome worry and cultivate a joy-filled life.  Packed with insights from Philippians, learn to identify and let go of joy stealers.
Got the Gift of Girlfriend? Developing the Art of Friendship
Hone the art of building strong friendships with this fun and interactive presentation. Good friendships don't happen by accident. Be the friend you want to have with practical tips to enhance your relational skills
Writer's Workshop
Director of publishing for a non-profit organization, Ginger teaches blogging, idea development, self-editing, platform building, social media skills, or book launching. Great for writer's conferences and retreats, Ginger can guide writers and bloggers to the next level!
With an unending arsenal of stories, quips, and insight, Ginger has an uncanny ability to connect it all to God's Word. Ginger is an outstanding and gifted speaker and teacher. Her creative, insightful, and Spirit-led talks are a delight. Funny and down-to-earth, she consistently touches on issues all women can relate to.
Engaging and enlightening, Ginger breaks down her material with practical application and fun interaction among the group. Her speaking style is full of a balance of humor that doesn't distract for the knowledge she provides.
Thank you for taking time to visit my speaker page! I'm passionate about teaching women to live fully in their identity in Christ with deeper faith and freedom so they can thrive in the beautiful purpose God has for their lives. It would be a joy to work with you and your group!
You'll find a great selection of video and audio content, as well as speaking samples, topics, endorsements, and a helpful media kit for event planners and interviewers.
Planning an event is hard work! My media kit includes high-resolution headshots, speaking topics, one sheet, bio, and other helpful items to make planning your event easier.
INTERVIEWS
Get a feel for my style and content with this selection of radio, podcast and TV interviews. I love to share powerful truth with personal story, humor, and practical application. Click the images below to listen or watch.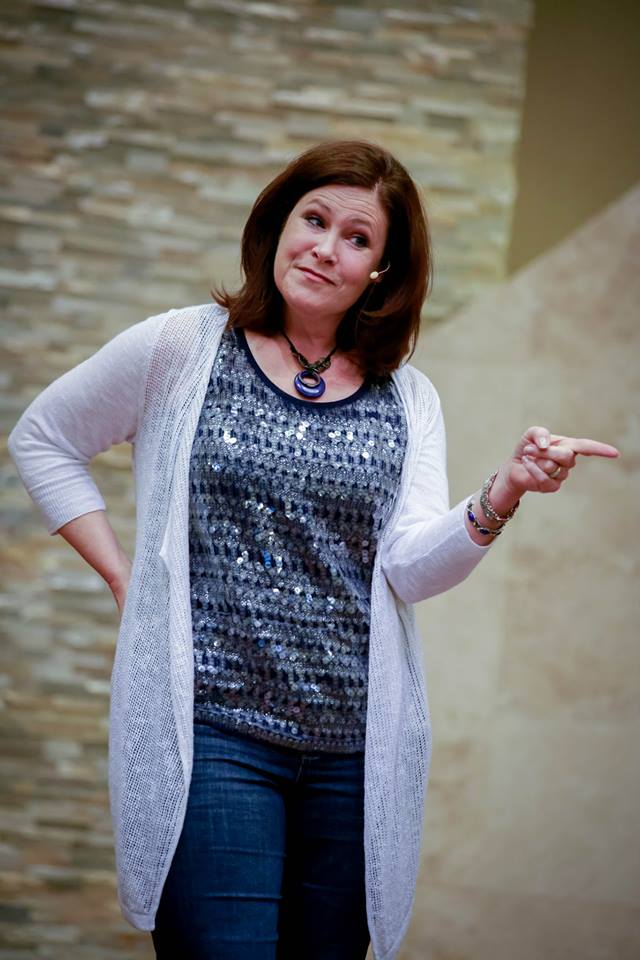 I loved how real and genuine Ginger is! I immediately connected and identified with her… 
As Ginger talked, her eyes and body language, her love and care for us drew me to Christ… 
CONTACT GINGER
using the form below and someone from her team will respond shortly.