"Packed with truth and peppered with bullet points, Holy in the Moment is a winning blend of Scripture, practical guidance, and examples of personal life application. This is not a book to tuck away on a shelf, but one to keep at your fingertips for quick reference and reminders. Harrington shows us how to not only find the holy in our everyday lives, but how to be holy. It's a quest too rarely taken in our culture, but one that, as believers, we can't afford to miss." —Jocelyn Green, author
. . . . . . . . . . . . . . . . . . . .
"Day after day. Hour after hour. Moment after moment – my heart seeks after that one opportunity to fully understand the love of God, the holiness of who He is and how He works. Ginger Harrington takes each moment of time and directs us in how to search out, listen, and absorb the boundless love of our Father in heaven. Written so beautifully, Harrington pours in deep emotion to help us connect not only to her but to the God of all creation. This is one book that is time well spent." —Cindy Sproles, author of Mercy's Rain & Liar's Winter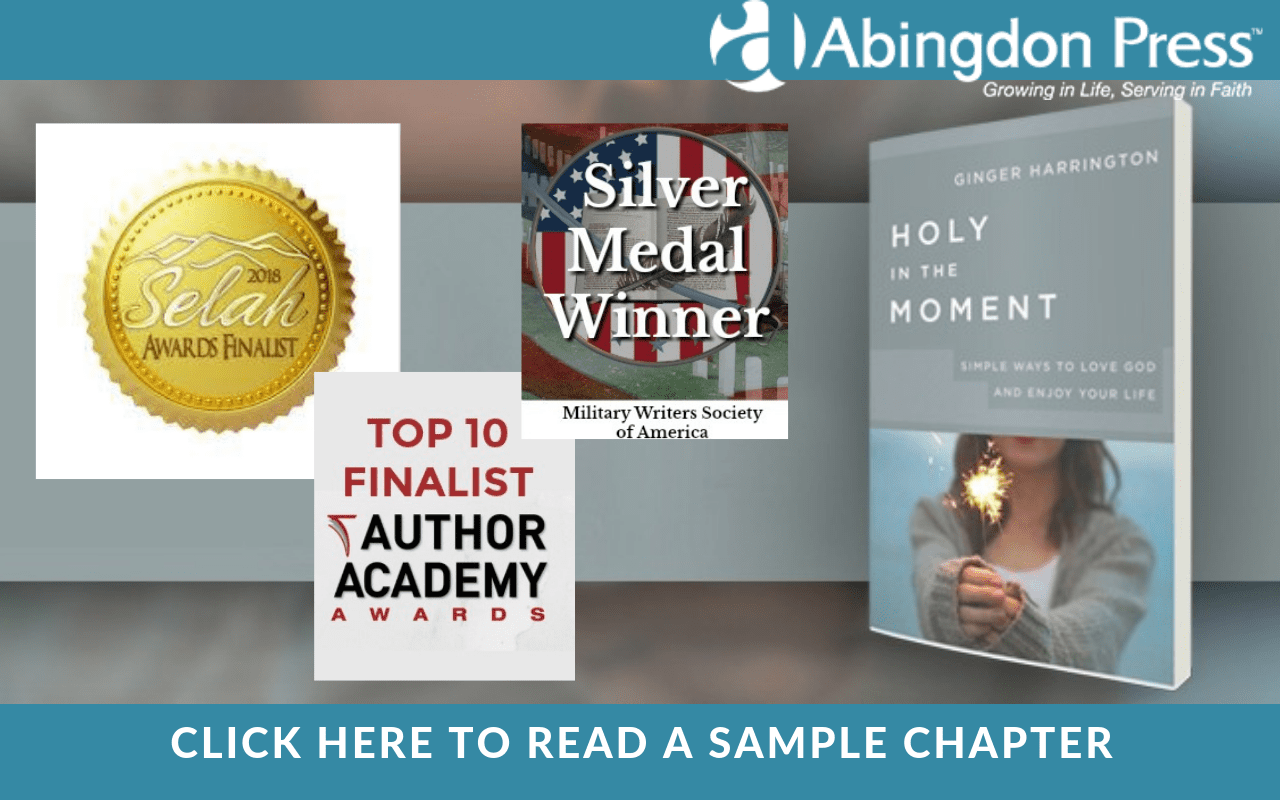 "I love this book! Ginger definitely wrote this book under the anointing of the Holy Spirit with such insight and revelation that brings about transformation in every moment of one's day as we encounter the God we serve and love! Excellent! A MUST READ!" —Nashawn Turner, life coach, author, and podcaster
. . . . . . . . . . . . . . . . . . . .
"I don't normally give 5-star reviews to first-time authors, but my goodness, this was a well-written book! I was completely hooked when the author said, "branches don't need a three-step formula or a five-step plan to abide in the vine.". . . What a simple, yet profound statement. was a wealth of biblical wisdom packed into a practical manual for holy living – penetrating spiritual truths followed by helpful practical advice." –Sarah Koontz, Living By Design Ministries

"This world is so distracting and it's hard to focus on what really matters most in the moment. Whether Ginger is offering insight on parenting, marriage or friendships–it's always timely and oh, so wise. Any moment can be a holy moment when you follow Ginger's advice on how to overcome distractions, choose to forgive and make every moment a holy moment. I was a military spouse and now I have 3 sons who serve. Ginger Harrington understands this lifestyle and presents the spiritual perspective to those who are coping with the nomadic and challenging lifestyle. While she relates some of her military-centric experiences, it's a book that is beneficial to civilian and military alike."–Ellie Kay, Founder of Heroes at Home, author, speaker, and podcaster
"Ok y'all. I don't do this very often but I'm starting this review by telling you to go right now and buy this book. Go ahead. Here's the link. With warmth, grace and camaraderie, Ginger Harrington shares the sacred simplicity of holiness as a means to fully enjoy the life God has given us. She uses her own personal story, as well as others, but is quick to apply the Scriptural truths to a wide variety of personalities and struggles. The wisdom here is simple but profound, and her practical tips encourage the weary soul. This would be a great choice for personal growth, devotional reading, and/or small group discussion. Highly recommended!"–Carrie, Reading is My Super Power

"This book is written for audience of women but is equally applicable to men. I used to be in a writer's group with Ginger and know her heart. I love her authenticity and transparency in sharing her struggles to live holy in the moment. One quote that resonated with me: "One holy choice: Not every moment is good, but believe God is good in every moment." —David Brannock, author of Choose: Fulfill Your Created Purpose
. . . . . . . . . . . . . . . . . . . .
"Holy in the Moment helps you draw closer to God in little moments of your day as you discover the holiness of God in everyday experiences. Ginger shares personal stories to illustrate how the choices we make to follow God impact lives Practical tips make it easier to trust God, strengthen your faith and feel God's love. As you deepen your relationship with God it spills over into relationships with others, including your family. The book helps you weave your spiritual live into your practical daily life. It's lovely to read."–Karen Whiting, Author
"In this amazing book, Ginger Harrington combines deep biblical wisdom with simple, yet profound practices to incorporate into our everyday lives. It is the perfect mix of spiritual and practical. I felt like Ginger was well acquainted with the struggles I've faced, as a recovering perfectionist. And she tackled tough topics with grace and a genuine love for her readers. This book raises the standard of living for Christians to holiness, but then shows us how to receive it rather than achieve it. That one mental shift makes all the difference. I would recommend this to anyone who struggles to appear perfect in the face of this challenging world! —Elizabeth Giertz, Blogger and Author
. . . . . . . . . . . . . . . . . . . .
"This was great! Filled with so much relevant insight to RECEIVING the Holy Life. I hope you read it!" –Phil G
. . . . . . . . . . . . . . . . . . . .
" This book is all about bringing holiness into the ordinary moments of our daily lives. Ginger illustrates the importance of choices that are made, and how those choices affect the way we live out a life of faith with stories from her own life. She's relatable and honest and though this is a substantial book, the pages turn quickly because it's an engaging read. Dawn Klinge, For full review click here.

"If you feel overwhelmed by life, burned out, tired, anxious, or stressed, this book can help you find refreshment and renewal in God. . . Holy in the Moment is one of the most encouraging books I've read in a long time. Ginger shows us that we can make practical choices to draw near to God in the everyday moments of life. Ginger's transparent sharing about her battle with anxiety pulled me in to the book from chapter 1, but no matter what your personal struggle is, this book will encourage you to Believe, Choose, Love, Abide, Surrender, and Rest in God, moment by moment. . . Each chapter ends with practical how-to's and tips for our spiritual lives." –Betsy DeCruz, Blogger and Author, Read full review here.

. . . . . . . . . . . . . . . . . . . .
"Great book! Full of insightful and inspiring stuff! Written with humor and love. Great reminders to stop and live in the moment, realizing God is there in EVERY moment!" –Sarah

. . . . . . . . . . . . . . . . . . . .
"I love this book because it points to every thread of one's life (physical, spiritual, emotional) back to scripture. There is time to absorb, reflect, take stock and pray over new insights that lead to real transformation one holy step at a time. Ginger shares specific examples from her own life but doesn't skimp on pointing out individuals in the Bible who faced choices in responding to an encounter, a crisis, or a challenge that are relevant to what we face in our own lives today. She doesn't point a "you should do this" finger at her readers, rather, she examines holiness as God intended to encourage us we can trust Him day by day. I also appreciate the book can be read in parts for those of us to like to skip around rather than read chronologically. If I could only choose one book to buy this would be it."–Lyn Scott
"Holy in the Moment will help its readers discover a deeper relationship with God through every day moments and interactions. It is a practical guide in helping believers strengthen their relationship with God through their daily choices." –Heidi Bredlow
. . . . . . . . . . . . . . . . . . . .
"I'm making a list of people I know who would enjoy reading Holy in the Moment because we all know women who struggle with fear, trust, joy, prayer, parenting, attitudes, feelings, and rest. Ginger speaks to the common places so many of us desire to find victory. Her book is full of scripture without being preachy. It's encouraging without being glossy. It's personal without being self-focused. It's conversational without losing it's depth. Holiness is simple moments of making a choice. One simple choice at a time in the ordinary moments of my life. That's a message worth passing on!" –Christina Wood
. . . . . . . . . . . . . . . . . . . .
"This book is about the power of sacred choices and good decisions, decisions we make every moment. I am impressed with this book. Harrington has spiritual insights I've not seen before. She has filled this book with great teaching and practical ideas for godly living. . . My favorite chapter was the one on the sacred gift of concentration, important to those of us with SDD, spiritual deficit disorder. The teaching that impressed me the most by far was that on surrender and suffering." –Joan, Book Review
. . . . . . . . . . . . . . . . . . . .
"Refreshing. Holy in the Moment is such a book that I didn't know I needed. It has refreshed my soul and nourished me in a way I didn't know was needed. Ginger is so encouraging and tender in her writing. She gives practical application in the way that we can draw close to God in the big and the small. What I found to be compelling is how transparent Ginger is in sharing her struggle with anxiety. This book is great because it addresses problem emotions, living a life of prayer and discovering the importance of rest, which I struggle with.

I love that this book isn't about perfectionism, but rather freedom and holiness that Christ offers to those who are in Him. This book helps take the reader on a journey through a different and more whole view of holiness, which I love. This book will help you with practical tips, truths and with a life that isn't overwhelmed. Renew your life moment by moment through God."– Sarah Storm
"Ginger's honesty pours off the pages of her new book, Holy in the Moment. She speaks openly about her struggles in motherhood, her difficulties with anxiety, and the fears she encountered with cross-country moves while her husband served in the military. But she also writes about the joy she has experienced when she allowed the Lord to lead and guide her through some wearisome circumstances. I love Ginger's practical application for those of us wanting to live a holy life as we follow God's plan for our lives. Readers will be encouraged by Ginger's authenticity as she shares her faith journey." –Adrienne Terrebone
. . . . . . . . . . . . . . . . . . . .
"This book is for the woman who is ready to walk body, soul, and spirit with God. Ginger's voice is one of a friend and mentor who has walked a difficult road but has come through with her eyes on Jesus and a heart to help others. This would make a great book for a Bible study group." –AJ Bennett
. . . . . . . . . . . . . . . . . . . .
Holy in the Moment is so good…I want to highlight everything! I love this book! –Jamie Waite-Ukes
. . . . . . . . . . . . . . . . . . . .
" I love the way Ginger shares her heart for Jesus. Her story resonated with me. I love Ginger's transparency, and simple, practical ways to walk in the holiness He provides. Thank you Ginger! You are a gifted writer! If you struggle with seeing the divine in the everyday, read Ginger's book. " –Katy Pistole, Author of Jubilee, The Love Story
. . . . . . . . . . . . . . . . . . . .
"This book drew me in with Ginger's authenticity. She was walking with me through the struggle of being "Holy in the Moment". No judgment here. I found inspiration and honesty as she shared the real challenges of her life. The reality of walking through anxiety, grasping for control, loving without condition, and having faith like a child even when life seems to be slipping through your hands. She encouraged me to "change the moment and transform the hours filling" my days." –Sherry Eifler, Author
. . . . . . . . . . . . . . . . . . . .
"The author a military wife shares struggles she has faced in a personal way a friend would share sitting in your kitchen over a cup of coffee. I applaud her for being so transparent. There is a lot of meat in her words that I could chew on the topic of holiness. . . As a believer I tend to skim over holiness and think of it more as do's & don'ts. But the author shares in depth on the subject with great application of scripture and gives personal examples of how to choose holiness in the daily moments. This is the type of book you want to share. In reading I decided to share copies with some Chaplain wives I know to be an encouragement to them as they seek to serve alongside their husbands. This is a great book for anyone to have on hand to be reminded that God is there to walk us through challenging days and to seek Holy moments." –Daphne
. . . . . . . . . . . . . . . . . . . .
"Easy and enjoyable to read. Really makes me want to grow closer to God in my relationship to Him.
I bought a bunch of them for friends because I got so much from it.
I am actually going to go over it a second time." –Reader
. . . . . . . . . . . . . . . . . . . .
" As a recovering perfectionist, I tend to be leery of the word "holy" because I associate it with impossible perfection. In fact, when I saw the title of this book, I wondered if it would be another list of must-do's for the Christian woman. I'm thrilled to say it's the complete opposite." –Sarah
. . . . . . . . . . . . . . . . . . . .
"The author is refreshingly real and honest and approaches this as a sister alongside me rather than a perfect model preaching at me. Each of the chapters presents a different area where we can draw closer to Christ — rest, prayer, thought life, attitudes, relationships, and more. While this list could sound overwhelming, I found my soul refreshed as I read each page." –Leslie