Day 15: My Soul, be confident.
When confidence fritters away, seeping through our fingers like a handful of sand, we question our worth. Facing failure, we wonder…will we ever get it together? We ache, feeling the stretch and pull of our need for adequacy, to know that we are enough.
There's a country song that laments "looking for love in all the wrong places." We look for a lot of our treasures in the wrong places. Spiritual confusion of our true worth and value trips our hearts over the obstacle of our flesh. We try with all we've got to draw confidence from our own strengths, abilities, and success.
Choosing real
There is a confidence, a knowing of adequacy that is written into our lives by God's living Spirit. When we stop trying to commend ourselves with our self-confidence, we find that the Spirit is writing Himself into the fabric of our being–who we are, how we think, what we choose.
"You are our letter, written in our hearts, known and read by all men; being manifested that you are a letter of Christ…written not with ink but with the Spirit of the living God, not on tablets of stone but on tablets of human hearts." 2 Corinthians 3:2-3
How freeing to discover that God is writing His Living Spirit on our lives. I want to write with the ink of human accomplishment, declaring my value…all the while struggling because I'm still trying to find confidence in my self. This is the fading ink of proving worth through my own abilities, personality, and strength.
God has something better for you, my Soul.
With the breath of the Spirit, God writes Himself into our lives with living ink. This living Spirit (zao) means to enjoy real life that is worthy of the name of Christ. True worth, value, and adequacy comes with the vital power of Christ, full of vigor, fresh, strong, and efficient.
Soul, why would you settle for less?
Why do you hold on to the raggedy tatters of what your flesh can accomplish when you can have the zao of Christ as your confidence?
Why do you keep finding fault with your self, trying to gather what you cannot keep? Stop collecting confidence with a success or a compliment, only to drop it when the weight of inadequacy gets to heavy to carry.
Hmm…but how we try to find our confidence in ourselves. Confidence in the flesh or real life in the Spirit? What am I really longing for?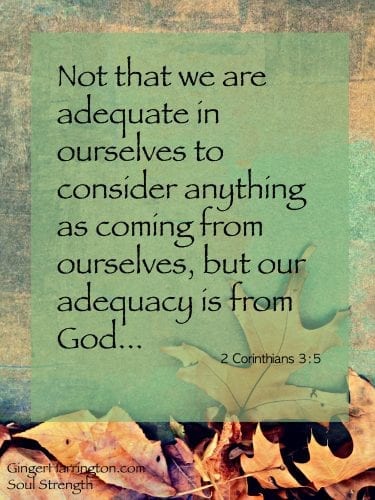 …who also made us adequate as servants of a new covenant–2 Corinthians 3:6
Soul, you are enough.
Your adequacy and worth is from God, His gift of true life.  You are everything God created you to be. You are more than enough.
You can stop trying to draw life from the approval of others. You can stop chasing confidence proved with your own efforts. There is no life here.
Soul, don't hold back.
You don't have to hide or hold back any longer, open the gift you've already got. In Christ you have the gift of enough, today and everyday.
…The spirit of God alone can give life to the soul.
(v. 6 JB Phillips).
You can find all the posts in this #write31days series here.
Today I am sharing with Holley Gerth at Coffee for Your Heart.