Questions your soul needs to answer.
There is something about this video that touches a tender spot tucked just under the surface of my soul. Out of sight, it's easy to forget about that place until insecurity peeps around the corner. There is something compelling and convicting about the vulnerability and realness the women pictured in this video.
Am I beautiful? Am I enough? Do you like me?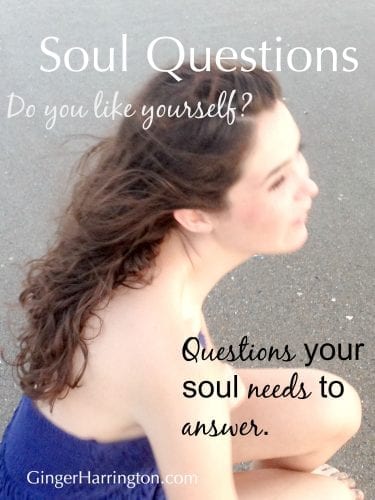 These are the questions that our hearts ask when we are depending on ourselves to feel beautiful and whole. These are a few of the affirmations we seek when we're depending on others to make us feel valuable– snares the flesh sets for our souls.
Yes, something about this hits a place of insecurity and hot tears prick and spill over, letting me know that feelings are deep in this place.
Insecurity often comes when our flesh is pushing and prodding us to meet expectations, whether they come from others or from our own driven hearts. We're on shaky ground when pain from failures and rejections causes us to forget who we are.
What's underneath this need to know that we have what it takes? [tweetthis hidden_hashtags="#identity"]The fears of our flesh are building an identity on what we can accomplish.[/tweetthis] The longing to prove we are adequate, valuable,and loved lurks beneath the surface of all our trying.

Do you like you?
This question pries open emotions I'd rather pretend aren't there. Most days, I have this question pushed back and covered up with the business of this life. [tweetthis]When my identity is based on my performance, abilities, I've forgotten my true place as a child of God.[/tweetthis]
Soul, do you like you? [tweetthis hidden_hashtags="#likeyourself #identity"]Have you forgotten to like yourself in the rush to meet the expectations of others?[/tweetthis]
Soul, are you weary under the weight of a negative self-image? Are you able to enjoy the good blessings in your life, or are you stuck worrying about what you're not?
Soul, are you worn out with all your trying, performing for approval and acceptance, trying to be what others think you should be? Are you so anxious to please that you hide your faults and feelings? Do you measure your value based on productivity?
Soul, why do you feel compelled to keep everyone happy? When did you take on the responsibility for the well-being of others?
Soul, when did you become fearful of conflict? Where did you learn that your voice doesn't count when the steaks are high and emotions are heated?
Soul, when did you start measuring your value based on what other's say? Why do you believe silence means they didn't like what you worked hard on? Why does disapproval make you wither inside?
Soul, why do you take care of everyone else, but ignore you're own needs? Why is pleasing others more important than listening to and caring for yourself?
When these question rise in my soul, I see there is still some distance to go in taking off the thinking and striving of my flesh.  I remember that my identity is in Christ. I choose to trust him with the needs of my soul and the things He is still working on.
I remind myself…
For You formed my inward parts;
You wove me in my mother's womb.
 I will give thanks to You, for I am fearfully and wonderfully made;
Wonderful are Your works,
And my soul knows it very well. Psalm 139:13-14
I speak to my soul.
For I am confident of this very thing, that He who began a good work in you will perfect it until the day of Christ Jesus. Philippians 1:6
I'm sharing this post at Coffee for Your Heart today.
If you'd like to read the entire series, this link will take you to the landing page.