Do you want to live fully in Christ with a deeper life of faith and freedom?  Words to encourage your heart, strengthen your soul, and  deepen your faith. It is an honor to share this journey with you. If you are new here, this is a great place to start with an overview of  my website with lot's of linked topics. If you've been a friend on the journey, enjoy this curated collection of the best of the blog for a deeper life.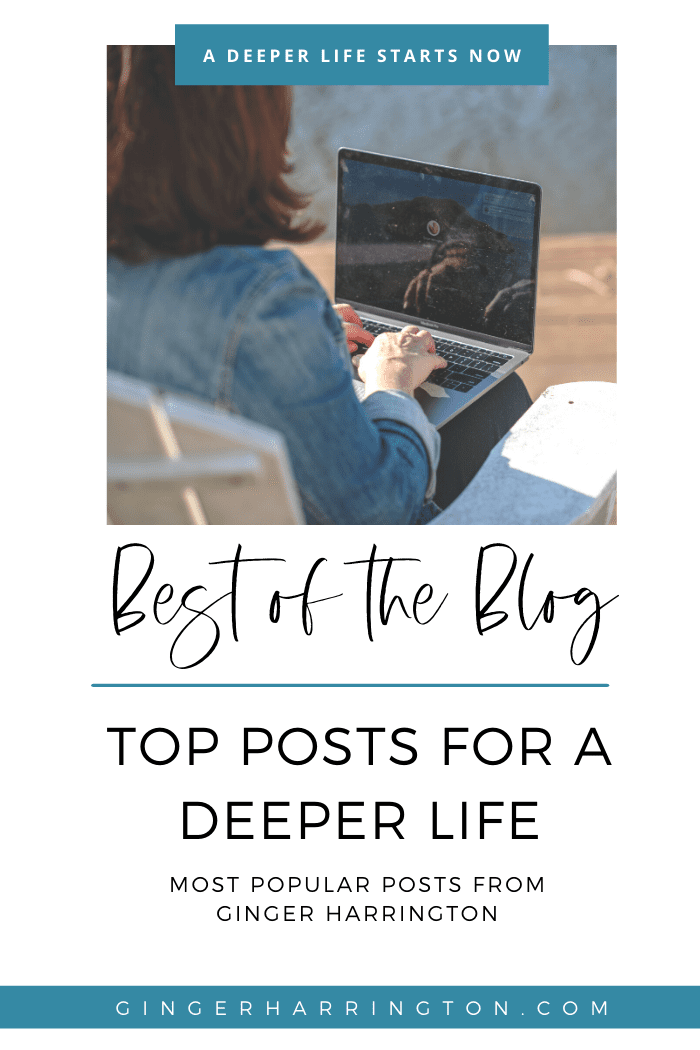 A Deeper Life
Living out what we believe, trusting God in all our moments brings a holy joy to our lives. In Christ, the power of Holy Spirit is present every day. Every. Single. One.
Let the spiritual meet the practical in your life, as you cultivate a deeper life with God, others, and yourself. Holiness, our deep identity in Christ, thrives as we choose to love God, embrace truth, and enjoy life.

Holy and whole moments are for giving love—heart, soul, mind, and strength—to God, to others, and to ourselves. We'll practice choosing the one thing, the best thing, God asks of us. This is His way for the whole and the holy. The secret of living whole in this life is discovering the joy and freedom of God's grace filling all our days.
Blog Topics for Healthy and Holy Living:
A deeper life with God is the fruit of loving Him and loving others with a whole heart. Love is the foundation opening our lives to the fresh flow of the Holy Spirit. How will life be different as we choose to love God with everything we've got?
Blog topics for deeper life with God:
"And you will know the truth, and the truth will make you free."—John 8:32
Discover how to learn and apply Biblical wisdom in a way that helps you live out what you believe. Embrace the truth of who you are in Christ and find freedom from struggles that hold you back. The power of Truth transforms our lives thought by thought, word by word, and choice by choice. Holiness and wholeness come one choice at a time.
Blog Topics for Embracing Truth:

Discover freedom to live fully in Christ. Rest in the vibrant life of Christ setting us free to enjoy each day. A deeper life creates joy. Enjoying real life in Christ is experienced through choices we make moment by moment. Joy and her sister happiness are a non-negotiable part of relishing life. It's important to understand joy is not the absence of pain in circumstances, but rather the presence of God in the midst of them.
[tweetthis]Come see what's new at GingerHarrington.com. We've got a new look![/tweetthis]
Blog topics for enjoying life:
Yes, we 'll still do fun and goofy posts of humor (cause Quirky-Girl has to get out every now and then), but we're also writing about…

Together, let's ask God to release His Spirit on a deeper level in our lives.
He who believes in Me, as the Scripture said, 'From his innermost being will flow rivers of living water.'" John 7:38
Maybe you're feeling stuck and stale in some way. Life has challenges and hard moments that weary the soul. Our innermost being is the part of us that really matters. The deep, tender, beautiful place of soul and spirit where we are most truly ourselves in union with Christ. In today's chaotic and hectic culture, it takes intention and effort to mature in faith and attend to the deep places of the heart.
Have I got this down? Nope. This blog is about what God is doing, and I'm on the same journey as you.
We all need God's fresh presence flowing in us and through us every time we show up.
Every morning we put our feet on the floor.

Every day we love families and encourage friends.

Every time we face hard days.
Every moment we rely on the power of Christ rather than ourselves.
Every thought we speak and every decision we make.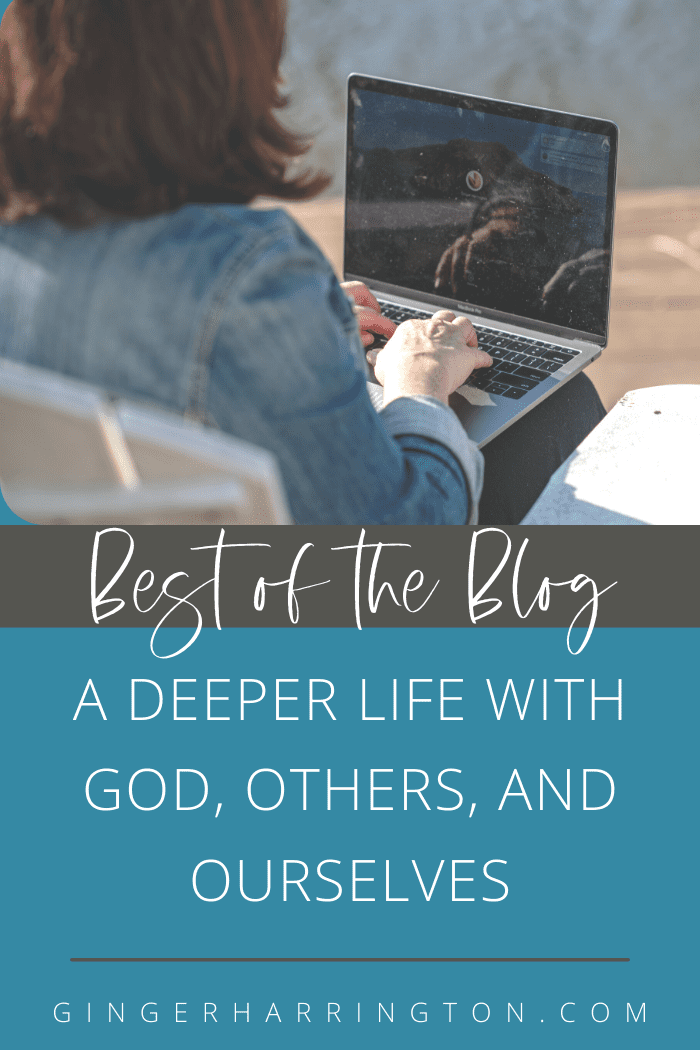 God gives us a fresh start each day to walk in the power of the Holy Spirit.  Every moment offers a new opportunity to choose God's best. Let's live fully in our identity in Christ with deeper faith and freedom so we can thrive in the beautiful purpose God has for our lives. Ready to journey together to a deeper life in Christ?

Enter to win these books to deepen your faith.
We're celebrating! Enter our book bundle giveaway for a chance to win this collection of books for a deeper life. I'm sharing a few of  my favorite books God has used to bring deeper hope, healing, and wholeness in Christ.
Holy in the Moment includes my personal journey in finding help and hope for anxiety, people-pleasing, perfectionism, discouragement, and insecurity as well as biblical insights and simple ideas to enjoy a deeper life with freedom in Christ.
The Rest of the Gospel  is a book that brought deeper understanding of my identity in Christ and how to live the Christian life in dependence on Christ. God brought me a lot of soul healing through the truths in this book.
Life With God is one of my favorite books on reading God's Word, listening to God, and living in a deeper awareness of God.
Sacred Rhythms is another favorite. I love everything I've read from Ruth Haley Barton. In this book, I appreciate the way she approaches spiritual disciplines as ways of connecting more deeply with God in the process of spiritual transformation.
These are a couple of books that have been part of my process of a deeper life. What book has impacted you in your spiritual journey? Enter the Rafflecopter to win this book bundle. There are lot's of ways to enter!

This post contains affiliate links.which means I'm paid a small commission at no cost to you if you click through to purchase. Thank you for supporting my writing ministry.