Friend, do you need a few practical ideas of ways to process emotions and stay in the present? A few truths to strengthen your soul to live well in this unusual season?
When the winds of uncertainty blow, hold fast to the certainty of God. As we witness the suffering of many, doubt, worry, insecurity, and anxiety can creep in uninvited.
Purposeful choices to trust God during this pandemic make a mighty impact.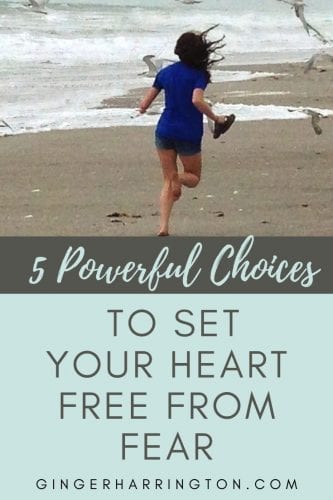 Life looks different than it did a few weeks ago. As we turned the calendar of February to March, the terms Covid-19 and Coronavirus crept into our conversations. Like thunder rumbling in the distance, the storm seemed far away.
As the virus extends its fingers beyond far-away borders the situation continually evolves. With schools closed, event's cancelled, work-places closing doors, the reality of a pandemic ushers in many changes to daily life.
The world seems both bigger and smaller at the same time. A global pandemic feels inconceivably big, fostering a distinct temptation to live in fear for the future.
When the world is shaken, our soul needs to stay focused on the stability of God. Practical ways to trust God can help us to stay focused even though rhythm of our days is different.
The other day  our state Governor proclaimed a stay at home order until June 10. To be honest, my first response was a physical wave of claustrophobia at the thought of not going anywhere for months.
Our Best Choice to Overcome Anxiety
Reading the news I forced myself to take a deep breath and made the choice to trust God in the moment.
I stopped to pray, "Lord, I choose to trust you. I rely on you to settle my emotions and make me brave in this time of unknowing and uncertainty." 
God reminded me of words He highlighted to me during  my morning quiet time of Bible reading:
Purposeful trust and releasing our emotions–these are choices that free our hearts from fear.
As we process change and loss, it's important to not mentally live in the future…that nebulous place where "what ifs" stir up anxiety and dread.
My feelings didn't fall in line immediately, but making small actions–pray in the moment, take a walk, drink water, and choosing to accept the moment as it is are practical choices that help me to overcome anxiety for the future.
These are small brave acts of faith to walk in victory and the power of the Holy Spirit.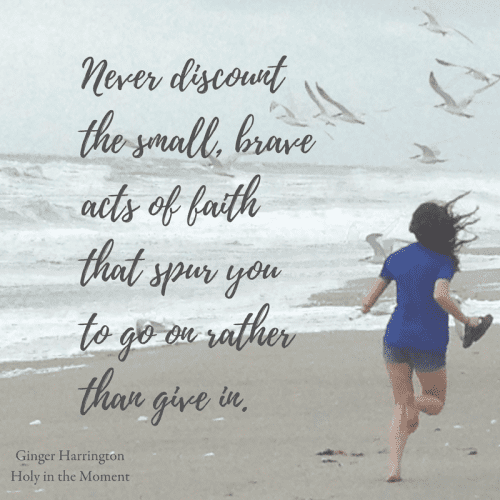 Friend, practice these  power-packed choices to process emotions and stay in the present during these uncertain days.  Which of these faith choices strengthens you today?
I am praying these intentional acts of faith will become your practical stepping stones to peace in the midst of uncertainty. You can find these practices and many more in my book, Holy in the Moment.
5 Powerful Choices to Free Your Heart from Fear
Choose to trust God in this moment. Faith is activated in each small-but-significant choice to trust God in the moment. When you feel worry, sadness, or frustration, take a deep breath and ask God for the faith you need for this moment. Turning to God in prayer is choosing holy in the hard. Believe God has given you the faith you ask for and take a step forward.
"Now faith is the assurance of things hoped for, the conviction of things not seen" (Hebrews 11:1 NASB).
Not every moment is good, but believe God is good in every moment. When the world feels too big and the drains of the day too difficult, remember God is still in control and He is still good. Ask Him to open your eyes to his goodness in the midst of your situation. Shift your view from dwelling on the problems to practicing the presence of God in the difficulty.
"All the paths of the Lord are lovingkindness and goodness and truth and faithfulness to those who keep His covenant and His testimonies" (Psalm 25: 10 AMP)
"I sought the Lord, and He answered me, and delivered me from all my fears" (Psalm 34:4 NASB).
Make the most of this time. Build with what God has given you at this time. It's so easy to mourn what we are missing, what we don't have, what's not going to happen. The grace of acceptance frees us from the grip of fear. "Lord, help me to make the most of this day" is a simple prayer to focus on the blessing of the present moment.
Ask Father to open your awareness of practical ways to enjoy, invest, rest, build, clean out, or engage with God, yourself, and others during these unusual days.
Watch for ways God provides. His grace is sufficient for our need in this moment. Ask God for what you need in this moment–patience, rest, faith, calm, optimism, or flexibility. Rely on Christ and watch to see the ways God provides.
Grace to stay focused on faith rather than give into fear.
Grace to choose peace over stress.
Grace to grieve losses and disappointments.
Grace to love and to live well as we stay home.
Grace for healing and health for this hurting world.
"Your heavenly Father knows that you need all these things. But seek first His kingdom and His righteousness, and all these things will be added to you.So do not worry about tomorrow; for tomorrow will care for itself. Each day has enough trouble of its own" (Matthew 6:32-34).
[tweetthis]We can't control the future, but we can choose to look for God's blessings and provisions for today.[/tweetthis]
God's provisions come in the simple and the significant. A thought, a settling of your soul, a kind word, strength to persevere, energy to get off the couch. . . in the profound and the ordinary God is working in our daily moments.
[tweetthis]Push back the overwhelm of the global pandemic with the intentional choice to rely on Christ in this moment.[/tweetthis]
How is God providing for you and your family today? Let's purpose not to worry about what we cannot control, what will happen, how long it will last, and all the things.
Stay focused on loving your people well today, trusting your Father today, finding peace in the Spirit today.
Deal? Let's do it!
You can read more about powerful choices to trust God and overcome fear in my book, Holy in the Moment. What simple choices are giving you the power to find freedom from fear today?
Want to band with other women making simple choices to trust God in the moment? Request to join the Holy in the Moment Community Group on Facebook.