Discovering God's best when things don't turn out like you plan.
I love the first few weeks of January, when the year is new and the calendar is not yet filled with plans and commitments.
I have taken some time to notice and embrace the lessons, challenges, and blessings of this past year. In the pausing, I recognize the unexpected blessing of discouragement. Blessings I didn't see coming.
It has been a journey I didn't plan to travel, but I am better for it. It has been a time of discovering God's best even though things didn't always turn out like I planned.
Trace your personal trends over a year.
Long ago, a mentor taught me the importance of being mindful of what God has taught and carrying those lessons into the New Year with intentionality. Reviewing the year is a powerful way to maximize spiritual growth.
 Taking time to trace my personal trends last year, I saw that discouragement was an unwelcome intruder more often than I realized.
Doing more didn't always result in tangible results.
Many days it felt like running in place rather than reaching my goals.
Maybe you've had some goals that didn't work out like you planned.
It's not fun, it?
When we work hard but can't measure progress, it is all too easy to give place to the "Not Enough" voices that steal our confidence and derail our motives.
God often uses our struggles to reveal deep places of the heart, the root causes of those struggles.
It is a journey of a different kind that uncovers blessings we may not recognize at first glance.
An inner journey that takes time.
Through a season of soul work, God led me on a journey that is different from the destination I planned. My vision included worthy goals such as weight loss, consistent strength training at the gym, increasing productivity, and growing my business to a specific level. 
My plan was about doing more. God's plan was about being more. . . 
pure-hearted in my motives
free from the approval of others
content to receive what God gives
humble to let go of expectations
dependent on Jesus
emotionally honest with myself
trustworthy as a servant of Christ
Freeing us from the hidden dynamics that drive us is an unexpected blessing of discouragement.
Before freedom can come, God helps us become more self-aware of the subtle pressures beneath the surface. God both heals our hearts and prepares us for new things coming in this deep work of the heart. 
Truly, laying aside the old self and learning to live out of our new self (Ephesians 4:23-24) is a layered journey with the Lord. 
It is a process over time rather than a destination we make in a single trip.
Seeking the approval of others is one of those old ways of living that easily barges in and overshadows my good intentions of serving God with a pure heart. Searching for worth and value from my work is another old way of living that God is healing. 
Don't rush the journey.
The persistent struggle between flesh and spirit is a daily part of the Christian life.
Holy moments are for recognizing when our insecurities drive our actions.
So often we want to rush to the result without going through the experience.
We want the growth but prefer to bypass the instruction.
We desire purity but balk at the refiner's fire.
Holy moments happen as we admit to ourselves that we really cannot fix what is broken, despite our best efforts. 
Embrace the struggle.
God meets us in these tender places of honesty; the way things really are at this time. We muster courage to name our reality accurately.
A difficult and emotional process, God's healing work is sometimes like the pain of a loving parent removing a splinter from a child's hand. 
We don't want to hold still, snatching our hearts away in fear of pain. Despite the discomfort of the process, the result heals pain caused by something that's not supposed to be there in the first place. Lies God never intended to lodge within us.
Healing can be a beautiful, unexpected blessing hidden in discouragement.
Ruth Haley Barton recognizes that "the demands of long-term leadership usually push us to a place where our patterns are clearly revealed" (Strengthening the Soul of Your Leadership, 50).  It is a journey of becoming "safe enough with God and ourselves to say, Yes, this is who I am. We are able to surrender who we are–our limitations, our clinging and grasping and possessiveness, our selfishness and our fear. This is not a yes that says, I will remain the same."
This is a yes that recognizes our soul struggle and says to God, "Whatever it is that most needs to be done in my life, you will have to do."
This just might be both the most honest and most productive prayer we can pray.
Wandering in the wilderness of the many ways we try to fix ourselves, we stay stuck even though we are busy. Circling the same struggles, we wear our souls thin in the relentless pursuit to get somewhere but seeming to arrive nowhere.
These are the paths that lead to the unexpected blessing of embracing our limits.
Can you relate? Maybe you have traveled similar trails that lead to sacred pathways of transformation.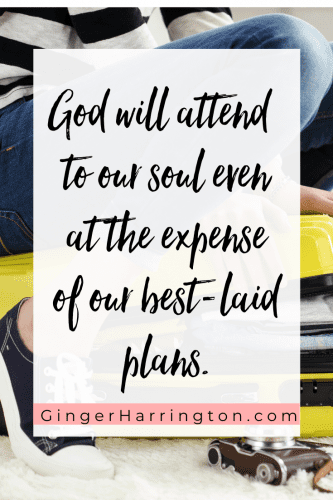 When overwhelm is a gift.
I am discovering that there are times when the too-much of overwhelm can be a gift. The honest recognition of our limits and vulnerabilities exposes the deeper questions beneath the surface of our awareness. Becoming aware of our condition is another unexpected blessing.
Barton continues by pointing out how we "try really hard to do something about what we are now seeing." With the razor-sharp clarity of describing her own journey, she shares the point is not to fix ourselves, but to finally "let go of old patterns that no longer serve us…the adaptive behaviors" that get in the way of the "life of love and trust and being led by God that our hearts long for. To give ourselves to this process, we must trust that our true self is hidden with Christ in God, to be revealed as God sees that we are ready to live into it (53)."
God's timing vs. our plans.
These are the soul journeys that take us deeper, farther, higher, and wider as we are ready.
They come on God's timetable, often on the heels of our greatest wins.
They come at inconvenient times but arrive when we need them most.
This journey doesn't take us to the lesser places we thought we needed to go in order to prove our worth, to feel safe, or be successful. 
And these are the places where in the loving care of God we grow deeper and move forward in ways we didn't know we needed before the journey began.
Maybe the most powerful blessing of discouragement comes when God takes us where we most need to go.
About those goals . . . 
On January days of making resolutions and planning for a new year, I understand in a fresh way that my goals are not necessarily God's goals. Humility is another unexpected gift of discouragement. 
Some prayers don't receive the answers we hoped for. We sometimes misperceive God's yes as no, His not now as  not ever. To share a phrase from my beautiful friend Sarah McKinney, sometimes flourishing feels like failing.
God will attend to our soul even at the expense of our best-laid plans.
His ways are higher and truer, and they are just what we need. This is the unexpected beauty of brokenness that leads to holiness, wholeness and grace.
Yes, in so many ways, by God's grace my soul traveled miles from where I started last year. 
This year my goals are different in kind.
They are desires of
being more than doing
resting in work rather than working to rest
faith that banishes fear of failure
freedom before expectation
want to over should do
humility instead of the backwards pride of discouragement
impartation over information
Because of the unexpected blessings of discouragement, I am ready for something new.
Something fresh, holy and whole.
Something that I cannot yet see, but sense simmering within.
These are the unexpected blessings my soul longs for with this prayer, "Whatever it is that most needs to be done in my life, You will have to do. Make Your desires my desires. And I'll trust You to take me where You want to go."
Amen. 
Let it be so.
What unexpected blessings have you received lately?