Have you noticed that December can get a little crazy?
Is your to-do list as long as a role of toilet paper?
Even before December rolls around, the craziness of the commercial side of Christmas creeps forward, breathing down the back of Thanksgiving. This year I saw a few Christmas decorations up before Halloween. That's nuts!
How funny it has become that as soon as the Thanksgiving turkey is eaten and the apple pie barely digested, we experience the temptation to rush right out and scoop up those doorbuster, Black-Friday-on-Thursday deals. Now if you were one of the crazy folks spending Thanksgiving night in a shopping frenzy, no judgement–I'm just saying it's a nutty world out there!
However, now it is officially December and the Advent season is here! It is time to put up the Advent Calendar and break out the Christmas Sweater! Yes! I have been waiting all year for December to arrive, because you just can't feel good about wearing that favorite Christmas Sweater just any month!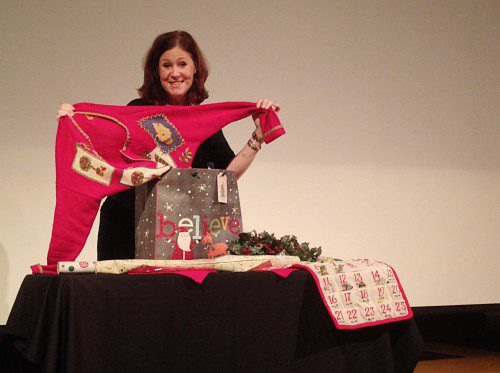 However, as much as I love all of the festivity Christmas brings, I need a plan to stay focused on Christ and keep the chaos under control.
If I don't make an intentional effort to stay focused on what is important, the pace of this month in family life can get a little overwhelming–and that makes for a frazzled mom for sure.
Who wants to be a frazzled mom this Christmas?
Nope, not me. And I bet not you either!
You may remember The Christmas Worship Challenge that I hosted on this blog last year. In this daily December series, we worked together to move worship to the top of our To-Do list. Taking time to worship Christ enables us to pace ourselves, staying focused on the deeper values despite hustle and bustle that the Christmas season can bring.
Join me for a youtube visit as we laugh about Beating the Craziness of Christmas–Commit to Worship like the Wise Men. 
On this video you will find 10 minutes of comedy and silly fun about preparing for Christmas followed by teaching on worship lessons from the Wise Men. 
[youtube_sc url=jpmrOhagHJQ]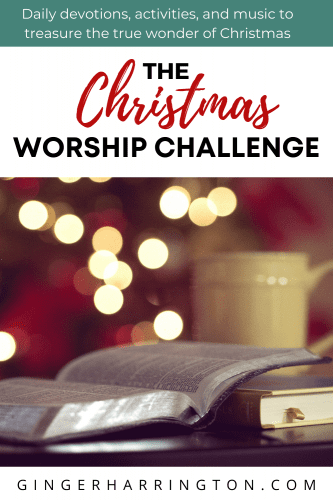 Join the Christmas Worship Challenge
Two Ways to Exalt Christ This Christmas
Let Beauty Spark Your Worship Today
Give God Glory: Put on You're Dancing Shoes
A Lesson From the Christmas Shepherds
Make it Known: Another Lesson from the Shepherds
Treasuring and Pondering: Meditation of the Heart
Fullness of Grace: The Divine Multiplier
Worship by Giving the Gift of Prayer
Believing God: The Rest of Peace
Christmas Through the Eyes of a Child
Celebrate Christmas: Give God the Gift of Yourself
Why You Should Sing in the New Year with a New Song
10 Practical Tips to Deepen Your Worship Now (Summary of Worship Tips from the Challenge)
10 More Tips to Deepen Your Worship Now
Worship You Don't Want to Miss

---
Get a free Christmas devotional from Ginger when you sign up for my newsletter! Enjoy this beautiful ebook to spark hope in your life this Christmas. This is my Christmas gift for you.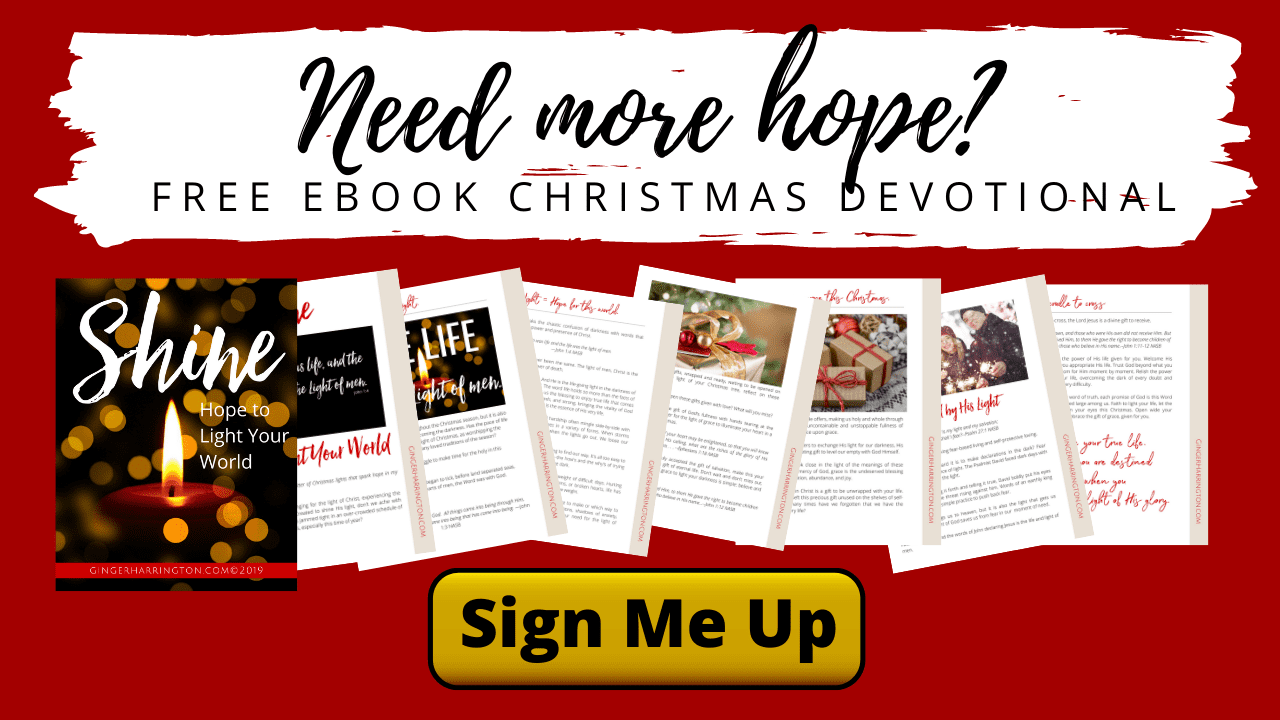 ---
Enjoy the Best of Christmas from Ginger
A curated collection of Christmas content from award-winning author and blogger, Ginger Harrington. Take the Christmas Worship Challenge, read inspiring devotions, download free gifts, gather ideas for family fun, make a special gift, and chuckle with Ginger's Christmas humor. Read the story of Ginger's Christmas miracle in a free chapter from her book, Holy in the Moment. Enjoy the best of Christmas that you'll want to come back to year after year!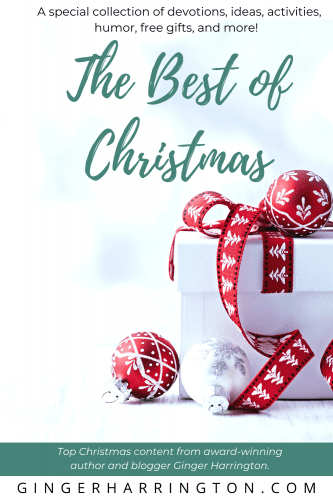 ---
Get Your Free Chapter!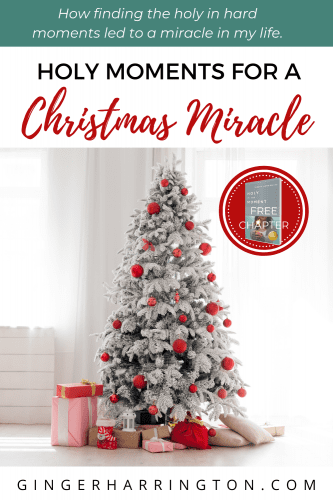 Read the story of a Christmas miracle I experienced in the first chapter of my award-winning book, Holy in the Moment. You'll read  a poignant story from one challenging Christmas in my life at the end of the first chapter. Read the story of what happened here. Give the gift of holy this Christmas–Holy in the Moment makes a wonderful gift to encourage faith in a practical way. Learn more about the book here.
Download your free chapter here.