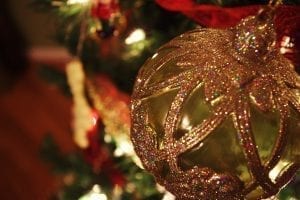 Have you ever wondered why we love Christmas decorations so much? Evergreen garland and trees, covered with lights and ornaments–the soft glow of candlelight and the welcome of wreaths on the front door. Many of us really enjoy making our homes welcoming with a festive atmosphere. Is this just an expression of our inner "Martha Stewart," bursting forth this one time of the year?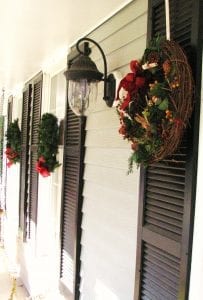 Why do we even bother with beauty?
Think of all of the time and money spent to make things beautiful. We love to see beauty makeovers with the before and after. Home decorating, landscaping, architecture, clothing styles, gift wrapping, food presentation… Let's face it, we love to make things beautiful.
Why is that?
Consider this–all goodness, holiness, and beauty come from and are reflections of the One who came up with the idea of beauty in the first place. Beauty is one of God's "good gifts" to us.
"Every good thing given and every perfect gift is from above, coming down from the Father of lights, with whom there is no variation or shifting shadow."
James 1:17
Beauty reminds us that there is a creator, that there is something more, something redemptive beyond the physical surroundings we see.
Beauty strikes a chord in us for it can draw our hearts to God, reminding us that beauty beyond description is part of who He is.
Beauty resonates within with a call to that perfect, sinless state that we are all created for–that unbroken, beautiful relationship with God before the fall.
Earthly beauty is a shadow of spiritual beauty.
Beauty reminds us there is more.
The Grace of Beauty
God did not have to make things beautiful. He could have simply gone for functional–get the job done. Color, fragrances, soft textures…could have been optional.
We would have never known the difference.
Yet it pleased Him to create the heavens and the earth with majestic beauty, all reflections of His power and infinite ability, visible pictures of the awe of His holiness. Starlit skies, mountain vistas, and stunning sunsets can sometimes take our breath away. They are proof positive to the human spirit that God exists and that He is good.
Worship Tip: Let Creating Beauty Become Worship
We reflect God's image, and one aspect of that image is the desire to create beauty, demonstrated through things like artistry, craftsmanship, and music. The desire and ability to create is given by God–"See, I have called by name Bezalel…. I have filled him with the Spirit of God in wisdom, in understanding, in knowledge, and in all kinds of craftsmanship, to make artistic designs for work in gold, in silver, and in bronze…" Ezekiel 31:2-4
Enjoy creativity and beauty. Pursue it with holiness and excellence. Remember that both the desire and the ability come from God.
"Give thanks to the Lord with the lyre; Sing praises to Him with a harp of ten strings. 3 Sing to Him a new song; Play skillfully with a shout of joy."-Psalm 33:2-3
Today's Worship Challenge:
Take joy in creating beauty–as you enjoy the colors and sounds of this special season, worship God. Christmas is a time that we go to special efforts to make things beautiful, to create an atmosphere set apart from the rest of the year. Hang lights with an appreciation for the One who is the light of the world. Decorate with an open-eyed spirit that rejoices and welcomes Christ into the center of our homes.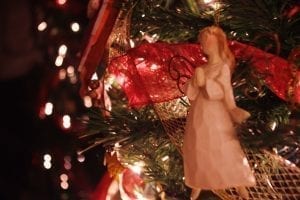 How are you creating beauty this Christmas? Share a photo of something you have made beautiful this Christmas–your tree, mantle, front door, craft, etc. You can post these on my facebook page on the sidebar.
Here are a few links you might enjoy:
Chrismon Patterns  for making symbolic ornaments.
Christmas Customs and Traditions gives the origin and meaning of many of the items we decorate with: Bells, Candles, Candy Canes, Chrismons, Cards, Wreaths, Evergreens, Jesse Trees, Stars. You can even find an explanation of the tradition of the Christmas Pickle. Who knew?