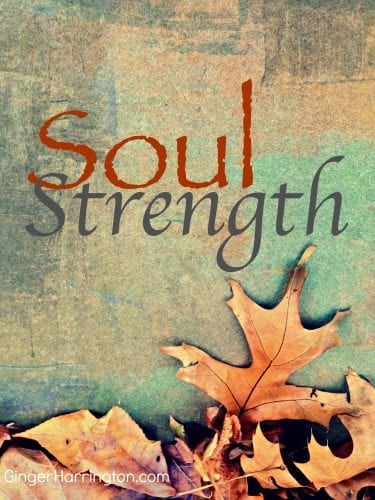 Join me this month as I take up the 31 DayWriting Challenge. I'll be posting throughout October with a variety of photos, verses, quotes and reflections to strengthen our souls. Will this be a stretch for this gal? You bet!
Some days I'll simply post a picture with a verse or quick thought. A couple of days a week, there will be a longer post. I'm looking forward to what God has to show us and together we will explore…
Soul strength. His strength.
If you've ever walked through a challenge of the soul, you know what it is to long for soul strength. We often rely on ourselves–our own strength and abilities independent of Christ, and we work hard to keep some semblance of control.
And though I love and trust God, I'm still learning how deep the old habits of the flesh go. I understand many of the truths of God, but in practice, I'm still learning to take off the old ways and grow into God's way of living.
We long for soul strength.
Here is what God desires for us, and this is the heart of soul strength:
… to be strengthened with power through His Spirit in the inner man…
 Here is the entire series.
I will add the links as we go. Each day will also post on the blog.
Day 2: God Himself is Making Me Whole
Day 3: Recharge with a Short Rest for the Soul
Day 4: The Soul Strength of Delighting in God
Day 5: Soul Notes: God's Smile is for You
Day 6: Soul Search: Why are You so Hard on Yourself?
Day 7: Soul Struggle: What's the Big Deal About the Flesh?
Day 8: Soul Questions: Do You Like You?
Day 10: Soul Conflict: Faith or Flesh?
Day 11: Soul Doing: What are You Up To?
Day 12: Soul Sabbath: Discovering the Rest of God
Day 13: Soul Thoughts in Pictures
Day 15: Soul Confidence: You are Enough
Day 16: Soul Messages: What are Your Feelings Telling You?
Day 17: Soul Truth: Feelings of Truth?
Day 18: Soul Blessings for Your Weekend
Day 19: Soul Feelings: Unlocking the Messages
Day 20: Soul Keeping: Taking Care of Your Body
Day 21: Soul Comfort: You are Loved
Day 22: Soul Thriving: Planting Roots of Faith
Day 23: Soul Glow: Shine Like Crazy
Day 24: Soul Puzzle: Finding the Right Fit
Day: 25: Soul Faith: Do You Believe God is Good?
Day 26: Soul Source: Are You Relying on Your own Efforts?
Day 27: Soul Source: Are You Relying on Your own Efforts, Part 2