Discover healthy ways to process your feelings with faith to help you work through painful emotions and stressful challenges. Consider Bible verses that can help us process painful feelings. Emotional health is vital for a healthy soul, empowering us to be aware of and cope with our feelings in positive ways. Don't miss the emotional health workbook at the end of this very personal post.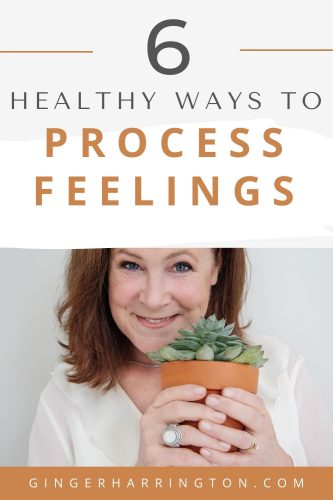 We all have days when we feel emotionally vulnerable. This life comes with problems and challenges that can trigger feelings like sadness, frustration, fear, guilt, and anger. How we handle our feelings can foster emotional health when we work through our emotions with Christ.
Processing Feelings in Healthy Ways is Challenging
Recently I had a couple of stressful conversations that brought up emotions that tempted me to react rather than respond. My negative thoughts spiraled, replaying conversations…
what was said
what wasn't said
what shouldn't have been said
what I continue saying myself in reaction
Have you been in this emotional place lately with an experience in your life? Are you struggling with vulnerable emotions such as sadness, anger, shame, resentment, grief, or insecurity? It's challenging to process our feelings in ways that lead to peace, faith, and grace, even when circumstances don't change.
Endlessly replaying the conversation doesn't help process feelings–but it's so easy to get stuck on rewind. It tends to send us into negative thinking rather than actually working through the issue.  I have learned to pray, "Lord, help me process my feelings. What do you want me to know about this?"
Invite Christ to Help You Process Your Feelings
"Notice how far you've come."
The thought was clear as I listened for Jesus to give me wisdom. I remember years when I had no idea what to do with the feelings and messages prompted by hurt or disappointment. I hid vulnerable emotions behind locked doors of silence and pretending to be "fine."
The feelings too uncomfortable to deal with—speaking up for myself, setting boundaries, or addressing conflict—I tried to ignore them, hoping they'd go away. At times I struggled with depression and anxiety when too many unprocessed feelings impacted my emotional health. You can read about that here.
Reflecting on recent conversations from the perspective of growth helped me to have a different perspective. Rather than getting stuck in overwhelm, I have a send of accomplishment I did not expect. I see the following realities:
Emotional growth of a woman who's a little braver and a lot healthier in processing vulnerable feelings.
I can be resistant, interruptive, and reactionary when strong feelings catch me off-guard.
With practice, Jesus helps me communicate with humility and honesty to speak the truth with love, both to myself and to others.
I am more willing to admit my faults and recognize my limits.
I don't apologize for my tears. I allow my vulnerability to show in the process of working through conflict. 
I am woman who is growing but still learning.
Experience Your Feelings Without Allowing Them to Control You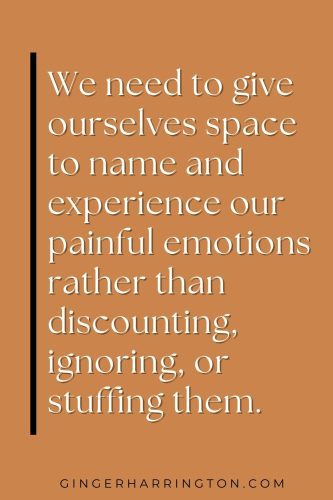 We need to give ourselves space to name and experience our painful emotions rather than discounting, ignoring, or stuffing them away. It's important to give ourselves permission to feel what we feel without defaulting to negative thought patterns or hasty fixes.
"We need to own our feelings, but not enthrone them." Rankin Wilbourne, quoted on John Ortberg's Podcast.
To take responsibility for our feelings involves recognition and experiencing them in healthy ways. To enthrone a feeling is to allow it to take primary residency in our minds, forming beliefs that influence our thoughts, attitudes, and behavior.
Working through a life-long process, God wants to heal our hearts from the patterns, fears, and strongholds that result when emotions rule and false beliefs sabotage faith. In Holy in the Moment I shared a truth that was a game-changer for my emotional health: "We can't grow spiritually beyond where we are emotionally."
In the remainder of this post, I'd like to elaborate on an excerpt from the emotions chapter in Holy in the Moment. These are truths and practices that I revisit as I do the soul work of processing my feelings with Christ. I hope they will do the same for you.
……………………………………………………………………………………………………………………………………………………………………….
Learning to understand and process our feelings is a crucial aspect of healing, growth, and holiness. Anything else is a Band-Aid, protecting the surface but not restoring the heart.
Like blinking lights on a dashboard, painful feelings wave red flags to alert our attention to things God wants to tell us about Himself, circumstances, or ourselves.
They signal problems we need to acknowledge and address.[i] Anger, fear, resentment, bitterness, sadness, discouragement, anxiety, and depression are sacred calls for our attention.
6 Healthy Ways to Process Your Feelings with Jesus
Seek the comfort of Jesus in prayer.
Invite Jesus into your feelings through prayer and remembering His presence. Ask for His comfort. Meditate on verses that show how God, Jesus, and the Holy Spirit express comfort. By faith, receive comfort through the Holy Spirit as you embrace these Bible verses to help process your feelings:
The Spirit of the Lord God is upon me,
Because the Lord anointed me
To bring good news to the humble;
He has sent me to bind up the brokenhearted,
To proclaim release to captives
And freedom to prisoners;
To proclaim the favorable year of the Lord
And the day of vengeance of our God;
To comfort all who mourn,
To grant those who mourn in Zion,
Giving them a garland instead of ashes,
The oil of gladness instead of mourning,
The cloak of praise instead of a disheartened spirit.
So they will be called oaks of righteousness,
The planting of the Lord, that He may be glorified.—Isaiah 61:1-

Blessed be the God and Father of our Lord Jesus Christ, the Father of mercies and God of all comfort, who comforts us in all our affliction so that we will be able to comfort those who are in any affliction with the comfort with which we ourselves are comforted by God.—2 Corinthians 1:3-4

The Lord is near to the brokenhearted
And saves those who are crushed in spirit. —Psalm 34:18
Evaluate the messages in your feelings.
Negative emotions such as anger, guilt, sadness, and shame can cause resentments to fester. Ask Jesus to help you recognize what you believe to be true right now. It's important to understand that feelings carry messages about what we functionally believe at this time. What are your emotions telling you?
Once you identify what you actually believe in the moment, evaluate the truth of the thought. Does it align with the truth of God and who you are in Christ? Invite Jesus to show you His perspective on the situation or person triggering your feelings.
Trust in the Lord with all your heart
And do not lean on your own understanding.
In all your ways acknowledge Him,
And He will make your paths straight. —Proverbs 3:5-6
Search for the root of your feelings.
We all make mistakes and mishandle situations. Success and failure are part of life, and people don't always agree with us. Sometimes we are misunderstood and sometimes we misunderstand.
When you struggle with your emotions, ask Jesus to help you deal with the root of the issue. I love the way author Steve Carter asks the question, "What's the thing beneath the thing?"(affiliate link) Sometimes we may find the root is connected to painful experiences in our history. Another way to explore this is to ask yourself, "why am I so upset?"
Pray these verses for faith to help you trust Jesus with your feelings.
Therefore humble yourselves under the mighty hand of God, so that He may exalt you at the proper time, having cast all your anxiety on Him, because He cares about you. —1 Peter 5:6-7

Have I not commanded you? Be strong and courageous! Do not be terrified nor dismayed, for the Lord your God is with you wherever you go."—Joshua 1:9
Choose gratitude over griping and forgiveness instead of bitterness.
Discontent creeps into our thoughts in subtle ways. When we dwell on problems, leaving our emotions unattended, griping allows resentments, disappointments, or bitterness to fester. Ask Jesus to help you see the big picture and remember the good.
Recognize blessings in your life, maybe even in the situation, with praise and gratitude. You might not be grateful for the problem, but you can choose to practice gratitude as you entrust your challenge to God.
As you focus on God's faithfulness, entrust the problem to God by choosing to forgive rather than allow resentment or bitterness to build.
Do not be anxious about anything, but in everything by prayer and pleading with thanksgiving let your requests be made known to God. And the peace of God, which surpasses all comprehension, will guard your hearts and minds in Christ Jesus. —Philippians 4:6-7
Rejoice always, pray without ceasing, in everything give thanks; for this is the will of God for you in Christ Jesus. —1 Thessalonians 5:16-18
*Note that this verse teaches us that God's desire is for us to grow in Christ so we can choose joy, respond in prayer, and be thankful in every situation.
Bear with each other and forgive one another if any of you has a grievance against someone. Forgive as the Lord forgave you.–Colossians 3:13
Release hidden expectations.
As you learn to interpret the messages of your feelings, look for hidden expectations of yourself, others, or God. Prayerfully release your expectation or desire to Jesus.
Trust Him with your desires,  willing to relinquish your right to have your own way. Ask the Jesus to reshape your desire to align with His best for you.
Trust in the Lord and do good;
Live in the land and cultivate faithfulness.
Delight yourself in the Lord;
And He will give you the desires of your heart.
Commit your way to the Lord,
Trust also in Him, and He will do it. —Psalm 37:3-5
 But seek first His kingdom and His righteousness, and all these things will be provided to you. So do not worry about tomorrow; for tomorrow will worry about itself. Each day has enough trouble of its own. —Matthew 6:33-34
Remember God's faithfulness when you feel overwhelmed or hopeless.
Difficult situations or prolonged problems can trigger feelings of discouragement or even hopelessness. Losing hope can feel overwhelming, clouding faith with doubt. Despair comes in various levels of intensity. These are the moments we most need to hang on to Jesus, the anchor for our souls.
Pour out your soul to Jesus.
Bring God into the negative by remembering His faithfulness—both in character and action. Hold fast to the truths of God as you ask Jesus to empower you to experience hope. If feelings of hopelessness persist, talk to a trusted friend, counselor, or mentor!
Don't isolate yourself when overwhelming emotions persist.
Write the following verses on a card or phone note to keep with you. Read, pray, and meditate on these truths when you need hope:
Knowing that tribulation brings about perseverance; and perseverance, proven character; and proven character, hope; and hope does not disappoint, because the love of God has been poured out within our hearts through the Holy Spirit who was given to us. —Romans 5:3b-5

My soul, wait in silence for God alone,
For my hope is from Him.
He alone is my rock and my salvation,
My refuge; I will not be shaken. —Psalm 62:5-6

Now may the God of hope fill you with all joy and peace in believing, so that you will abound in hope by the power of the Holy Spirit. —Romans 15:13
*Pin this image to save and share!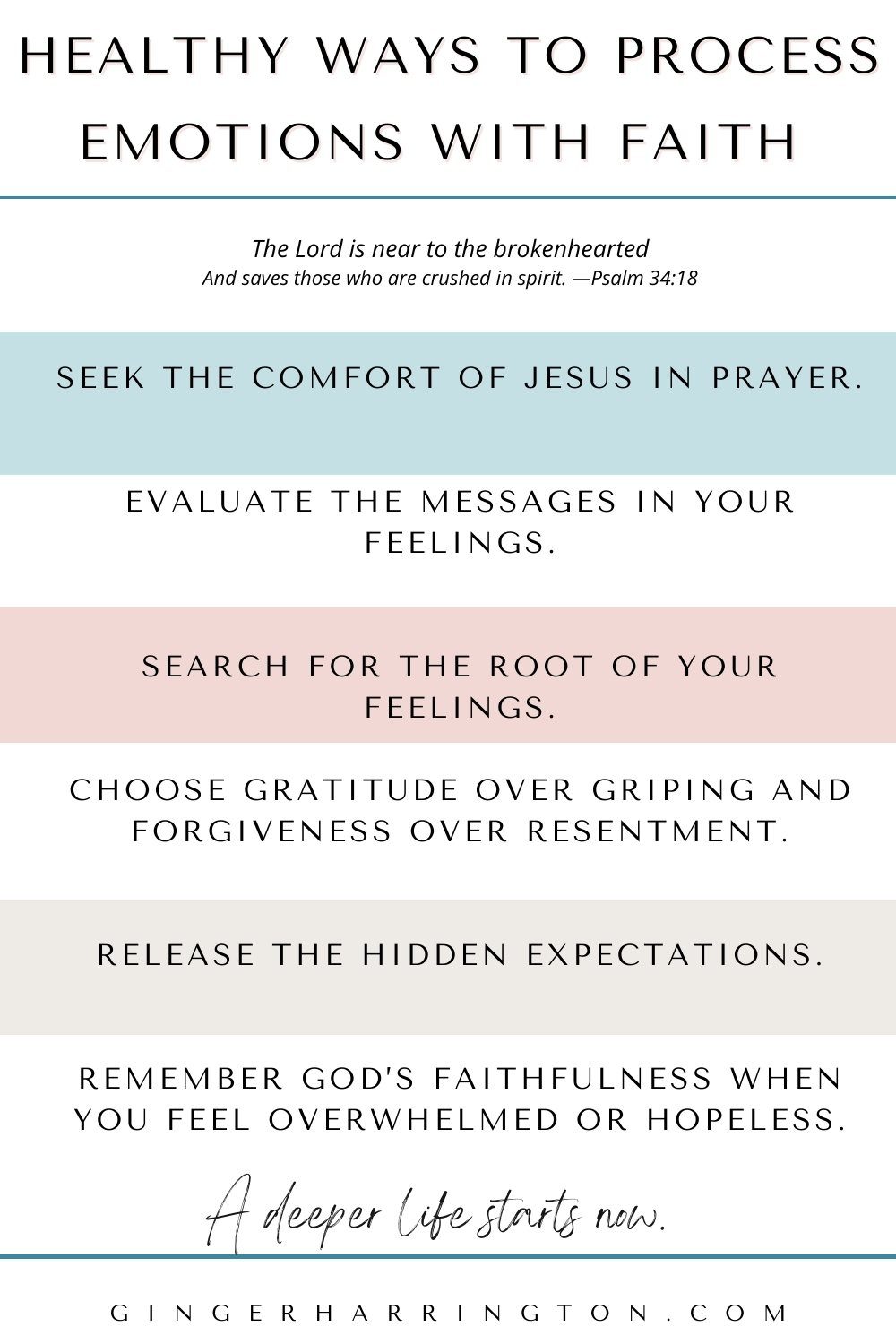 Process Your Feelings with Emotionally Healthy Faith
Releasing your rights is to be willing to feel the emotional pain as you choose to entrust your feelings and challenges to Christ.
Surrendering your expectation opens the door to receive God's supply for your needs instead of being controlled by your emotions.  Without recognition and surrender, it's easy to hang onto the hurts, demands, and messages that drive vulnerable emotions.
Do you think you could try the sacred habit of attending to your emotions in the care of Christ, seeking the help of a godly mentor or faith-based, biblical counselor if needed? In the light of truth and forgiveness, wounds and fears lose power and we discover we aren't alone in the struggle.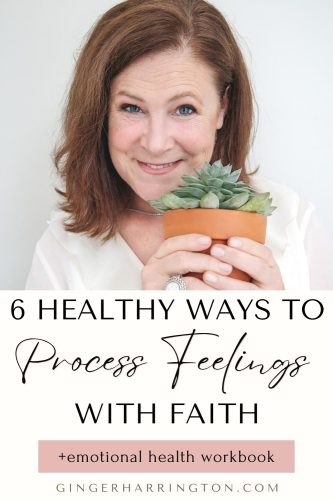 "God made my life complete when I placed all the pieces before him. . . God rewrote the text of my life when I opened the book of my heart to his eyes" (Psalm 18:20, 24 MSG).
Circumstances may not change, but processing our feelings brings inward growth and peace to settle our heart over time. In Christ, we can navigate our emotions in beneficial ways that mature our character, increase faith, and create emotional health.
As I explore my emotions with Christ, I experience peace in the midst of sadness, perspective in the face of challenge, and humility in my failures. I can honestly say, it is well with my soul, giving myself grace to be an imperfect person in this process of becoming holy and whole.
How about you, my friend? Are you struggling with your feelings? Which of these healthy ways to process your emotions are most helpful for you today?
Want More Content to Process Your Emotions in Healthy Ways?
Investing in your emotional health is worth the effort! This post has been adapted from an excerpt from the "Moments to Feel" chapter of Holy in the Moment. Each chapter of the book is packed with practical ideas to help you overcome the things that hold you back. Join thousands of readers who have discovered the value of trusting God to make us holy and whole, one moment at a time.
Purchase your copy today. (affiliate link at no cost to you)
Get Your  Free Emotional Health Workbook
Download your copy of my free resource, Flourish: An Emotional Health Workbook to help you apply the ideas in this post. You'll even find printable worksheets to help you work through situations that trigger difficult emotions. This short workbook provides a companion resource to live out strategies for emotional health  from Holy in the Moment as well! 

More Posts on Healthy Thoughts and Emotions
[i] True Life Institute. Surrender and Brokenness Lecture, p. 5