Negative thinking and toxic lists wound hearts and crush dreams.
In my last post we talked about 20 toxic ways of thinking that will poison your life. The image below reveals the kind of thinking that can lurk in the of our dark corners of our thoughts. We struggle with the tendency to keep negative lists on ourselves and others.
3 Reasons to let go of negative thinking.
1. Toxic thinking can become an emotional bad habit.
Left unchecked,  toxic thinking will make you miserable. Have you noticed that we  often keep the longest lists on those we love the most: spouses, parents, siblings, and friends? Sometimes it only takes a critical comment, an unintentional slight, or  an angry retort to ignite bitterness. On cue, painful memories flash in our minds as emotions escalate. We bow to familiar accusations that replay like broken records in our heads. Words like always, can't, and never blast our thoughts as we add another infraction to the list.
She always let's me down.
I can't do this.
He'll never change.
I'll never be enough.
2. Toxic thinking can become a negative filter distorting truth.
Our perspective warps when we relate to God, others, or ourselves based on hurt, resentment, or a lack of forgiveness. Are we keeping tally in an unhealthy way of proving to ourselves resentment is valid? Our list becomes a both a false truth and a cloudy filter through which we interpret life.
Consumed with our troubles, emotions spiral out of control.
Faith is hampered by false belief and defined by emotion.
3. Toxic thinking influences our speech.
We can begin to echo these words from the book of Job:
"I loathe my very life;
therefore I will give free rein to my complaint
and speak out in the bitterness of my soul. Job 10:1
Have you been there? Are you giving free reign to your complaints? Are you speaking out of the bitterness of your soul?
When it is quiet, and its just you and your thoughts, what is your heart saying?
For the mouth speaks out of that which fills the heart. The good man brings out of his good treasure what is good; and the evil man brings out of his evil treasure what is evil. Matthew 12:34-35
Whether our toxic thinking is personal or directed at someone else, this is no way to live. It's just plain miserable.
Whether we like it or not, we come to a powerful moment of choice.
Will we react or respond?
Will we  choose patience or anger?
Will we resent or forgive?
Will we move forward or stay stuck?
How often does this powerful moment of choice slip by unnoticed, drowned by mental noise of reciting our lists?
A toxic internal list corrodes our soul and complicates our relationships. How much lighter would we feel if we gather the courage to let go of our lists?
What will it take to loosen your grip?
What could happen if you simply remind yourself to let go of your toxic list?
Let's encourage each other with this simple phrase:
Only when we let go of our toxic thinking will we have empty hands and ready hearts to receive God's blessings. This is an intentional choice we make to obey God and honor others as well as ourselves. Free from our toxic thinking, we can live lightly in the confidence we are loved, valued, and filled in Christ.
Blessed be the God and Father of our Lord Jesus Christ, who has blessed us with every spiritual blessing in the heavenly places in Christ, 4 just as He chose us in Him before the foundation of the world, that we would be holy and blameless before Him. In love 5 He predestined us to adoption as sons through Jesus Christ to Himself, according to the kind intention of His will… Ephesians 1:3-5
Join me next time for a list of Scriptures to combat our toxic lists and negative thinking. Now that's the kind of list we need to keep!
What type of toxic list do you struggle with?
Get a copy of the free ebook, Overcome Negative Thinking for a Deeper Life when you sign up for my emails.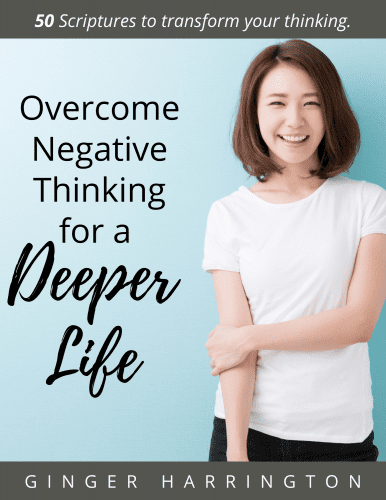 Other posts in this series:
How to Identify and Overcome Negative Thinking
Reflections of a Reluctant List Maker
20 Toxic Ways of Thinking That Will Poison Your Life