Do you have a toxic list poisoning your life?
We've been having a little fun with the lists here on the blog.  We started out with humorous confessions of a reluctant list maker.  I bared my soul revealing my love/hate relationship with lists, organization, and productivity. Then we ventured into the dark side of your list. When we begin to serve our list, we've entered the dark side.  Do we define the value of our day or measure our worth  based how many items we've checked off our list?
Then there are the lists we don't talk about.
There's a kind of list we all keep, the kind we don't like to admit. Some lists we rarely talk about, but they can consume a great deal of emotional real estate in our inner thoughts.
You won't find this list posted on the refrigerator with a cute magnet. These are the unspoken lists that are corrosive to our spiritual, emotional, or relational well being.

Tucked away out of sight, we can hold onto our toxic list with an iron grip. Sometimes we keep records against ourselves.
Have you thought about the kind of the lists that tear you down? In spite of  your accomplishments and talents, do you keep a list of all the things you think are wrong with you? The ways you never seen to measure up?
Squirreled away in the nooks and crannies of our hearts are the lists we keep on other people–ways they have hurt us, let us down, or offended us. We keep records of wrongs while overlooking our own shortcomings.
[tweetthis hidden_hashtags="#toxicthinking #negativethinking"]Isn't it time to let go of your toxic lists?[/tweetthis]
[tweetthis hidden_hashtags="#toxicthinking #negativethinking"]20 Toxic Ways of Thinking That Will Poison Your Soul[/tweetthis]
Consider the different kinds of lists we keep and the ways toxic thinking negatively impacts our lives. Each item on this list is a way of thinking that will poison our lives.

This is hard stuff, isn't it?
These are just a few of the poisonous thinking patterns that rattle in our heads, hissing with resentments, feeding doubt. Discouragement slithers like snakes in the wet grass of emotions.
Toxic lists reflect the negative thinking and the coping ways of hurting hearts. They can seethe with silent resentment behind a smile, turn pride into a fortress of anger, or stifle growth with rampant insecurity.
Just last night at dinner I had a discouraging conversation that tempted me to doubt myself. It only took a moment for my thoughts to reach down into my heart and pull up one of my toxic lists. One by one, I began to mentally list the situations that seem to show that my work will never amount to anything. Reasons why I'll never be, can't ever do…
Your list may look different from mine, but we all battle with toxic thinking.
Even as my conversation unfolded, I caught myself pulling up an old, painful list. I prayed, "Lord, I give you my list. Help me to not give into the temptation to dive into the pit of toxic thinking. Tonight I choose to trust you and not give into my emotions."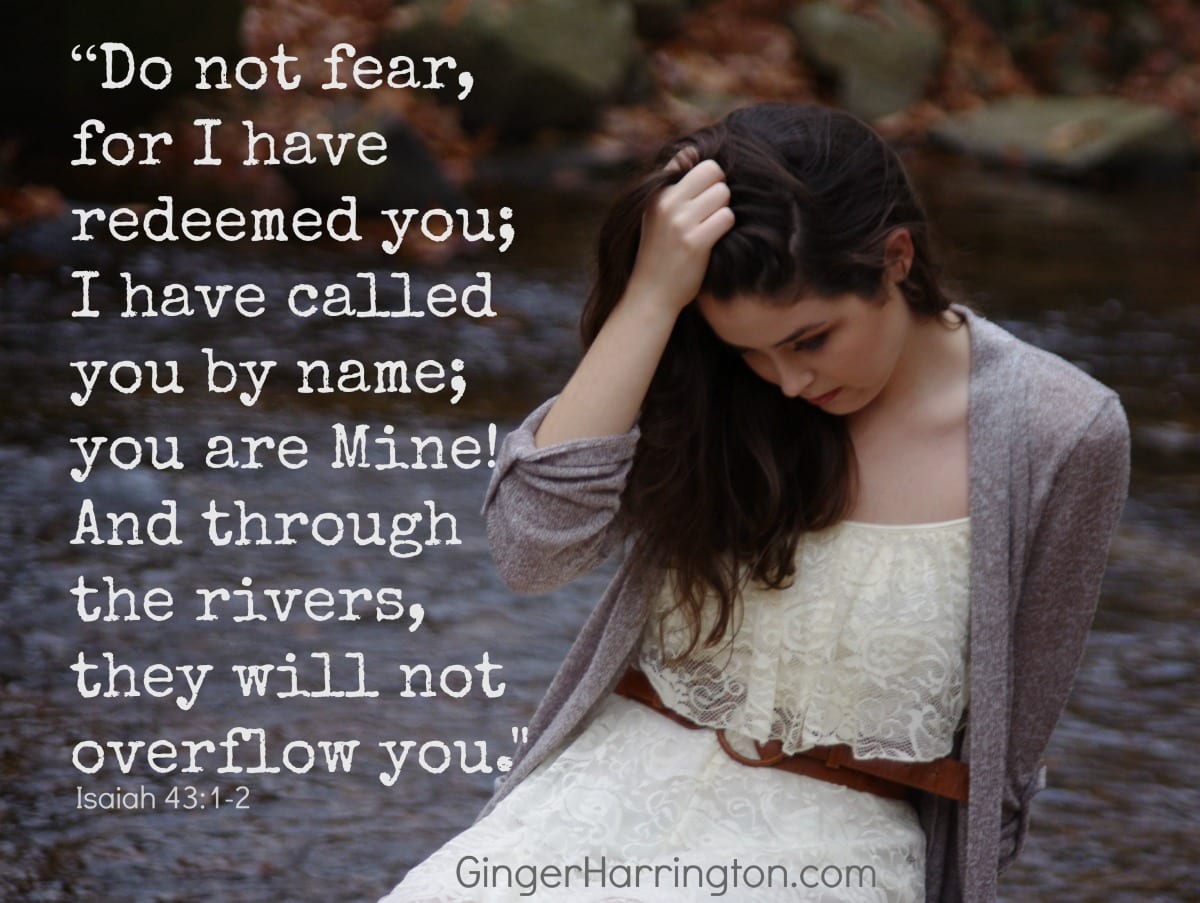 This morning I shared out my concerns with God. "Lord, show me what is true. Tell me what you think." Opening my Bible, these are the first words I saw:
But now, thus says the Lord, your Creator, O Jacob,
And He who formed you, O Israel,
"Do not fear, for I have redeemed you;
I have called you by name; you are Mine!
"When you pass through the waters, I will be with you;
And through the rivers, they will not overflow you.
When you walk through the fire, you will not be scorched,
Nor will the flame burn you.
"For I am the Lord your God,
The Holy One of Israel, your Savior…
 "Since you are precious in My sight,
Since you are honored and I love you… (Isaiah 43:1-4).
God reminds me that I am secure, called, loved by His choice. This is the opinion that matters most. When the waters of emotions and confusion rise, He whispers I am not alone. When the heat of my self-doubts accuse, I will not be burned. His word trumps the false power of my list.
Learning to identify the kinds of toxic thinking is the first step to overcome the mental trap of negative thinking. Pay attention to your thoughts, and don't give negative thoughts free reign.
Don't miss this free ebook when you sign up for Ginger's emails. Already a subscriber? Check it out on the subscriber gift page!

Is one of these toxic ways of thinking poisoning your life? Leave a comment and let's encourage and support on another in this area we all struggle with.