Every year I wait eleven long months… to wear my Christmas sweater.
You just can't wear a Christmas sweater just any ole day of the year. There's just something not right about wearing "Let it Snow!" in July.
And there is something very beautiful about a Christmas sweater. My birthday is in December. Smack-dab-in-the-middle of December, which is just about the worst time to have a birthday because everybody's too busy to celebrate you. We're all too busy taking exams, going to kid concerts, and party hopping.
But I digress.
Now I grew up in the 80's so my mother gave me a new Christmas sweater every year from 1985 to 2005, when she finally decided I just might have enough.  I had an entire wardrobe of  candy cane and reindeer infested sweaters.
Oh the bliss!
Until…
My teenaged girls started making fun of my beloved Christmas sweaters. Please try not to be shocked. They really are nice girls…most of the time.
They don't realize it, but they'd be even cuter in a Christmas sweater. Their loss.
Well the sweater I'm wearing is my last one, my last hold out against the stigma of anti-Christmas sweater frenzy that has taken over the fashion sense of otherwise good Americans. My teenaged girls, Lord bless'em, have convinced me… NO they've brainwashed me…that these works of art are NO LONGER in style!
Can you imagine?!!!
Call it pride, but being the mother of teenagers, I really don't like to go places and have my girls embarrassed to be seen with their mother. I do plenty enough of embarrassing things without wearing my Christmas sweater.
So I have down-sized my Christmas sweater wardrobe and this is the last one. It's only 15 years old–it's still got a lot of life to it, cause I only wear it in December, right? You know, I just can't figure out how something this cute can go out of style that fast.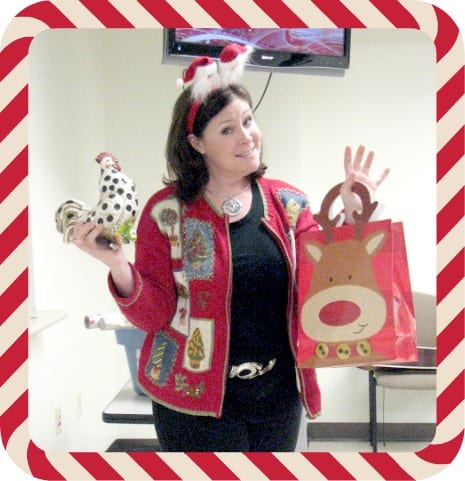 It might be a little dirty but I can't wash it or all the bling will fall off. And I'll keep my sparkle, thank you very much. Just a little spritz of perfume and no one will know the difference. And that old chocolate stain blends right in with the little felt packages next to gingerbread man.
And as soon as these girls are out of the house, I'm going to get some more Christmas sweaters. I'm just going to wear them anyway cause I like them and that's that.
The Christmas Sweater Come Back
Funny enough, just yesterday one of my girls wanted to borrow my Christmas sweater. Finally! I thought they have seen the light. You know, if you wait long enough, things will come back in style.
They wanted it for an Ugly Christmas Sweater party.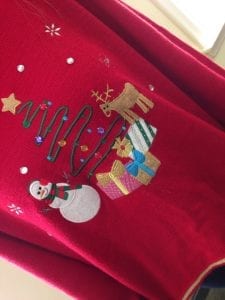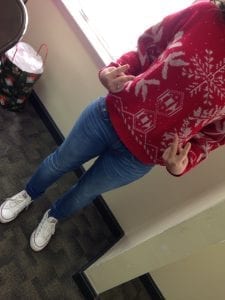 I'm not going to even begin to describe how offended I am.
There is a glimmer of hope for the resurgence of the Christmas sweater. Oddly enough, it is the men who have caught the love of Christmas emblazoned on a sweater. Yes, you read that correctly. And as men often do, they just have to one-up the women, taking the Christmas sweater to the suit. Of course they aren't brave enough to say how they really feel, calling it The Ugly Christmas Sweater Suit.
Men are just a little slow to catch on to the love of the Christmas sweater. We can think what we like, but these fashion statements sold out on Cyber Monday and they are now taking pre-orders for next year.
For those that are not over the top, or just have to have a Christmas sweater to wear this year, they still have some of these sweaters at the store…in the men's department no less. Can't find a Christmas sweater in the women's section. For shame!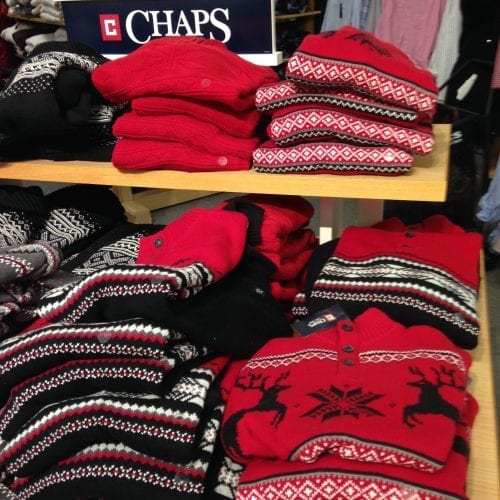 So here's my last stay-joyfully-sane-this-Christmas tip.
Don't let anyone guilt you, harass you, or embarrass you out of fully enjoying your Christmas sweater this year. <Tweet.
This month is crazy enough without having the joy of your favorite Christmas sweater. So that's it, Sister, head on up to the attic and unpack that lovely sweater you've secretly been longing to wear. I know you didn't have the heart to get rid of yours either. So let's wear them with pride!
Because we're taking back the Christmas sweater.
In fact, I just might wear mine all winter long…because I'm just a fashion renegade.
Because everything is better in a Christmas sweater!
Give the gift of a laugh today and share these posts with your friends on Facebook, Twitter, and Pinterest! Missed some of the Christmas fun around here? You can find all the Christmas humor right here:
Get Ready, Get Set, Get Christmas! 
Stay-Sane Tips for This Christmas
Stay-Mostly-Sane-This-Christmas Tips
All Wrapped Up With Stay-Sort-Sane-This-Christmas Tips
Get a free Christmas devotional from Ginger when you sign up for my newsletter! Enjoy this beautiful ebook to spark hope in your life this Christmas. This is my Christmas gift for you.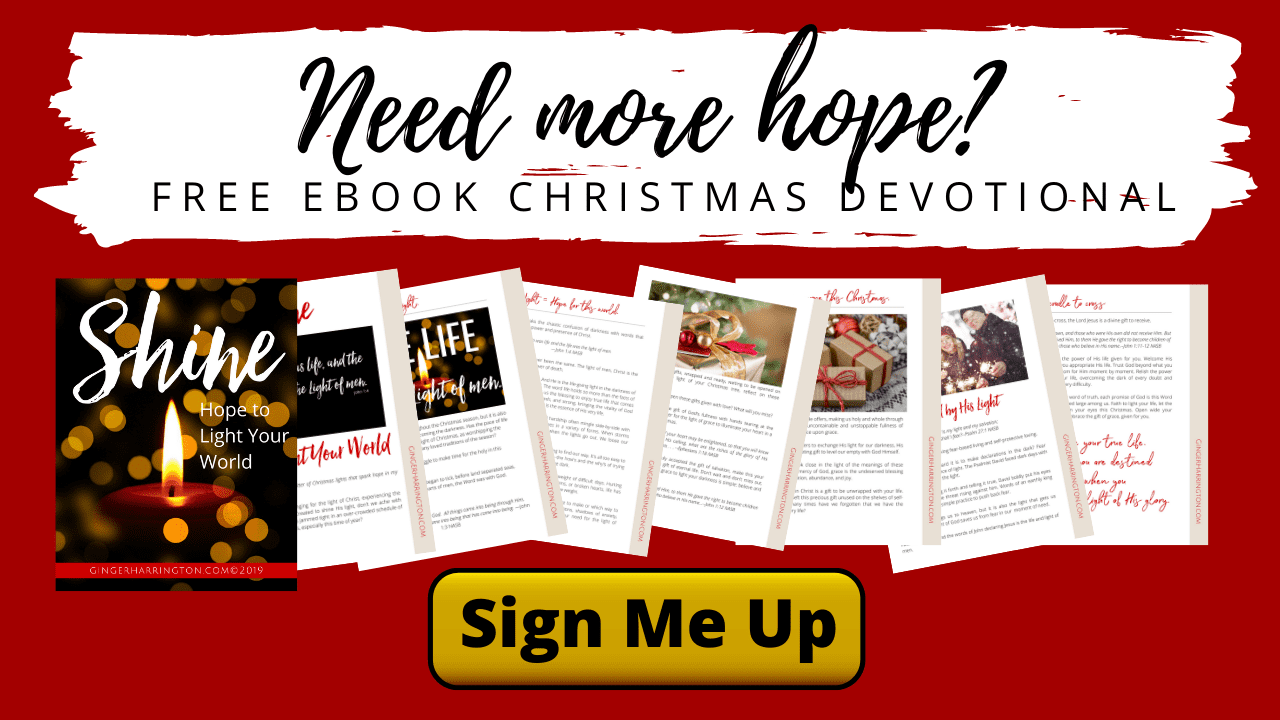 ---
Enjoy the Best of Christmas from Ginger
A curated collection of Christmas content from award-winning author and blogger, Ginger Harrington. Take the Christmas Worship Challenge, read inspiring devotions, download free gifts, gather ideas for family fun, make a special gift, and chuckle with Ginger's Christmas humor. Read the story of Ginger's Christmas miracle in a free chapter from her book, Holy in the Moment. Enjoy the best of Christmas that you'll want to come back to year after year!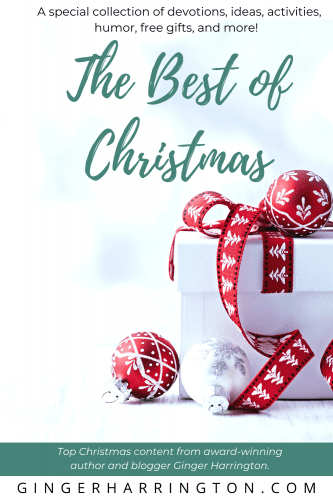 ---
Get Your Free Chapter!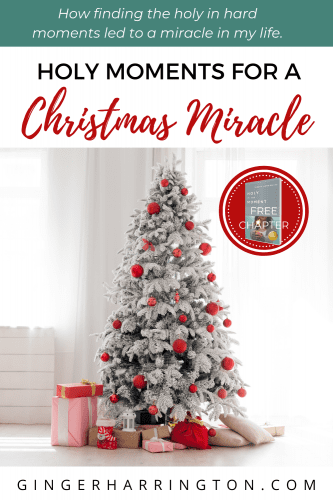 Read the story of a Christmas miracle I experienced in the first chapter of my award-winning book, Holy in the Moment. You'll read  a poignant story from one challenging Christmas in my life at the end of the first chapter. Read the story of what happened here. Give the gift of holy this Christmas–Holy in the Moment makes a wonderful gift to encourage faith in a practical way. Learn more about the book here.
Download your free chapter here.