Let the mad rush and the festive excitement begin! For the near future I'm featuring humor with a twist of ridiculous on the blog-o-la. Enjoy a tongue and cheek look at the craziness of this special time of year as I share my battle plan of Stay-Sane-Tips for this Christmas.
Let's get ready. Get set. Get Christmas!
Retail stores feed the gung-ho Christmas-before-Halloween fervor that has taken over our nation. Thanksgiving is barely a holiday on it's own as more and more folks are overcome by the compulsion to decorate for Christmas as early as possible. The turkey is barely off the table before we are shooing our guests out the door and breaking out the decorations with glee.
The decorating.
Can we talk about the decorating?
Journalists have noted a distinct run on Pintrest the day after Thanksgiving in the mad rush for new and better ideas for decorating for Christmas this year. As if we need to do more, bigger, and better…. I'm pretty sure we're a bit over the top already.
Pintrest executives had to work overtime to keep their servers from crashing with the increased traffic. With the popularity of smart phones, we can now do our Black Friday shopping and stay up to date with Pintrest, all the while posting our bargains and our decorating success on Facebook and Instagram!
But in reality, what would Christmas be without the decorating? Nothing feels like home for the holiday's like a house decked with lights and greenery.
The Lights
Don't you just love putting up the lights and adding that festive ambiance to your electric bill for the month of December? And isn't it fun the way those strings of lights have a mind of their own, tangle up with the ends nowhere to be found?
You risk life and limb to get them up on the top of your house. You turn them on, all ready to oohh and ahh, and nothing happens.
Drat. Forgot to check for working lights before heading up to the roof.
Unhang (is that a word?) the lights and head back down the ladder. You spend 15 minutes trying to find that one little bulb that won't work. You shake it; you try to jiggle it back to life. Then you accidentally step on the last replacement bulb. Crunch and it's another trip to Walmart for more lights.
Stay-Sane-This-Christmas Tip #1:
Let the men in your household take over light duty and stay as far away as possible. 
Conquering the lights satisfies that manly urge to slay deer and provide for the family. Staying out of the way ensures marital harmony while your man proves to the neighbors who has the biggest, baddest light display.

And the garland.
Greenery is one of my favorite parts of Christmas decorating. This is where the man better get out of the way and let me put boughs of holly where ever my sweet little heart desires! Yes, we need garland there, and there…and there….!
Even better is greenery with some sparkle to it–shiny gold ribbon or glittery garland adds a festive touch!
In fact, you just can't have too much bling when it comes to Christmas decorating! <Tweet.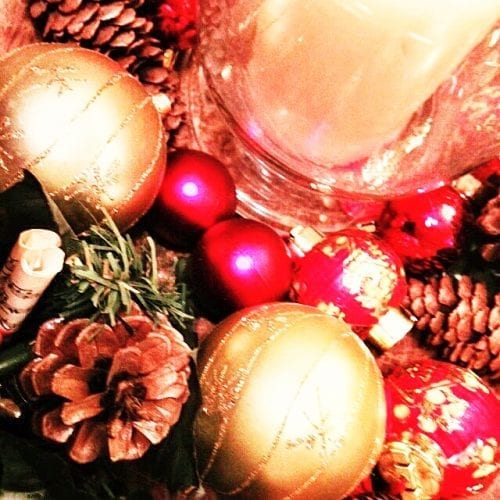 Stay-Sane-This-Christmas Tip #2:
Never underestimate the power of glitter.
If you mess anything up, just use a little glitter. A little glitter will fix most anything.
Late with the Christmas cards? Add a glitter sticker and all is forgiven.
Break your favorite Christmas plate? A little glitter glue will fix it.
Burn the cookies…
a little glitter!
What's your best Stay-Sane-This-Christmas Tip?
Today I'm joining the community at Coffee for Your Heart, Faith and Fellowship, Family Fun Friday, and Fellowship Fridays.