What next when it comes to those ridiculous Stay-Sane-This-Christmas tips??
The wrapping of the gifts!
I love wrapping Christmas presents. I can put Martha Stewart to shame with my breath-taking creations of paper and ribbon. And don't forget the tags–that's the best part.
Stay-Sane-This-Christmas Tip:
Wrapping Paper is a multipurpose must have.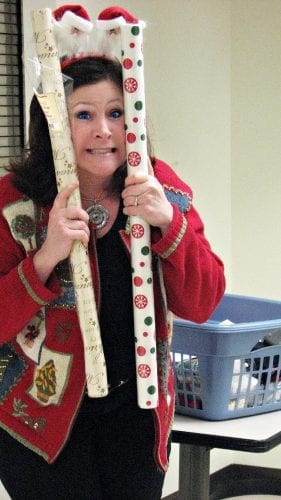 Wrapping paper is handy for more than making your gifts sparkle with festive cheer. Wrapping paper…it's not just for presents anymore…
If you're children are not behaving (it happens!)…a good little whack with the wrapping paper will fix it. Now don't do it too hard so you don't bend the roll and crease the paper.
If a little wrapping paper spanking doesn't fix their naughty behavior, just remind them that Santa's checking his list…and hand them each a roll of wrapping paper and let them fight it out. Last one standing gets to wrap the rest of the presents…
Not only helpful for correcting naughty children, wrapping paper can help in the rare pinch should you run out of toilet paper during your holiday entertaining…how festive is that?
Stay-Sane-This-Christmas Tip:
When it comes to wrapping presents, the wrap-as-you-go plan is the best way.
Don't squirrel away your gifties, procrastinating until the night before Christmas to wrap your treasures. First of all, that makes for a really long night.
And more importantly, you just might not remember where you hid everything. Let me tell you, it is no fun to find that special Christmas gift stuffed in the back of the garage under grandma's china in the middle of June.
I'm sure I've never done that, but it could happen…
When life spins out of control and chaos comes for an uninvited visit, your Christmas cheer can frizzle as your energy deserts you at your hour of need. All these things that we've looked forward to begin to become a burden. Something we have to do rather than traditions we enjoy doing.
In the midst of the spiral of activity it's easy to loose sight of the true wonder of Christmas. Frazzled becomes the new norm and I begin to get a little grumpy. Okay, well, maybe more than a little grumpy. I can get downright testy.
I don't know about you, but by the middle of December I'm exhausted, feeling like I've run a marathon every day.
Stay-Sorta-Sane tips: more tips of a ridiculous nature to keep you sorta sane.
Institute a mandatory bedtime for the month of December. That way you can ensure at least 6 hours of beauty rest to keep you going for the long haul-cause December has 31 days of fun to keep up with.
Let your kids take over the carpool. They know where they're going by now. You've showed them the way enough times, right?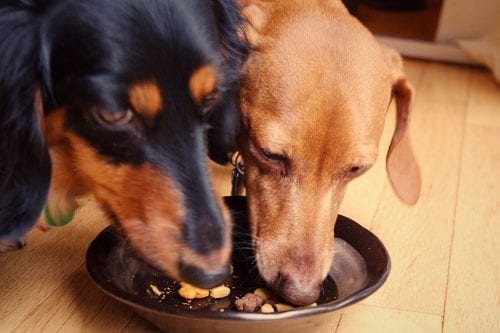 Let your dogs help with the dishes. No more scrubbing pots and pans and they wash up real easy after five minutes with Fido. And by the way, don't forget to train your dogs to help with the laundry. Kid's too. Surely they are old enough to help with the laundry if they can take care of the carpool.
See, the real trick to saving your sanity this Christmas is to delegate, delegate, delegate!
Make sure you keep your windows and doors locked. No unwanted intruders this year! You never know when those pesky elves will abandon the shelf at the neighbor's and sneak into your house. Oh the damage these grinning little creatures can wreak on a household!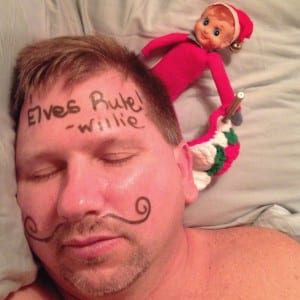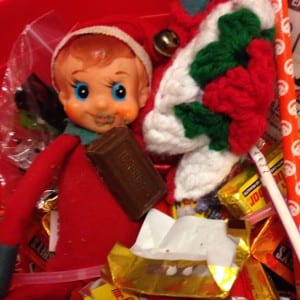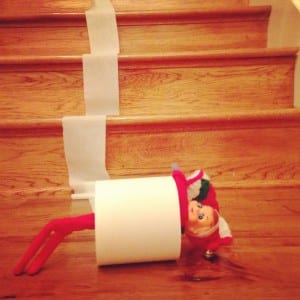 Whether you're shopping, hanging the lights, decorating, or wrapping gifts, remember the best Stay-Sorta-Sane-Tips:
Enjoy it all and don't let the little things get to you!
Love your family and enjoy your friends.
Give the gift of yourself.
Smile every day.
Don't get distracted by all the glitz or overwhelmed by your to-do list. Keep your focus on the whole reason we celebrate Christmas.
Jesus was born for you.
Many thanks to my friend Celeste Vaughn of Celestial Prescriptions for sharing her fun elf pictures.
I'm joining the crew at Coffee for Your Heart today.
Get a free Christmas devotional from Ginger when you sign up for my newsletter! Enjoy this beautiful ebook to spark hope in your life this Christmas. This is my Christmas gift for you.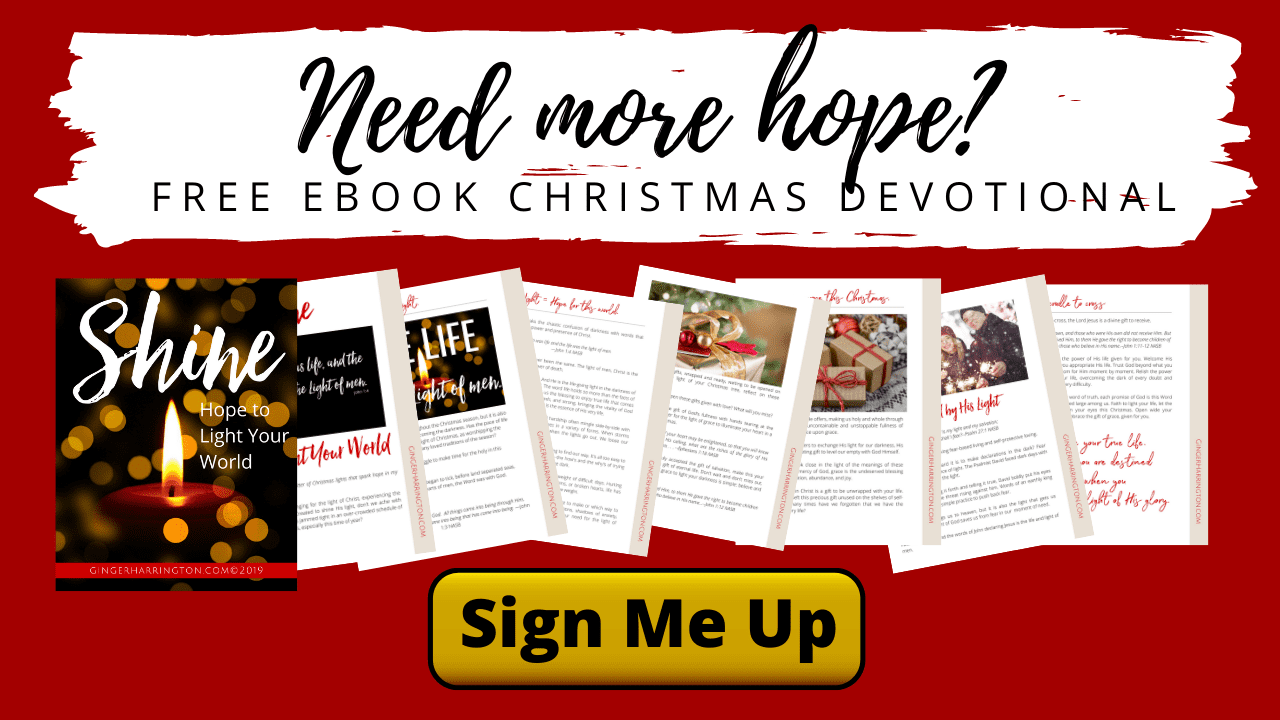 ---
Enjoy the Best of Christmas from Ginger
A curated collection of Christmas content from award-winning author and blogger, Ginger Harrington. Take the Christmas Worship Challenge, read inspiring devotions, download free gifts, gather ideas for family fun, make a special gift, and chuckle with Ginger's Christmas humor. Read the story of Ginger's Christmas miracle in a free chapter from her book, Holy in the Moment. Enjoy the best of Christmas that you'll want to come back to year after year!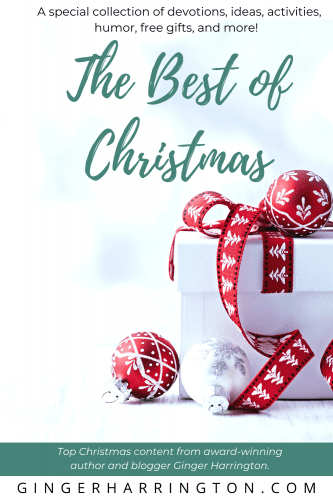 ---
Get Your Free Chapter!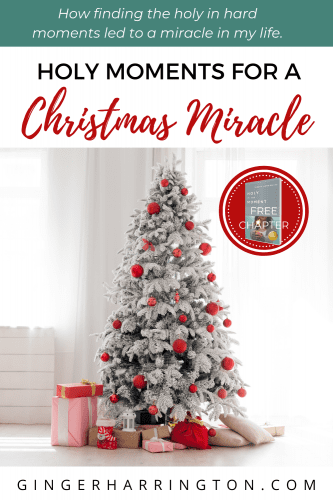 Read the story of a Christmas miracle I experienced in the first chapter of my award-winning book, Holy in the Moment. You'll read  a poignant story from one challenging Christmas in my life at the end of the first chapter. Read the story of what happened here. Give the gift of holy this Christmas–Holy in the Moment makes a wonderful gift to encourage faith in a practical way. Learn more about the book here.
Download your free chapter here.