This time of year, a gal needs a little help to prepare for all the holiday cheer. Incorporate my Stay-Sane-Tips to help your Christmas run smoothly. Join me today for Stay-Mostly-Sane Tips you can't afford to miss.<Tweet.
When festive turns to frantic, a little organization can save the day. Let's get organized with our Christmas To-Do List.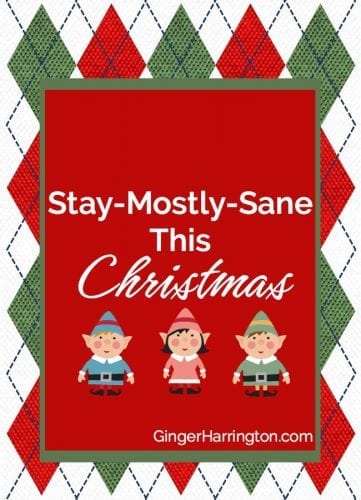 The stay-mostly-sane to-do list tip:
This time of year my to-do list gets a little long–like a mile or two…
Use a roll of toilet paper for your list and you'll have plenty of room to write down all those tasks that need doing.
Here's my list as of today.
Let me just read you my list so far.
Take Christmas card photo.
Write Christmas cards…late already.
Bake 50 dozen cookies.
Shop for presents. What to get Aunt Gertrude?!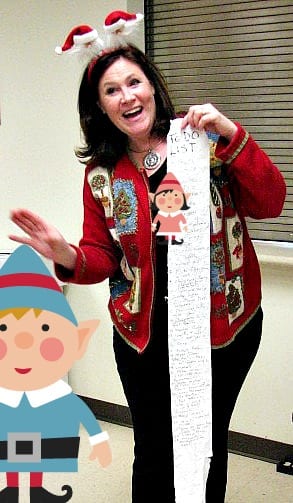 Don't forget the paper boy this year…
Wrap presents.
Shop for groceries.
Select teacher gifts.
Attend children's band concert.
Run down the hall to catch the chorus concert.
Sing in the church Christmas program.
Are those Christmas cards out yet?
Plan and attend all the all the kid's classroom christmas parties–scour Pinterest for the best party ideas.
The Sunday School party.
Attend husband's work party…do we have to go this year?
The neighborhood party.
Bake 15 dozen more cookies. Slice and bake will do!
Clean the house again.
Go to the grocery again…must they eat every night?
Give donations.
Post office. Wait in long lines. Scratch that and order from Amazon instead.
Oh  goodness. It's enough to drive you right next door to crazy!
And can we talk about the Christmas parties…
Now I love to have fun, but have you noticed that there are fifty thousand, million parties every Christmas? Hello… are there not eleven other months in the year? I'd like to go to a party some other time…like in March when I've recuperated from the Christmas frenzy.
What's wrong with a white elephant exchange in May? What a great way to celebrate graduation… And on that note, can anyone tell me why stealing from your friends and re-gifting has become part of the Christmas party tradition? Just curious.  I'm really not sure what any of that has to do with white elephants…
The stay-mostly-sane Christmas party tip:
Limit your family to twelve parties. Ten is too few and fifteen is too many. After all you've got to carve out some family time, right?
Now how about Christmas cards?
I'm pretty sure that whoever invented the idea of sending Christmas cards was secretly plotting to push mothers over the edge of reason during this blessed time of year.
First of all, no family Christmas photo is taken without blood, sweat, tears, and a good tantrum or two. Christmas-card-photo-stress is not just for the two year olds.
The stay-mostly-sane Christmas card photo tip:
Your children will never out-grow that Christmas-Card-Photo Rebellion! Just accept it and pay your dues. If you want a good family photo, you're going to have to earn it the hard way.
The day is never going to come when you mention Christmas card photos and your children jump up and shout, "Yippee!" Nope–it's not going to happen. It is an unwritten law between parents and children…
Last year my son turned 21 and went missing for two hours when it was time to take our family photo last year. We nearly called in a missing person's report.
You think I'm kidding…
Two years ago my kids meekly submitted to dressing up, but secretly plotted  to take over the photo shoot. I should have known something was up when they wore coordinating colors without being nagged.
Family photos gone bad.
There's just something not right about a chainsaw in the family Christmas Photo.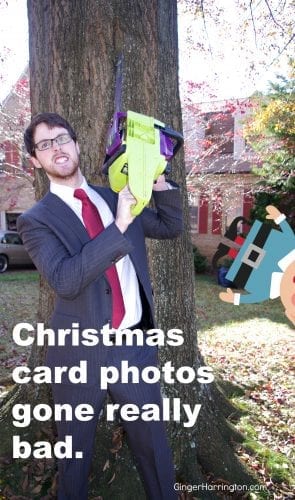 What about the pressure to get your cards out before Christmas…as if you don't already have enough to do.
"Honey, have you sent the Christmas cards yet?"
No, I'm STILL playing Candy Crush…
Another stay-mostly-sane Christmas card tip:
Send Valentine's Day cards instead.
On the scale of holidays, Valentine's day could stand to have a little more attention.
You can still send lot's of heartfelt greetings–after all Valentine's day is all about love, right? Take your family photo at Christmas–everyone will be already wearing red, and that fits perfectly with Valentine's day.
I might suggest you don't take the picture in front of the Christmas tree–a sure giveaway that your Valentine card is really just a late Christmas card. Avoid the Christmas decoration photo bombs and no one will be the wiser.
These are some of my best tips to simplify your life this Christmas. Cause Christmas can make you a little crazy, can't it? What's the craziest thing on your to-do list today?
Get a free Christmas devotional from Ginger when you sign up for my newsletter! Enjoy this beautiful ebook to spark hope in your life this Christmas. This is my Christmas gift for you.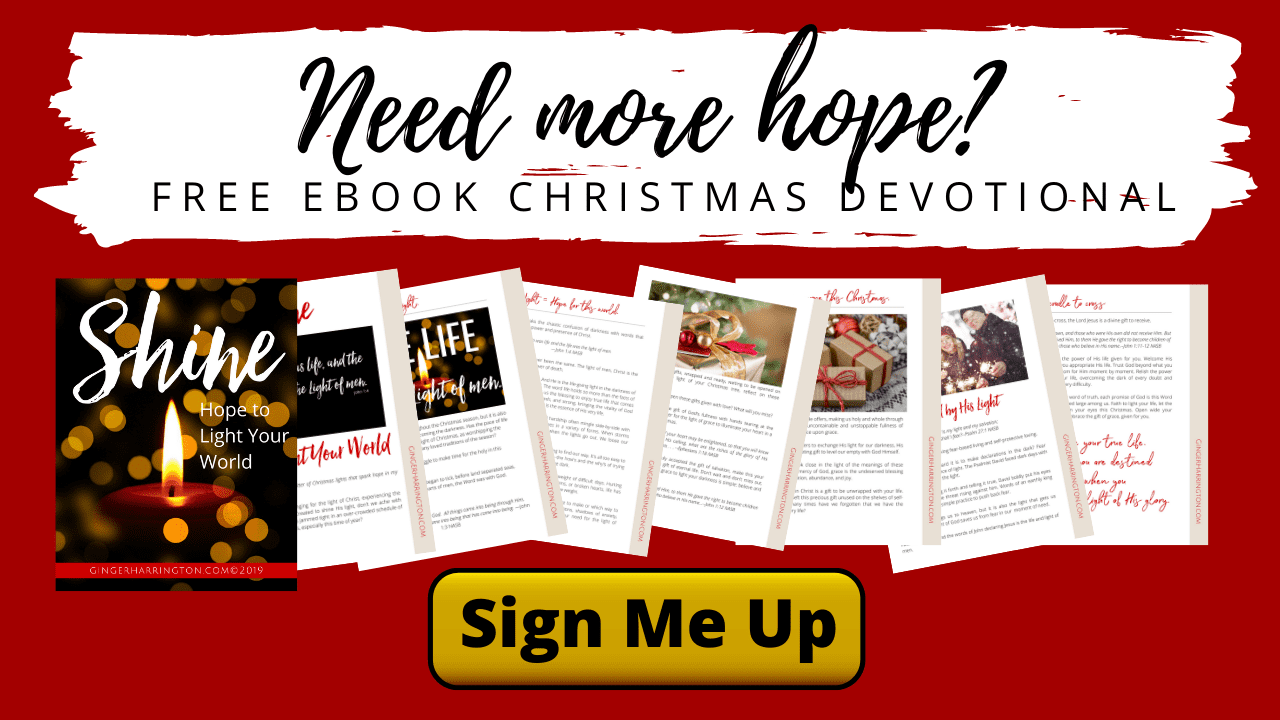 ---
Enjoy the Best of Christmas from Ginger
A curated collection of Christmas content from award-winning author and blogger, Ginger Harrington. Take the Christmas Worship Challenge, read inspiring devotions, download free gifts, gather ideas for family fun, make a special gift, and chuckle with Ginger's Christmas humor. Read the story of Ginger's Christmas miracle in a free chapter from her book, Holy in the Moment. Enjoy the best of Christmas that you'll want to come back to year after year!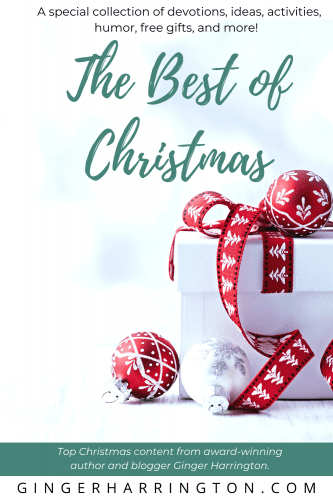 ---
Get Your Free Chapter!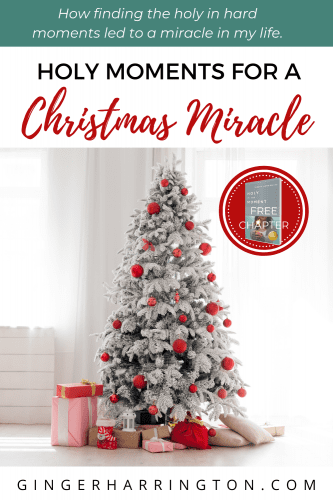 Read the story of a Christmas miracle I experienced in the first chapter of my award-winning book, Holy in the Moment. You'll read  a poignant story from one challenging Christmas in my life at the end of the first chapter. Read the story of what happened here. Give the gift of holy this Christmas–Holy in the Moment makes a wonderful gift to encourage faith in a practical way. Learn more about the book here.
Download your free chapter here.