Today I'm sharing a collection of powerful Bible verses that have encouraged me in 28 years of being a mom. Being a mom takes commitment, hard work, and plenty of love. A gift idea for Mother's Day is to print the free downloadable list to pray for and encourage the moms of all ages in your life. Tuck this list into a card or gift and bless moms with the gift of encouragement this Mother's Day or any day when they need it most.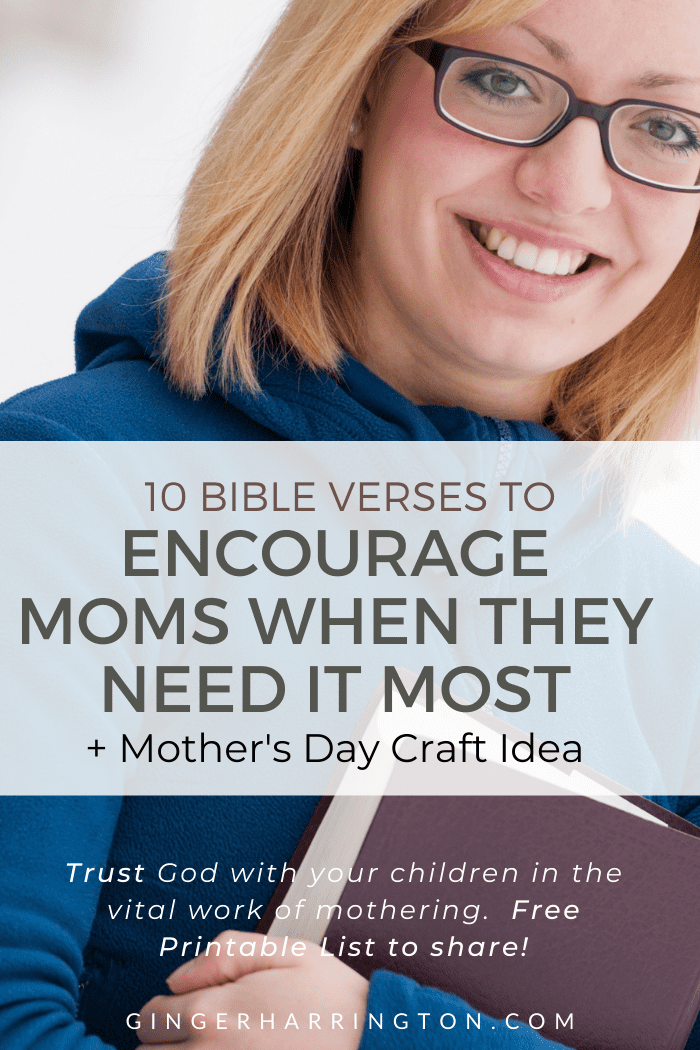 The Joy and Challenge Challenge of Motherhood
Motherhood is a joy and a challenge all wrapped together in a beautiful gift of life. Our kids mean the world to us and we work hard to be the best mom we can be. It takes commitment, hard work, and plenty of love to raise our children. We often need God's encouragement in the parenting journey.
My first day of being a mom didn't go well.
When my first child was born, I sat on the edge of the hospital bed. I held onto the industrial blue sheets as if that could keep me from falling into the unknown before me. I learned how to breathe through contractions, change a diaper, and give a bath in my pre-natal class. Somehow this didn't seem enough qualification to take our new baby home!
Tears streamed down my cheeks. I was a mess of nerves and exhaustion after a 24 hour labor and rooming with 3 other moms and babies. (The joys of a small military hospital in the 90's!).
I was reluctant to leave the hospital filled with baby experts.  I learned to identify his cry as I heard the nursery staff trying (again and again) to calm "Baby Caleb."
"If they experts can't get him to stop crying, how in the world can I?"  As my fear ramped up to the edge of a meltdown, my doctor walked in the room
.
"What's wrong? How are we doing today?" the doctor asked with an empathetic smile.
"Wwwhat if I break him? I don't know how to be a mother," the words came out with tremor in my voice.
The doctor said, "You've got the baby-blues right now. It'll pass. You're going to be a great mom."
His words were a needed boost of confidence and encouragement I needed.
Do you know a mom who could use an encouraging word or a boost of confidence?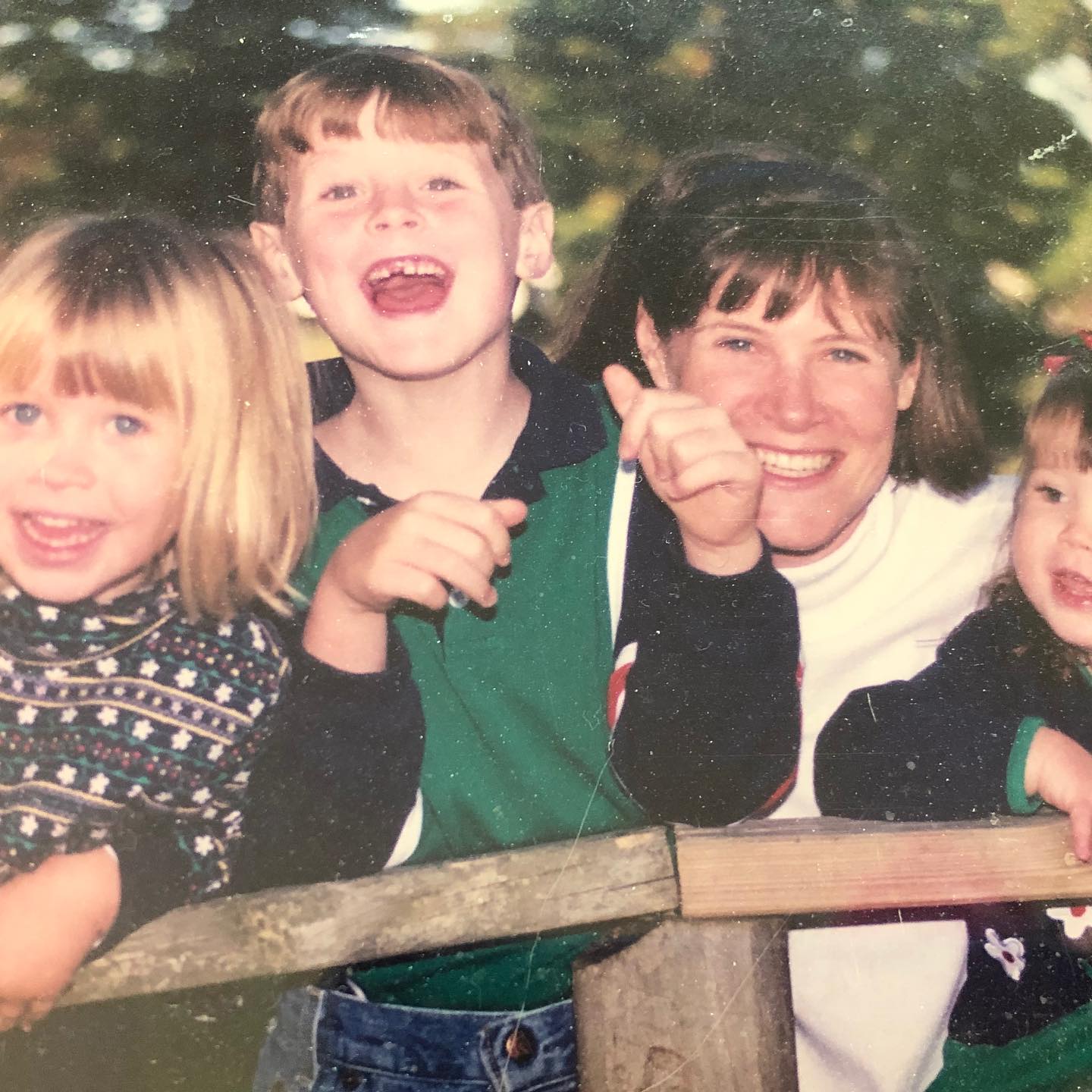 Mom's Need Encouragement 
This was my first taste of Mom Worry, and I hadn't even left the hospital. 
Being a mother has been a wonderful, challenging, and joyful part of life. And I wouldn't trade a moment of it.
Well,

maybe

I'd trade in a few moments for a do-over.
These are the moments I needed encouragement for mistakes I made,  words I shouldn't have said, and things I didn't do.  Moments like the time I forgot to pick up my daughter at school. And art lessons as she recently reminded me. Oops, I forgot about that one.
Through the years, I encouraged my kids in many ways. But sometimes I needed encouragement too. There wasn't always someone to encourage right when I needed it.  The duties of motherhood can deplete even the experienced mom. Over time, I learned to go to God for  encouragement. When we come to God with our weariness we receive rest for our souls and encouragement for our hearts. Many times God has pointed  me to Bible verses that have strengthened and encouraged me.  
Most of my
Mom Worry
came down to fear of failure. I worried that somehow I would mess them up or let them down.
It's easy to slip into a level of fear-based parenting fueled with a dose of perfectionism. It can be easy it  to react to the problem of the day as if it is the end of the story. We worry how things will turn out. If our kids will be okay.
Mom's need encouragement when we worry. . .
the baby will never sleep through the night

the toddler will never potty train

the siblings will never stop squabbling

the frustrated child will never learn patience and self-control

the disorganized student will never submit assignments on time

the disobedient kid will never obey

the antagonistic teen will never make better choices

the prodigal will never turn to God
Each of these concerns are important and burden a mother's heart.
As babies grow into adults the challenges our children face are bigger and the stakes are higher. Moms of all ages need encouragement to trust God with our children in the vital work of mothering.
We value encouraging words from others, but receiving encouraging words and Scriptures from God strengthens when we need it most.
Encouragement for a Mother's Heart

You don't have to be Super Mom.
At least not every day! I know there are days where you totally rock in your Mom Super Power! But then there are the days when we don't.
Do you need biblical encouragement and deeper faith in your parenting? Have you had moments of worry that you will somehow "mess up" your kids because you aren't perfect? Do your children struggle with challenges that keep you up at night?
I gave grace to my children in their challenges. Giving grace to myself?
Not so much.
I expected that I should somehow be Super-Mom, able to jump over every childhood problem in a single leap. "Super-Mom Syndrome thrives on doing all the right things to build the perfect family." I wrote about this struggle in the parenting chapter of Holy in the Moment.
God's Encouraging Words for Moms
Prayer and scripture are a powerful source of strength, help, and encouragement.
Here are a selection of verses that  God encourage and deepen my faith when parenting is hard.  One by one, the God has spoken these strengthening words to my heart when I needed it most.
Though I didn't hear God speak aloud, the Holy Spirit drew my attention to a specific Bible verses. It made all the difference. It still does! Though I am now an empty-nester, I will never age out of a need for encouragement when my kids face difficult times!
God's Word reminds me that being a mom is a sacred journey, not a destination or an accomplishment. Click To Tweet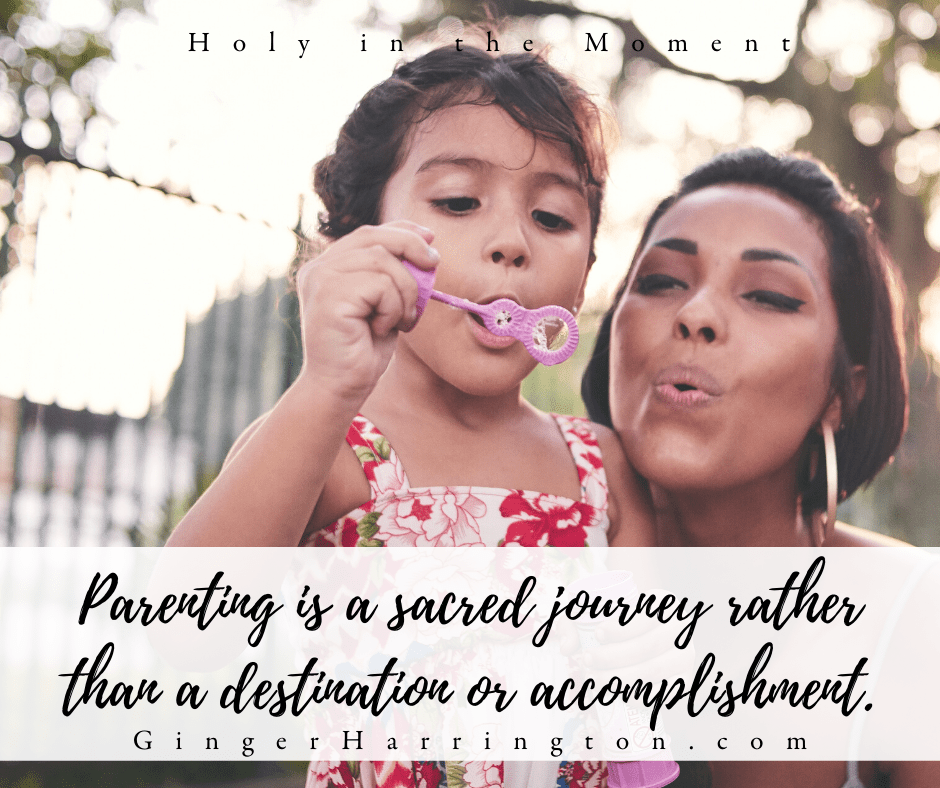 How about you? Do you need God's encouragement today?
10  Bible Verses to Encourage Moms When You Need it Most
Print this list
to pray for the moms in your life or for your own parenting. The best Mother's Day gift is the gift of
prayer
and encouragement. Though this post is written in honor of Mother's Day,
these powerful verses can encourage us all when we need it most!
Encouragement when you struggle to trust God:
Trust in the Lord with all your heart
And do not lean on your own understanding.
In all your ways acknowledge Him,
And He will make your paths straight. –Proverbs 3:5-6
Encouragement when you are overwhelmed:
"Do not fear, for I have redeemed you;
I have called you by name; you are Mine!
When you pass through the waters, I will be with you;
And through the rivers, they will not overflow you.
When you walk through the fire, you will not be scorched,
Nor will the flame burn you.
For I am the Lord your God,
The Holy One of Israel, your Savior . . . –Isaiah 43:1-3
Encouragement when you need peace:
The steadfast of mind You will keep in perfect peace,
Because he trusts in You. –Isaiah 26:3
Encouragement when you feel alone and need help:
For He Himself has said, "I will never desert you, nor will I ever abandon you," so that we confidently say, "The Lord is my helper, I will not be afraid.
What will man do to me?" –Hebrews 13:5-6
Encouragement when you need a fresh start:
The Lord's acts of mercy indeed do not end,
For His compassions do not fail.
They are new every morning;
Great is Your faithfulness. –Lamentations 3:22-23
Encouragement when you need confidence:
For I am confident of this very thing, that He who began a good work among you will complete it by the day of Christ Jesus. –Philippians 1:6
Encouragement when you need more love to give:
And may the Lord cause you to increase and overflow in love for one another. . . –1 Thessalonians 3:12
Encouragement when you're not sure what to pray:
Now in the same way the Spirit also helps our weakness; for we do not know what to pray for as we should, but the Spirit Himself intercedes for us with groanings too deep for words; and He who searches the hearts knows what the mind of the Spirit is, because He intercedes for the saints according to the will of God. –Romans 8:26
Encouragement when you worry:
And we know that God causes all things to work together for good to those who love God, to those who are called according to His purpose. –Romans 8:28
Encouragement when you need to keep going:
Not that I have already grasped it all or have already become perfect, but I press on if I may also take hold of that or which I was even taken hold of by Christ Jesus. Brothers and sisters, I do not regard myself as having taken hold of it yet; but one thing I do: forgetting what lies behind and reaching forward to what lies ahead, I press on toward the goal for the prize of the upward call of God in Christ Jesus. –Philippians 3:12-14

A Personal Mother's Day Gift Idea to Encourage the Moms in Your Life
Print this list to tell yourself the Truth, believe the Truth, and pray the Truth to encourage your heart today. Click here or on the image below for a printable version of these verses to tuck into a Mother's Day card or pray for the  moms in your life.  Words of encouragement for moms are meaningful.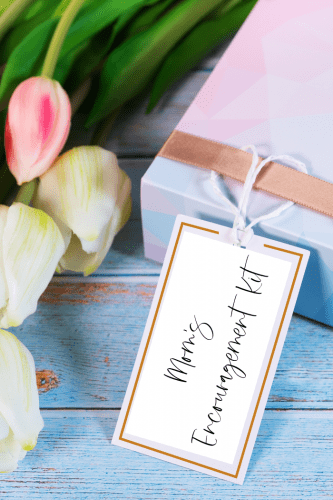 Enjoy my gift and my Happy Mother's Day wishes to you, no email needed!  Use this list for a fun Mother's Day craft idea. Write or paste each verse on an index card and decorate with markers, crayons, or stickers. Add more index cards with personal affirmations and expressions of love for mom to make a meaningful Mother's Day gift she won't forget! Tie them up with a bow and a tag that reads: Mom's Encouragement Kit.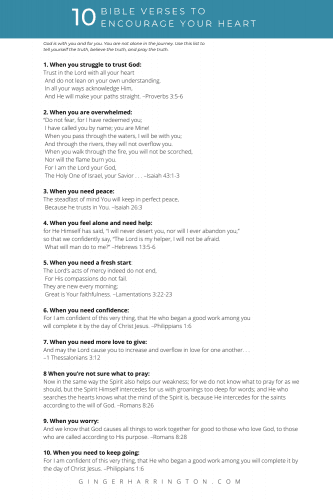 Want More Encouragement?
Sign up for my newsletter to get access to 31 verses to encourage your heart–one for each day of the month! You'll find this free resource in my Subscriber Library.


*This post contains an affiliate link at no cost to you. 
More Posts to Encourage Moms