Welcome to Week Three of discussing Holy in the Moment! Choose to trust God in the moment. Be mindful of His presence and rely on His strength–these are simple choices that open a multitude of holy moments in our lives.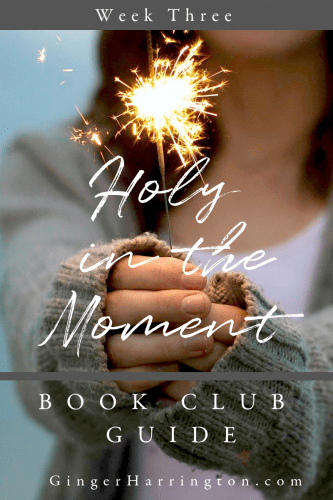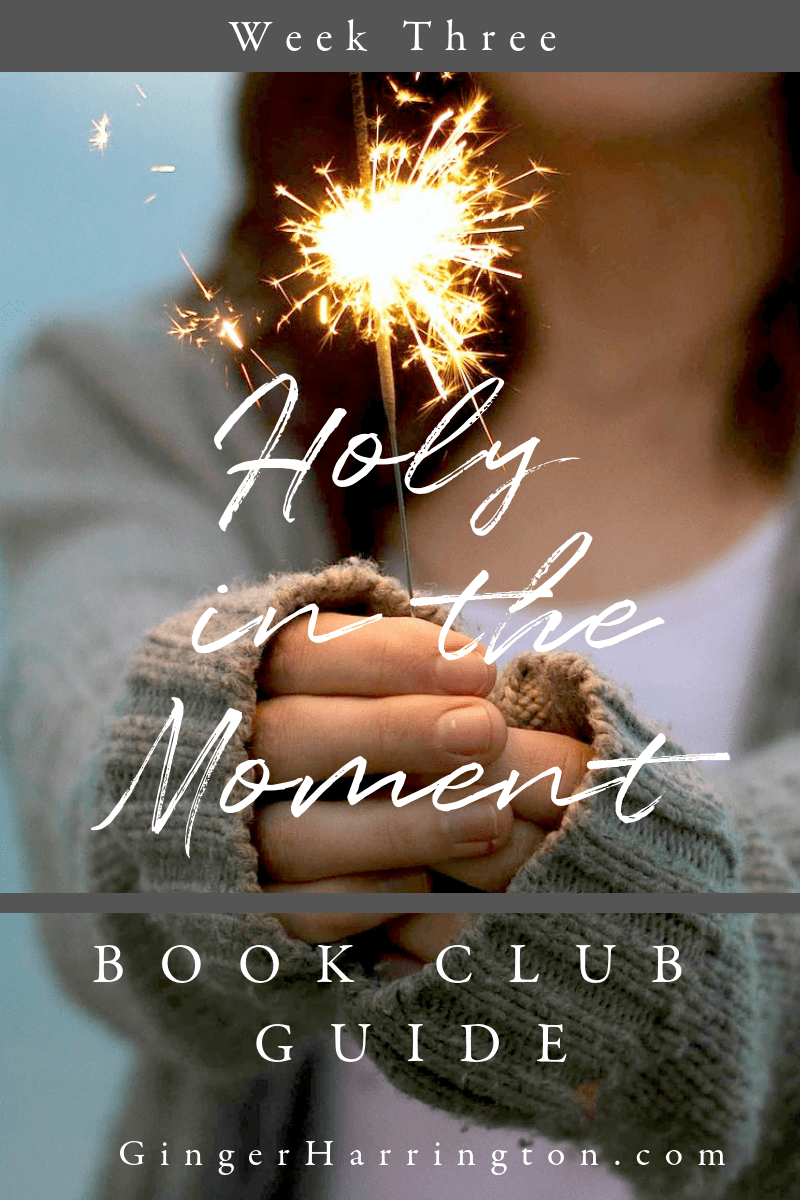 In the first section of the book, holy choices to believe, love God, abide, surrender, and rest profoundly deepen our relationship with God.
In Week One we covered chapters 1-3, digging into the concepts of holiness, believing God, and wholeheartedly loving God.
Last week we explored the practices of abiding, surrendering, and resting in faith, a sacred rhythm for experiencing the freedom of the Spirit.
Be made new in the attitude of your minds; and to put on the new self, created to be like God in true righteousness and holiness.

–Ephesians 4:23-24 NIV
The second section of Holy in the Moment deals with our inner life–the territory of the soul and how we interact with God in our spirit. Prayer, listening to God, recognizing truth in our thoughts, handling our emotions, and choosing obedience are sacred practices for overcoming the flesh. In this practical section of the book, you will find many helpful concepts and ideas for cooperating with God as he renews your mind, making you holy and whole.
Learn more about the book here.
Read what people are saying about the book.
Chapter 7: Moments to Pray
Prayer transforms any moment from mundane to significant, from temporal to eternal. Through a prayerful life, God renews our minds and teaches us to put on the holy and right ways of living in our new self. Holy in the moment, prayer changes us and consecrates our lives.

Holy in the Moment, p. 77


Pray in the moment. Be bold and brave and don't wait until later. Pray now and minister a blessing in the midst of the need. Put your hand on a shoulder, trusting God to give you the words to pray as you let your heart speak.




Holy in the Moment p. 79
How can you begin to keep a continual conversation with God throughout the day?
What is your go-to response when problems arise? How can you work on the holy habit of praying before reacting? What difference do you think making prayer your first response will make?
How does embracing the truth that God "cares for you" (1 Peter 5:7), relieve your anxiety level? How can believing God is caring for you in the midst of your struggle change the way you pray?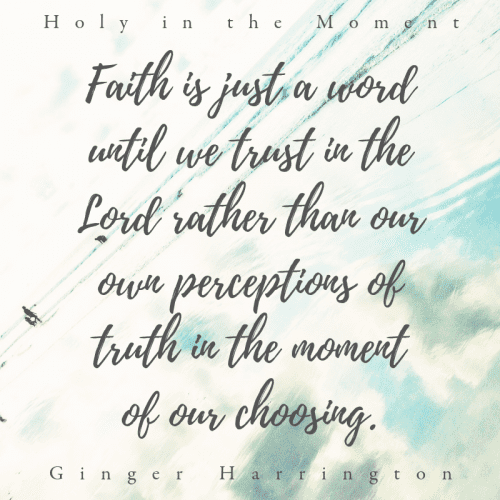 Chapter 8: Moments Listen to God
Hearing God through the Scriptures is about relationship. The most important thing about having a quiet time is hearing what God has to say.

Holy in the Moment p. 98


Over time, we notice the difference between God and other voices because of the truth, content, wisdom, and clarity of the thought.

Holy in the Moment p. 99
When it comes to having a regular Quiet Time with God, what does the statement "Fight for consistency, but walk in grace" mean to you?
How is discerning God speak through His Word to you personally an experience with God. What does "hearing" God look like in your life?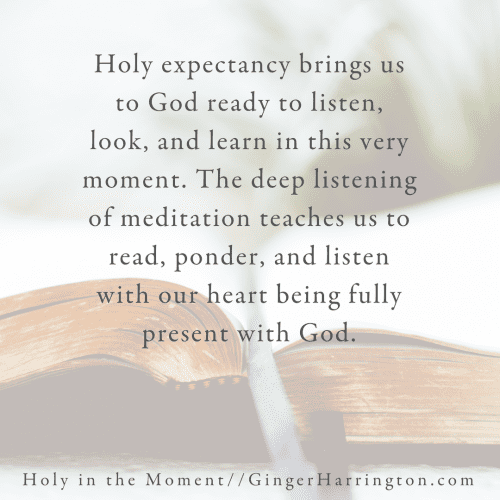 Chapter 9: Moments to Think
God is changing the way I think as I walk through each day abiding, trusting, praying, and listening to Christ. As I'm attentive to my thoughts, God teaches me ways to spot faulty thinking based on lies I have believed. God is working through our daily choices to embrace truth and reject lies embedded in the ideas we believe to be true.

Holy in the Moment p. 110
How doe we get rid of these destructive thoughts? We capture our thoughts–recognize and notice them, refuse to let them run wild or build walls. Capturing is more than just recognizing ungodly thoughts; it is bringing them to Christ rather than letting them fester or entrench themselves into our minds.

Holy in the Moment p. 116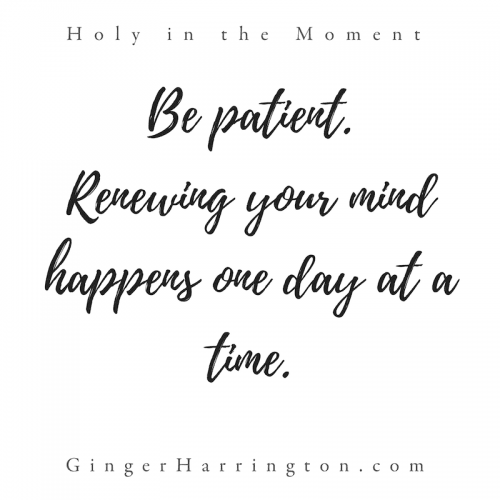 Why does changing the way that you think take time? How can you cooperate more fully with God in the process of transforming the way you think?
What difference is "thinking about what you are thinking about" making in your life? Why is awareness of the content of your thoughts an important step to making a holy choice?
What characteristic do godly thoughts have? What characteristics do thoughts from the enemy exhibit? What kinds of thoughts are triggered by your flesh? How can identifying the signature/characteristic of the thought help you to experience freedom from your flesh or the lies of the enemy?
Apply the holy but concept to thoughts you have had this week. What happens when you rephrase your thoughts or challenges by putting your attention on what God says is true: Situation or thought but God's truth?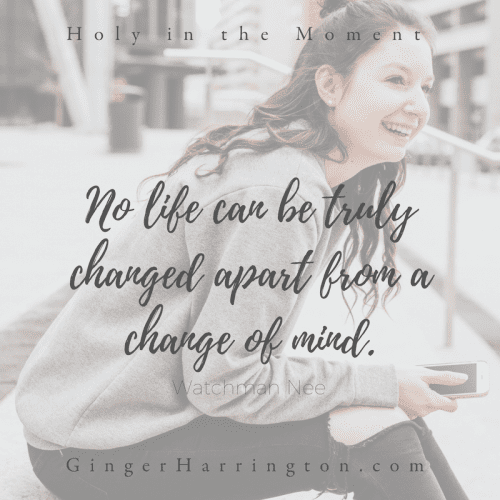 Want to join the Book Club?
Love to have you join us in our private FB group, the Holy in the Moment Community. Each Tuesday I post discussion questions in a thread. On Tuesday evening I hang out with the group via a FB Live Broadcast where I share more about the concepts in the book.
In my newsletter, I send out a weekly downloadable guide with more questions and graphics to enhance your reading. This is perfect for those who like to journal or are leading a small group study of the book! Sign up for my newsletter here to get the printable discussion guides available on my Subscriber Freebie Page.
Learn more about the book here.
Read what people are saying about the book.
Request to join the private FB group here.
Need a copy of the book? Choose from a variety of booksellers here.
Here's a little taste of what's happening in the Holy in the Moment Community group on FB.