In all the cancelled events, remember the unstoppable joy of Christ's victory over death. An Easter devotion for women to strengthen your soul during the Coronavirus.
Sun shines warm on my face. The dogwoods and azaleas bloom with a riot of color that announces the wonder of spring's new life and reminds me of the resurrection power of Easter.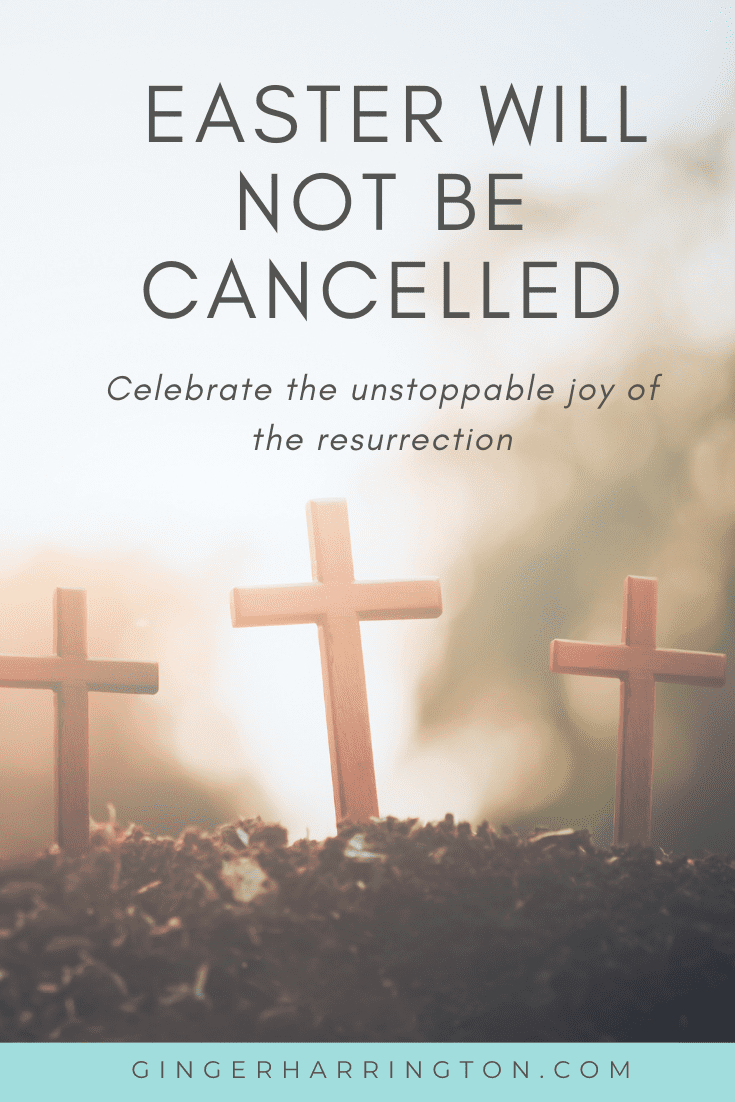 Colorful chalk drawings of children decorate driveways. I marvel at the juxtaposition with the headlines of the newspaper folded on my table. All that is wrong in the world, economic issues, political tension, the spread of the novel Coronavirus, and stats on the current number of world-wide deaths burden my heart. And then I remember.
Easter Still Comes
On this morning, just a few days before Easter, I remember that Jesus died for all of this and more.
Surely our griefs He Himself bore,
And our sorrows He carried;
Yet we ourselves esteemed Him stricken,
Smitten of God, and afflicted.
But He was pierced through for our transgressions,
He was crushed for our iniquities;
The chastening for our well-being fell upon Him,
And by His scourging we are healed.- Isaiah 53:4-5
Did you know that the Hebrew word for "grief" in this passage extends beyond the hard things that grieve our hearts? The unstoppable joy of Easter is because Jesus bore our malady, anxiety, calamity, disease, grief, and sickness.
In light of a pandemic, even as the entire earth groans under the weight of fear and sickness, Easter still comes.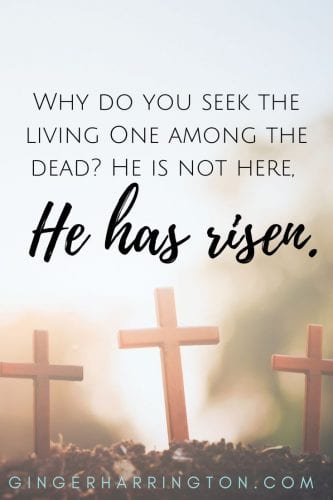 When so many things are cancelled—work, school, church, graduations, weddings, trips, and conferences, let's celebrate the glorious reality that Easter isn't cancelled.
Nothing and no one can hold back the good news of Easter, the victory over sin, death, and disease that the resurrection of Jesus accomplished.
It is finished.
And it will never be cancelled, postponed, or rescheduled.
This year we have a rare and precious opportunity to celebrate Easter from a difference perspective. In the shadow of death, we remember and celebrate the resurrection of our Lord with fresh faith. 
Victory over death and new life in Christ.
Let's band together to remember what has already been done. Death has been defeated.
Eternal life is gifted to us by faith. 
For by grace you have been saved through faith; and that not of yourselves, it is the gift of God; not as a result of works, so that no one may boast.–Ephesians 2:8-9 NASB
In this holy moment, celebrate the joy of life in Christ. 
Recognize God's hand in our lives, His presence in our days, and His power at work in our hearts. Wake up to the wonder of Easter every day.
More than a story.
The first Easter morning was so long ago that we are often tempted to think of Easter as a story rather than a revolutionary truth that changes everything.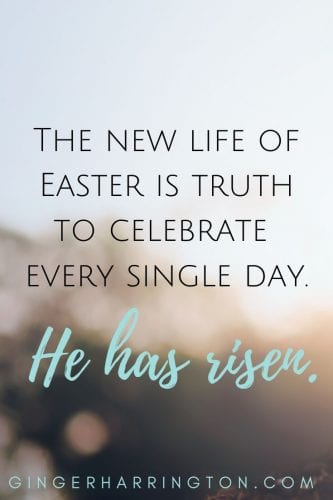 [tweetthis]The new life of Easter is truth to embrace and celebrate  every single day.[/tweetthis]
That long ago morning, women rushed to the grave of the crucified and buried Jesus. Hearts broken with the angst of grief. Sorrow weighed heavy and hope seemed like an impossible dream.
The truth is that so many in our world feel this way today.
The women entered the tomb to see that the body of  Jesus was gone. Two men appeared, asking a question that echoes throughout eternity,. . .
"Why do you seek the living One among the dead? He is not here, but He has risen. Remember how He spoke to you while He was still in Galilee, saying that the Son of Man must be delivered into the hands of sinful men, and be crucified, and the third day rise again." And they remembered His words, and returned from the tomb and reported all these things to the eleven and to all the rest.–Luke 24: 5-9 NASB
In the confusion and grief of the moment, God sent a miraculous message to these faithful women. How often do we, like the women at the tomb, need to remember our Lord is very much alive.
Today our world needs the miraculous message of God.
Jesus is not dead.
God is not absent.
Jesus has conquered sin and delivered us from the power of death.
The joy of salvation cannot be cancelled and it will not be stopped.
As we celebrate Easter, let's remember His words.
Let's not bypass the instruction of the angels at the tomb: Remember what He said. 
These women who loved Jesus had not only heard Him teach the Scriptures, but they heard His personal words spoken through relationship over time.
How many conversations had they had with Christ over the years? How many memories? How many messages had He spoken to their hearts? In these conversations, Christ had explained what would happen with words that didn't make sense at the time.
Now they remembered.
Now they understood.
Now they ran with unstoppable joy to report the incredible news!
Remembering what Christ said enabled them to understand a situation beyond their human experience. Remembering and understanding gave them powerful news to share with the others.
Three simple actions.
The women remembered, returned, and reported the news to others.
Celebrating the resurrection and remembering what Christ has done isn't just for our benefit. It's not just for our faith, and not just for our moment. 
The good news of Easter is for returning to our lives, homes, communities, and people. The resurrection is for reporting what we have experienced–the power of Christ's resurrection that saves us from the power of death.
This Easter when the world suffers through a pandemic, we can remind others in their moment, their need, and their hard places–helping them to remember what Christ has said. We can remind them that Jesus is risen. We can invite them to celebrate the victory that stopped death in it's tracks.
He is risen.
He is risen indeed.
Who can you share the good news with today?
More Easter Posts to Inspire Your Heart
Are we email friends? 
Here is a sample of the free resources to deepen your life with Christ available in my subscriber library. Sign up to receive my newsletter for access to the library and get my latest content delivered to your inbox!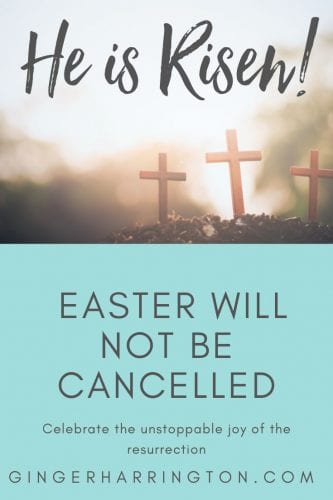 *This post contains affiliate links at no cost to you. Thank you for supporting my writing ministry.