Are you struggling with a spiritually dry season when your normal ways of communing with God feel disconnected? Disjointed? Disappointing? Strengthen your soul with powerful ways to connect with God when He is silent or seems distant.
How do you feel when God seems silent and distant?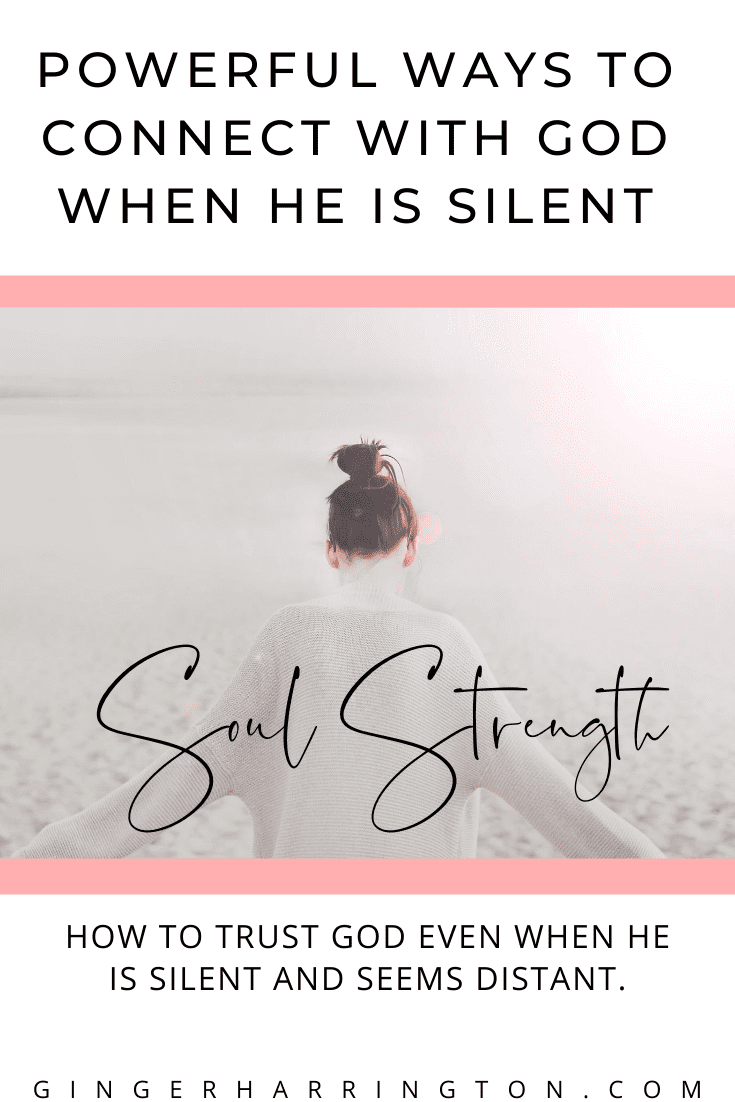 As I talk with friends during this time of isolation and staying home, I know that I'm not the only one who has struggled during dark moments of fear, strife, pandemic, and isolation. Many struggles converge as we grow weary of wearing masks everywhere we go.
How can we not feel the impact spiritually?
I longed to sense God speak encouragement and strength to my heart that leaned toward anxious. My earnest longing and seeking was real and true.
Silence.
What?
The situations that influence us emotionally and relationally can also impact us spiritually—after all, we are spirit, soul, and body. We are impacted spiritually by this prolonged time of isolation and fear. The fact that many churches are still not meeting in person is another factor increasing spiritual disconnection.
We rarely talk about seasons of silence when God feels distant. Days when the normal ways we engage with God are disrupted make us feel off kilter. Prayers appear to linger unanswered, discouragement pushes against joy, and waiting provokes doubts and questions.
1. Be honest about what you're feeling.
We rarely talk about what some have deemed the dark night of the soul.  The phrase dark night originated with a 16th century monk, St. John of the Cross. Some call it a spiritual depression.  Related terms include a desert time, spiritual dryness, or a winter season. For me, this spring was a time when God appeared to be silent and distant. Many are struggling with various levels of feeling disconnected from God. How are you doing, friend?
It's important to share your feelings with a supportive friend with honesty. Don't isolate yourself during times of spiritual struggle.
2. Remember that believing God is a choice not an emotion.
Isn't it easy to measure our spiritual condition by whether or not we feel close to God? Even when I know better, I still slip into the old ways of relying on my emotions to evaluate my spiritual condition. I have to frequently remind myself of a truth I shared in Holy in the Moment: Believing God is not an emotion. Emotions are not an accurate gauge of your relationship with God.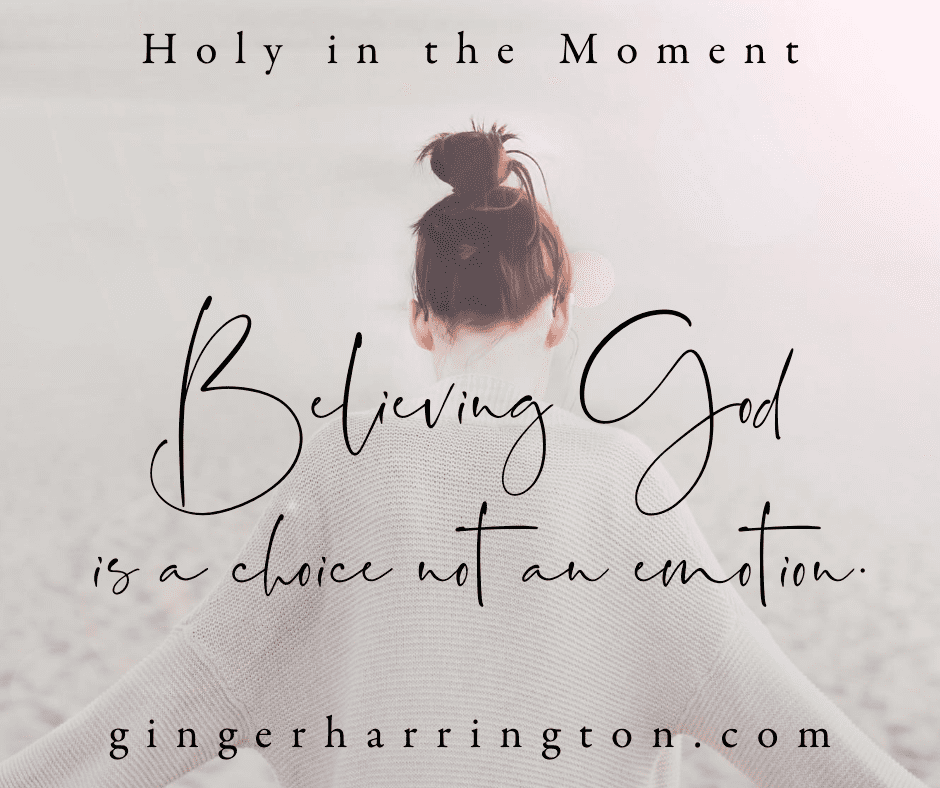 3. Examine your heart without self-doubt.
Is it my fault? I must be the problem.
My go-to thought was to assume it was my fault. Self-doubt whispered God's silence must be result of some wrong I've ignored. Blaming myself is a tendency of my flesh grown from roots of disapproval and criticism.
The first few weeks I worried.
I fretted.
I examined my heart, confessing any hint of sin I could find.
 I need to hear from God. What am I doing wrong?
Prayerful self-examination is always a good first step when your spiritual life loses vitality and connection. We do have a tendency to discount or deny our hurtful actions or misplaced priorities. There are times when we need the search light of the Holy Spirit to show us what's hidden in our hearts.
"Search me, O God, and know my heart;
Try me and know my anxious thoughts;
And see if there be any hurtful way in me,
And lead me in the everlasting way" (Psalm 139:23-24).
After a robust heart check, I realized unconfessed sin wasn't the problem.
4. Don't be surprised by spiritual warfare.
Next came spiritual attack. The enemy of my soul accused me with thoughts like this: God is  displeased with me. I have lost God's favor. God isn't blessing me. I can't trust God to be there for me.
Not true. Not a single lie or accusation of the enemy is true.
What does the enemy whisper in your vulnerable thoughts and emotions when God feels distant? He can be relentless with condemning suggestions to your thoughts. Know that you are vulnerable to spiritual attack during this time. Don't be surprised by the enemy's lies and misperceptions.
Recognizing lies and misperceptions is a crucial step to walking in freedom, especially when God seems silent.
5. Stand firm in the truth.
One of the most important ways to navigate a time of spiritual silence or a dark night of the soul is to stand firm in the truth. The word of God is a powerful weapon in spiritual warfare, but it is also a sweet balm to our weary and hurting souls.
"The law of the Lord is perfect, restoring the soul;
The testimony of the Lord is sure, making wise the simple.
The precepts of the Lord are right, rejoicing the heart;
The commandment of the Lord is pure, enlightening the eyes" (Psalm 19:7-8).
Meditate on truths about the character of God and the wonder of your identity in Christ. Don't allow your circumstances of feelings to preach a false gospel to your heart.
God is who He says He is.
He will do what He has promised to do.
You are secure in your identity as a redeemed and beloved child of God.
6. Trust God with your spiritual condition.
Here's the truth: God is in charge of our spiritual condition. Our role is to love, trust, obey, and respond to God as best we can, trusting the Holy Spirit to help us.
God is the One who sets the pace for our spiritual growth. When God feels distant, we need to trust He will not stop working. He is even more interested in our spiritual growth than we are.
"For I am confident of this very thing, that He who began a good work in you will perfect it until the day of Christ Jesus" (Philippians 1:6 NASB).
[tweetthis hidden_hashtags="#darknightofthesoul"] I can trust God with me. You can trust God with you.[/tweetthis]
7. Recognize God communicates in various ways.
Sometimes we're hearing from God, but we miss the subtle way He works. He doesn't always answer our questions directly.
God speaks in various ways including His Word, the church, circumstances, godly counsel, and the mind of Christ within you (1 Cor. 2:16).
One of the wonderful roles of the Holy Spirit is to guide us into all truth:
But when He, the Spirit of truth, comes, He will guide you into all the truth; for He will not speak on His own initiative, but whatever He hears, He will speak… " (John 16:13 NASB).
Walking one morning, I soaked in the sunshine relieved to get out of the house. I remembered  early days of dating my husband when we thrived on great conversations.  After 30 years of marriage, we still love to talk, but our relationship has matured over time. We no longer need to be talking or doing something exciting to feel connected and secure in our relationship.
We can sit in silence and it doesn't mean that something is wrong.
Can it be the same in our relationship with God?
God communicated this truth by bringing a memory and an insight to mind. I was hearing from God through my Spirit-led thoughts. I almost missed "hearing" Him in the jumble of my confusion.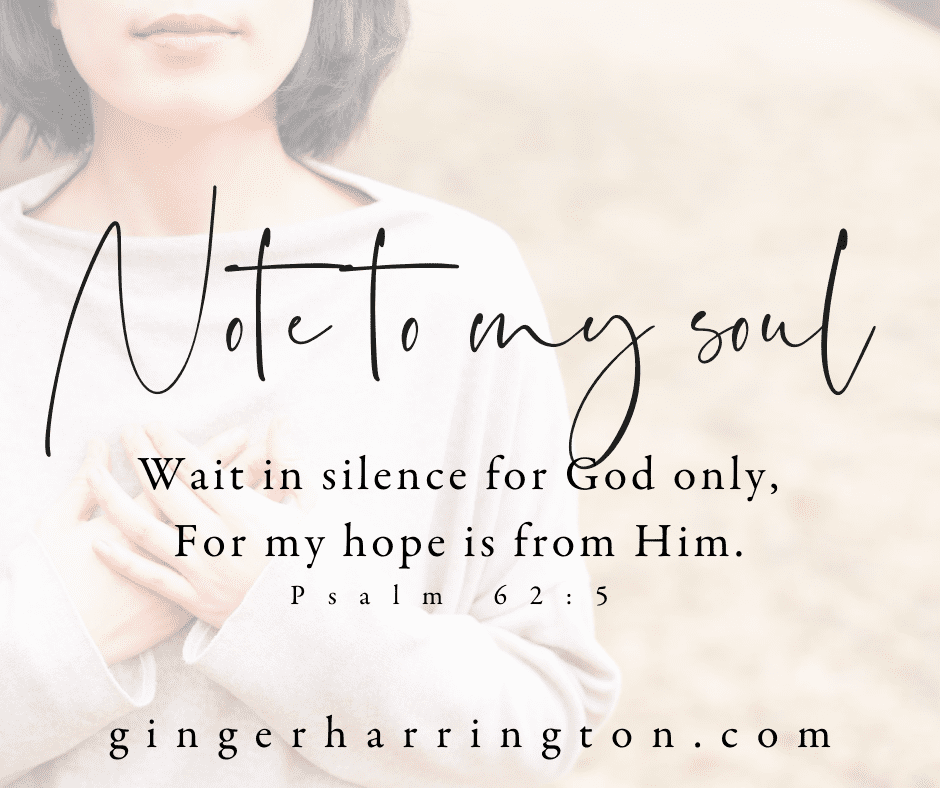 8. Believe God has a purpose in silence.
[tweetthis]"Silence is the often the the first language of God" (St. John of the Cross).[/tweetthis]
Be encouraged with these words from Dallas Willard:
"Among the practices that can help us attend to soul care at a basic level are solitude and silence. . . This discipline can be used of God as a means of grace. In it we may even find another reminder of grace—that we are saved, justified by His redeeming power—not by our strivings and achievements."
I appreciate what Ruth Haley Barton writes about the role of solitude and silence in our spiritual journey:
"Solitude will do its good work whether we know what we are doing or not. One of the primary functions of solitude is to settle ourselves into God's presence.  . . Most of what happens in solitude is happening under the surface, and God is doing it."–Strengthening the Soul of Your Leadership,  41-42
At times, God removes the felt sense of His presence to do deep work in our souls. Silence is part of the shift from communication to deeper communion with God. When we think of it this way, it is easier to embrace the silence. When we experience times of silence, disconnection, or distance with God, be patient and believe God is working.
Friend, how are you doing? How have you been impacted spiritually during Covid-19?
Need more resources for emotionally healthy spirituality? Get this Emotional Health Workbook in the Deeper Life Collection for Subscribers. 
You can also find encouragement for listening to God, developing a praying life, and navigating your thoughts and emotions in my book, Holy in the Moment.

Friend, how are you doing? How have you been impacted spiritually during Covid-19?
More Posts on Engaging with God's Word