This get-it-all-together thing can drive you right off the cliff of crazy if you let it.
Is it a once-and-for-all kind of thing, or do I have to somehow sustain this coveted image? Seriously, how long do I have to keep it up?
These are things we need to know. . . !
[tweetthis hidden_hashtags="#notenough, #selfesteem, #selfimage"]Truth is, in Christ we've already got it together. [/tweetthis]
To be righteous is to be right, in a state of rightness. It is being as God created you to be, as you are designed to live. We talked about that here. 
This get-it-all-together living is all about how well we perform. It's an exhausting work of the flesh to try and try and try and try to reach this undefinable get-it-together standard.
Nothing will dampen faith and spiritual vitality faster than running yourself ragged trying to get it all right.
Self-effort will never get it all right.
Working to be right by our own efforts is really self-righteousness. So much of the Christian life is learning to understand and live in our God-given identity rather than simply trying to manage self better.
. . . he who abides in Me and I in him, he bears much fruit, for apart from Me you can do nothing. —John 15:5
We agree with this truth and then keep on trying to get-it-all-together on our own.
I need God to transform my thinking when . . .
I worry about what other's think.
I react to criticism with anger or hurt.
I lecture myself about my mistakes.
I am defensive or hyper-sensitive.
I try to control other people.
I grieve my failures.
I fear rejection.
I create lists to improve myself.
I define myself based on what others say.
I believe I'm not enough.
I judge myself or others.
I feel like a disappointment to God.
I say, "I'll never be ____ enough."
I strive to prove my worth.
I relate to God out of fear or guilt.
I find fault with everything I do.
I wonder if God would love me more if I ____.
I worry about getting it all together! 
There's just WAY too much me in this list.
Way. Too. Much.
You can't go two ways at once.
We can't hang on to the get-it-together life of the flesh and walk in the Spirit. We can't rely on self to get-it-all-together and experience freedom in Christ at the same time.
Believe me, I've tried.
I've tried to keep my house clean, raise amazing kids, and love my husband well. I've worked hard to pray, love God, study the Bible, teach Sunday school, and on an on it goes.
For heaven's sake, by self-effort I can't even keep the kitchen counters clean!
We have to make a choice.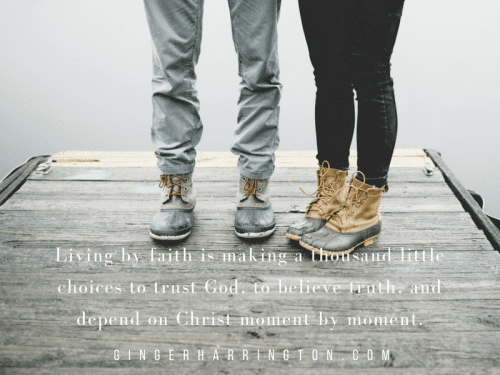 Relying on Christ rather than self keeps faith fresh for this moment.
The power of recognition.
Choosing to let go of self-effort to get-it-all-together begins with awareness of our thoughts and motivations.
To be honest, I don't begin every task thinking, "What's the condition of my heart? Who am I relying on?"
Slowly, I'm recognizing when I'm trying to get-it-all together rather than trusting God to put-it-all-together. 
[tweetthis hidden_hashtags="#relyonChrist, #selfeffort"]Trusting rather than trying is the path freedom walks.[/tweetthis]
When I realize I've given way to this get-me-together thinking, I begin to think and respond differently.
And do not be conformed to this world, but be transformed by the renewing of your mind. . .  Romans 12:2a
Instead of worrying about what others think, I choose to rely on Christ. "Lord, I'm depending on you to do this well, and I'll trust you with what other's think."
Rather than fear rejection, I remind myself that I'm accepted by God. My prayer changes from "Help me do better" to "Lord, I trust you with this relationship. I rely on you to show me what to do."
Which would you rather experience, the try-hard life of self-effort or the gift of righteousness in Christ?
Isn't it time to stop all the trying to-get-it-all together?
Join Ginger's email list for access to the free resources in the Subscriber Library!

Enjoy the entire series:
If I Get it All Together, Where Will I Put It?
If I Get it All Together, How Much is Enough?
If I Get it All Together, How Long Do I Have to Keep it Up?
If I Get it All Together, What if I Trip Over It?
If I Get it All Together, What if I Mess it Up?