The lights are bright blinding me in the harsh glare. I step forward to impress and wow the audience with my solo. It feels good to have a  solo after several runs of chorus work.
Ready to sing, I step forward. . .
right off the stage.
My big moment.
The horrified, collective intake of breath from the audience seems to stop time.
I had it all together. One misstep and I land in a heap on the floor. Fortunately, nothing but pride was injured.
If I get it all together, what if I mess it up? Take a step too far, misjudge the gap? What then?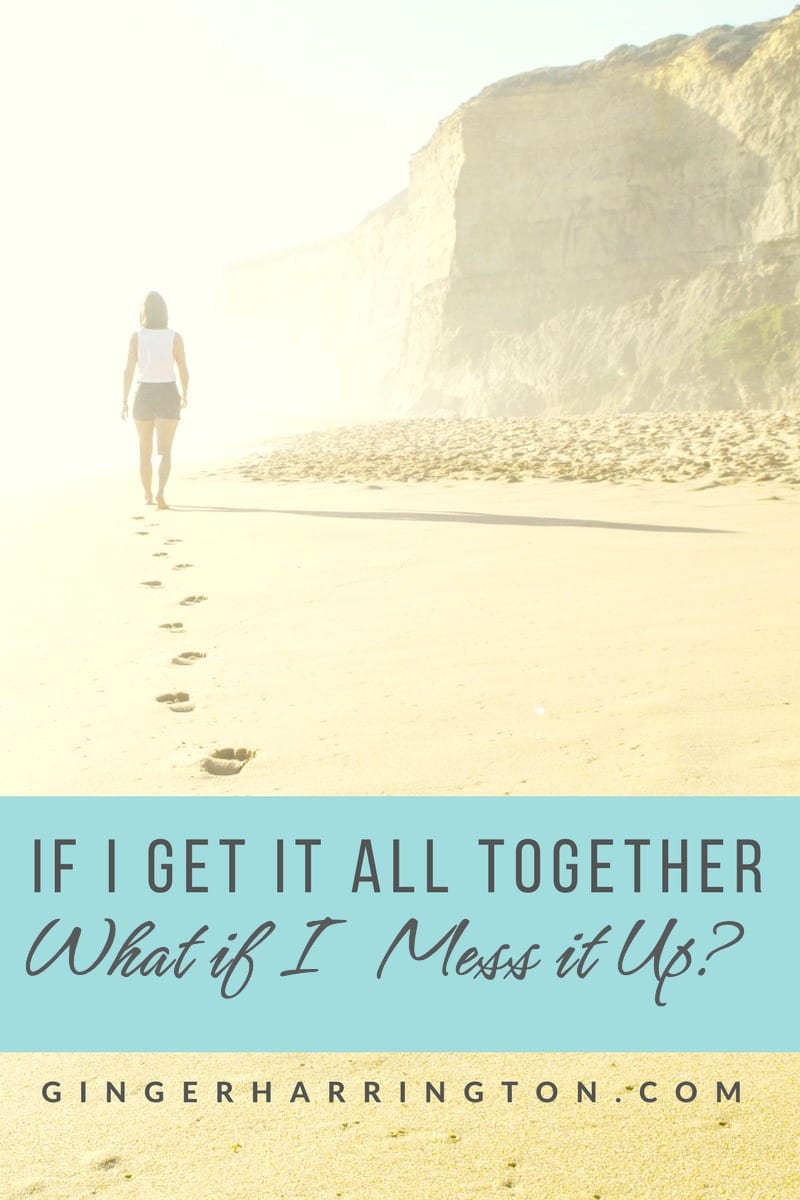 We've all had our messy moments.
Relationship messes.
Work messes.
Financial messes.
No area of life is immune from the possibility of unraveling our best efforts to get it all together.
Work hard.
Mess it up.
Work harder.
We can stay on this performance treadmill that can wear away the soul. Or we can learn new ways to think and respond.
Change your perspective.
[tweetthis]How will your perspective change if you begin to think the way God thinks, seeing what He sees about you?[/tweetthis]
Wisdom is the understanding of how God does things.
Freedom from the pressure to get it all together by the world's definition of success comes when we learn to live in reliance on Christ.
Some of us need to stop living out of our mistakes, failures, wounds. Others need to stop relying on self-effort to achieve success and prove value.
Let God change the way you think. As He transforms our thoughts we begin to understand that life with Christ isn't a pass/fail route to spiritual growth.
. . . be renewed in the spirit of your mind, and put on the new self, which in the likeness of God has been created in righteousness and holiness of the truth.–Ephesians 4:23-24
God's already dealt with our sin.
He made Him who knew no sin to be sin on our behalf, so that we might become the righteousness of God in Him.–2 Corinthians 5:17
In Christ, God isn't simply trying to get us to act right. All of our sin has been forgiven.  Now He's dealing with our righteousness, holiness, establishing right in us.
When we really get hold of this truth for daily life, we can let get off the performance-based system of getting it all together.
We can find rest for our souls, acceptance for our insecurity, strength for our weakness, and grace for our needs.

Do you trust the life of Christ in you?
[tweetthis]Listening to your soul-talk is a concrete way to gauge what you functionally believe. [/tweetthis]
Do you have yourself on a performance-based system of righteousness, always on stage before God? Is holiness a role that you play, trying to be the good Christian who has it all together?
Or have you learned the language of grace that speaks truth to yourself?
I am righteous.
I am loved and accepted.
I don't have to prove my worth.
I can trust God for the results.
I can trust the Holy Spirit within me to guide me.
Do you talk the same way about yourself that God does? Good question, isn't it?
It's easy to look like we've got it all together on the outside but live in self-condemning, shame-based insecurity on the inside.
Today is your day to release your grip on the get-it-all-together life. Discover anew the fresh faith that is yours when you're open to what God wants to do in your life.
Letting go of self enables us to receive more from God.
Offering our lives to God we can let go of our. . .
fear and receive confidence for the future.
needs and receive his abundant supply
wants and receive God's desires
shame and receive the grace of God's unconditional love
Friend, as long as we hang on to this get-it-all-together pressure of achieving righteousness with our self-effort, we live with the fear of messing it up.
Getting it wrong.
Disappointing God.
We hold on because of fear; we let go because of love.
As long as we hold on to the standards we've set for ourselves, the less we can receive the gift of righteousness and the abundance of grace that is ours in Christ. (Romans 5:17)
Grace is so much more than undeserved favor, a common definition.
Take time to receive the wonder that is yours in these words:
Grace and peace be multiplied to you in the knowledge of God and of Jesus our Lord; seeing that His divine power has granted to us everything pertaining to life and godliness, through the true knowledge of Him who called us by His own glory and excellence.–2 Peter 1:2-4.
Posts in this series:
If I Get it All Together, Where Will I Put It?
If I Get it All Together, How Much is Enough?
If I Get it All Together, How Long do I Have to Keep it Up?
If I Get it All Together, What if I Trip Over It?
Linking up here: Monday Minute