This post has been featured at JenniferDukesLee.com.
If I get it all together, how much is enough? How much together does it take?
Really, how much is enough? It's enough to make your head spin right off your neck.
My friend sits on the front steps, holding the weight of too many burdens on her shoulders.
"I try so hard to be a good mom, but I feel like I'm not doing it right," she says with a sigh. "I really need to get it all together."
Why is it when we use the phrase, get-it-all-together, it's never in a good way?
"Sometimes I'm patient, but then I lose my temper. If I were a better Christian, I wouldn't get so frustrated at times. I want to be a better mom, but . . . "
Without words, her body language finishes the sentence that hangs in the air: but I'm not.
[tweetthis hidden_hashtags="#IdentityinChrist, #righteousness"]How much better do you have to be to be good enough?[/tweetthis]
How much more patience does it take to be patient enough?
How much more rightness does it take to be righteous enough?
How much is enough?
Friend, could it be that these are the wrong questions?
I believe God is more interested in teaching a new way to think rather than better ways to behave. There is freedom from this get-it-all-together insanity.
". . .and that you be renewed in the spirit of your mind, and put on the new self, which in the likeness of God has been created in righteousness and holiness of the truth.–Ephesians 4:23-24
We get hung up on doing things right, but God wants us to know that we are righteous. In Christ, righteousness and holiness is a natural part of who we are.
Choosing to remember we are a new creation is putting on the new self. Being open to God's transforming work in our mind is part of putting on (living out of) who we are in Christ: righteous and holy.
This is hard because we're wired to measure value and identity out of how well we perform.
So what is righteousness anyway?
Is it just a churchy word that doesn't seem to relate to real life and real people?
Righteousness is an incredibly practical word.
Out of sheer generosity he put us in right standing with himself. A pure gift. He got us out of the mess we're in and restored us to where he always wanted us to be. And he did it by means of Jesus Christ.–Romans 3:24, The Message
In a broad sense, righteousness is defined as the state of him who is as he ought to be, righteousness, the condition acceptable to God. It includes integrity, virtue, purity of life, rightness, correctness of thinking feeling, and acting. (Strong's 1343).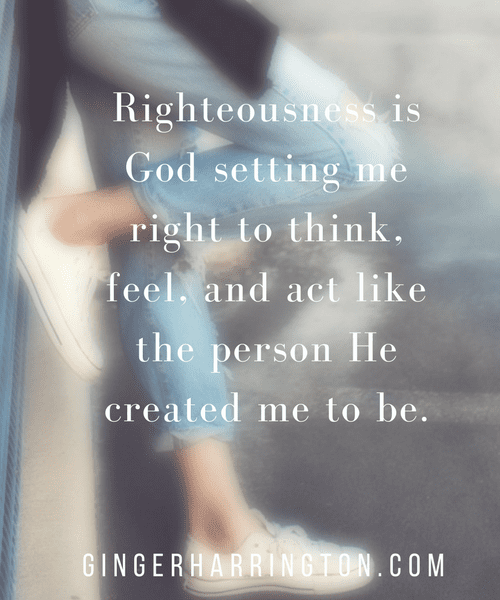 In other words, righteousness is thinking, feeling, and acting like the person God created us to be. As God renews our thinking to the truth, feelings and behavior begin to change.
This is why righteousness is such a practical concept. How we think, act, and feel–that's where we live every moment of every day.
If I feel right,  I must be right.
If I feel guilty, I can't be righteous.
If I feel I'm unrighteous, I must be.
And then we start in on the "I've got to get it all together" lectures.
In reality, righteousness. . .
Is a gift from God.
Is received rather than achieved.
Is who you are not what you do.
In Christ, righteousness is your identity by spiritual birth, not behavior.
and doing all the right things won't make us righteous.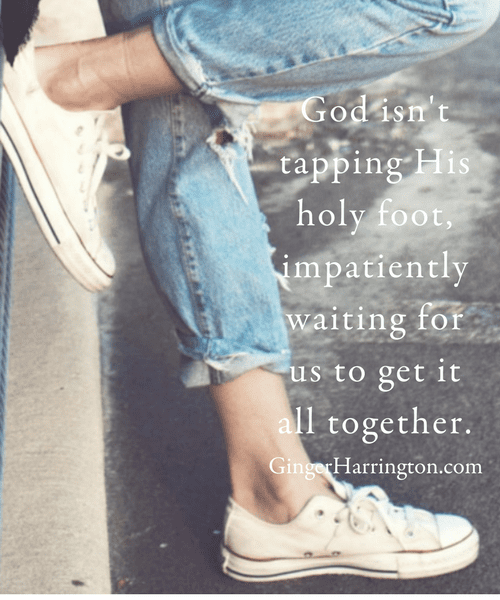 God isn't  tapping his holy foot, impatiently waiting for us to finally get it all together. He still sees us as righteous even when we act sinfully or selfishly. (Because that's who we are, not what we do).
The world definitely doesn't operate this way.
Some days I feel like I've been brainwashed by the world's system of performance and success. And though I know better, I sometimes find myself trying to be righteous by my own efforts.
That's when I start to worry about getting it all together.
As if I've got something to prove rather than a gift to receive.
Working to be right by my own efforts is really self-righteousness.
"He saved us, not on the basis of deeds which we have done in righteousness, but according to His mercy, by the washing of regeneration and renewing by the Holy Spirit" –Titus 3:5
As God renews my mind,  I'm learning to let go of the pressure to get it all together and do it all right. Want to join me?
Together we can keep faith fresh with the freedom to stop asking the question, "How much is enough."
[tweetthis]In the righteousness of Christ, who you are is just right[/tweetthis].
Trust God to work in your thoughts, feelings, and actions as you put on the righteousness you have given by God. Remember, God is the one who is making you holy and whole!
Linking up at: Monday Minute, Coffee For Your Heart, #Tell His Story,  #PorchStories, and Dance With Jesus, Grace and Truth.
I'm tickled pink that this post has been featured at #TellHisStory, with Jennifer Dukes Lee, author of The Happiness Dare.