Some days I wake up and looking the mirror I want to turn right back around. I don't want to see messy hair sticking out and droopy eyes not quite ready to meet the day. Pulling my hair into a ponytail, my husband's very not-favorite hairstyle, I sit down to put on work out pants. Lacing up my shoes, I'm almost ready to teach my water fitness class.
I think to myself, "sure would be nice have a good makeover."
Don't you love makeovers?
We love to see the before and after pictures of a woman getting a makeover. You know the kind–the before picture shows a woman who looks I do this morning. Just her normal, everyday self.
Stylists and make up artists work their magic. The workout clothes are whisked away and thrown into the trash, never to see the light of day again. A stylish outfit completes the makeover. The everyday girl has become a princess in a matter of minutes. Okay, a few hours tops.
Tired of trying to make yourself a better person?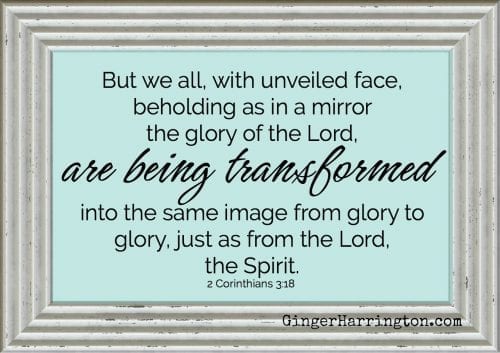 We all have something, some sticky spot, that just seems to nag at our spirit. It's like those last 10 pounds you just can't seem to lose, no matter how hard you try.
This is when I'd love to have a spiritual makeover–zip-zap, a new haircut, new clothes, and snap an ofter picture of my whole new level of spiritual victory. Presto-chango!
You want one too, right?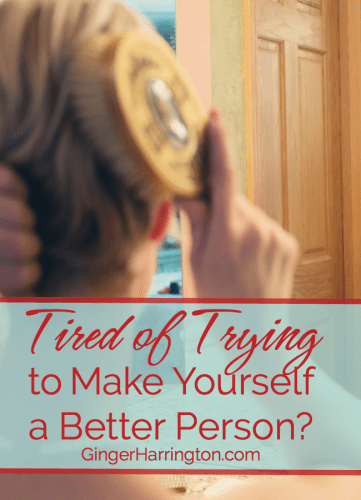 The difference between a spiritual makeover and transformation.
A spiritual makeover is a quick fix: read a book, make a resolution, and apply a few Bible verses. Maybe we need something more than try-hard efforts to be a better person. The person we want to be.
Makeovers come through well-intentioned self-effort. Transformation is an unfailing work and ministry of the Holy Spirit.
Makeovers have temporary results that fade. Transformation keeps going from glory to glory.
Makeovers are external and often focus on performance, appearance, or personal desires. Transformation begins in heart and mind, changing the way we think and live.
Makeovers make better. Transformation makes new.
Makeovers are the best work of our flesh. Transformation is God's mercy releasing the power of Christ in our spirit.
Mirror, mirror on the wall…
What you look at is what you will see.
My kids laugh when I say this kind of thing that sounds ridiculously simple. But let's say there are two mirrors. One is the mirror of the self-life or the flesh. Grace ministries defines the flesh like this:
When I look at myself in the self mirror, I become preoccupied with what I want. What I need. How I think life should go. What I think I should be like.
[tweetthis]Looking in the self mirror is a full-time job that leaves us ever trying but never feeling like we are enough.[/tweetthis]
God has given us another mirror–the Christ mirror that reveals the image of Christ and the glory of God. This mirror shines with mercy and the life of Christ.
When problems come along, we have a choice. Which mirror will we look at? Where will we focus? What or who will we depend on?
All of our trying, primping, fixing, and performing will never accomplish the work that only God can do.
Here's one simple truth to embrace with all your heart:
Transformation only comes when we look in the right place, focused on the One who makes all things new. As long as we keep turning to ourselves we will not see or experience what God wants to accomplish.
[tweetthis]Transformation is an unfailing work and ministry of the Holy Spirit.[/tweetthis]
But we all, with unveiled face, beholding as in a mirror the glory of the Lord, are being transformed into the same image from glory to glory, just as from the Lord, the Spirit. 2 Corinthians 3:18 NASB
Who are you focused on today?
This material is from my newest retreat topic: Diamonds in the Rough. 
Also from this retreat is Do You Struggle With Confidence?