Everything changes when you learn to recognize God's voice. Join me today for an interview with chart-topping podcaster and author Jenny Randle and a review of her newest book: Getting to Know God's Voice. Bonus fun–Don't miss book to giveaway at the end of this post!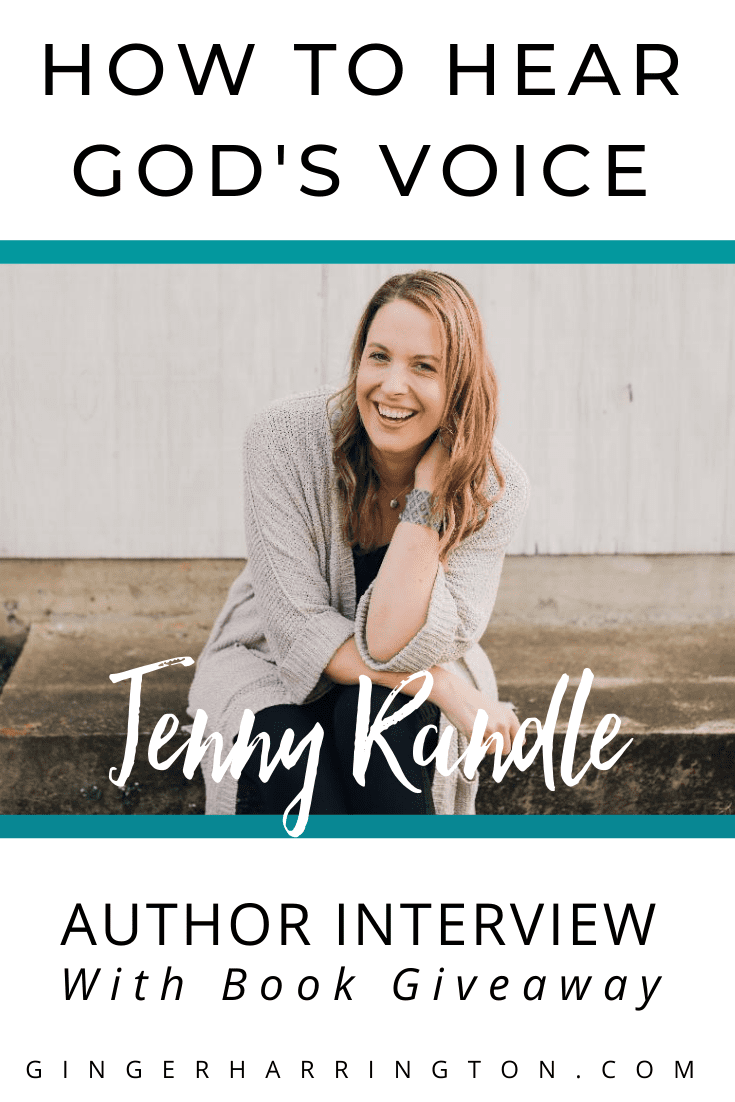 "What would it look like if we lived fully present to the directions, guidance, and giftings God gives?"
This is a question that kicks off the beginning of this interactive and engaging book. I love that Jenny writes about the importance of hearing God in the moment–a concept close to my heart!
Every moment is holy as you're empowered by Holy Spirit to view the world through the gospel. Sometimes you hear God within as a still, small voice that's a firm inner prompting with seemingly random thoughts. Other times His voice is roaringly obvious through external circumstances.
Hearing God's voice is the journey of our relationship with God over time. It's part of that process we call spiritual growth, or to use a church word, sanctification. Holy moments increase the more we recognize and respond to the many ways God speaks to us. We often long to hear God speak to us.
Recently I had a chance to chat with Jenny Randle.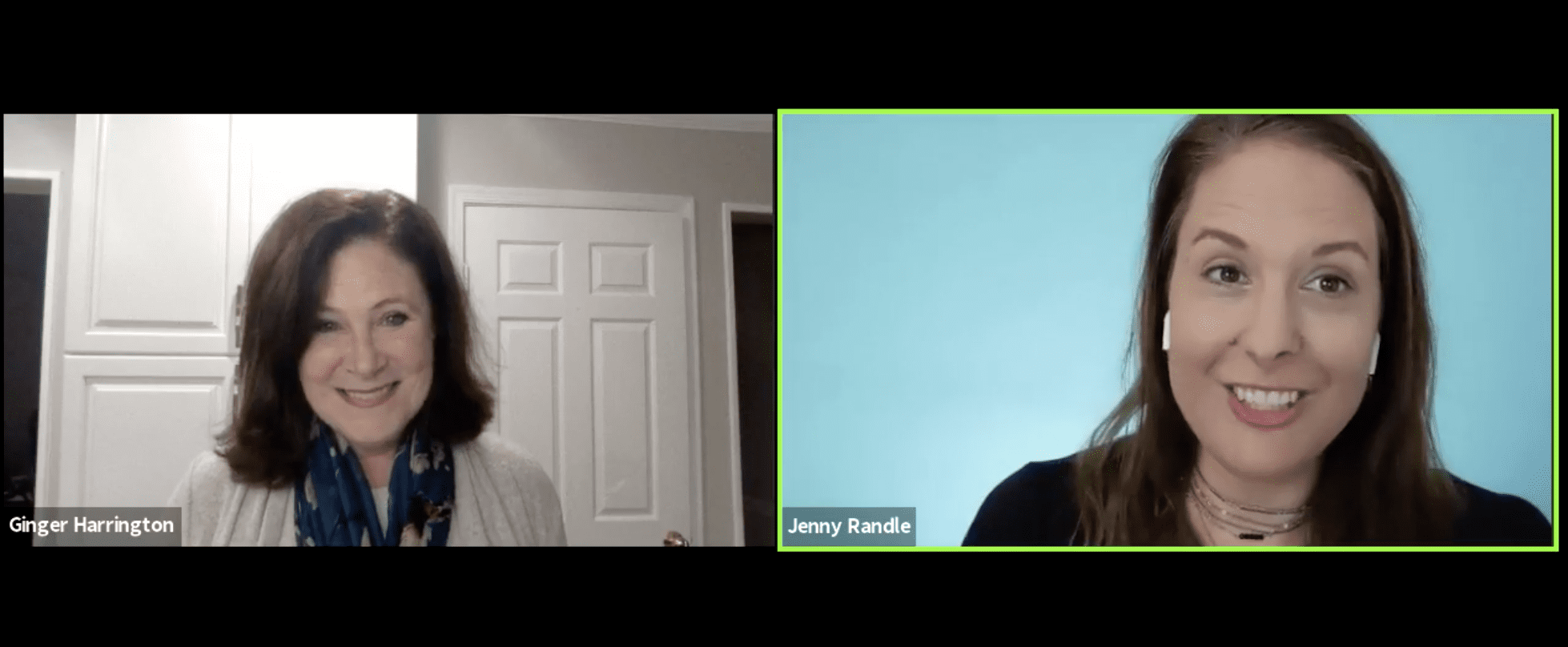 We had a fun and deep (yes, it can be both!) conversation about listening to God. Friends, we covered a lot of ground—there's so much great content in our conversation. Here are some highlights from our conversation about getting to know the voice of God in the many ways He speaks to us. You can listen to the interview at the end of this post.
Ginger and Jenny's Takeaways on Hearing God
A few of the ways God speaks include the church, his people, circumstances, creation, and His word. Jenny chatted about how being in nature opens her up to God's voice and the key foundation of reading God's Word to hear the Holy Spirit speak into our lives.
When we understand that God desires to speak with us even more than we long to hear from Him it increases our confidence. This isn't a confidence in our ability to hear correctly, but a God-confidence of trusting the Holy Spirit to enable us to listen.
Jenny got a little emotional when talking about the profound honor of knowing Jesus. I got a little teary too. I love how she shared her heart that communicating with God is a privilege and one we never want to take for granted. Can I get an amen on that one! Oh, yes!
 Fear can prevent us from responding to God's voice. I loved the story Jenny told of her apprehension when she sensed God wanted her to encourage someone at the gym. I could really relate to the struggle of was that God or me? The fear factor in messing something up or getting it wrong often gets in the way of responding to God's voice, particularly when He nudges us to step out in faith. Here's Jenny's go-to-question on this: "I think God is giving me word of encouragement for you, would you like to hear it?"
We chatted about recognizing God's voice. The Word of God and the nature of God provide boundaries for discernment whether we are hearing from God or from another source. Our impressions of what God is saying to us will never contradict Scripture or the nature of God. Understanding this truth helps us breakthrough confusion. I wrote about how to recognize the signature of God's conversation in the listening chapter of Holy in the Moment (Chapter 8).
Hearing God through creativity and calling is a powerful way God speaks to us and through us. I love this one! The truth that God speaks to us through our gifts and creativity as we live out our calling may be a new thought for some. If you want to learn more about this, check out Jenny's first book, Courageous Creative focuses on how God works through our creativity.
Which one of these concepts opens your ears today? There's so much more we talked about so be sure to listen to this helpful conversation on how to get to know God's voice.  For more helpful ideas on listening to God read Jenny's book, Getting to Know God's Voice. 
Getting to Know God's Voice Review
I enjoyed this cool 31-day interactive journey of discovering more of the Holy Spirit in our everyday life. The message of Getting to Know God's Voice is filled with encouragement, truth, and practical ways to get to know God's voice. Experiencing more of God in our everyday moments accelerates as we learn to listen to God and engage with the Holy Spirit more fully. I enjoyed Jenny's personable style that is approachable and engaging without compromising depth and truth. I also appreciate the variety of ways to practice concepts in the book. This is my favorite kind of book–where the spiritual meets the practical and the result is going deeper with God!⠀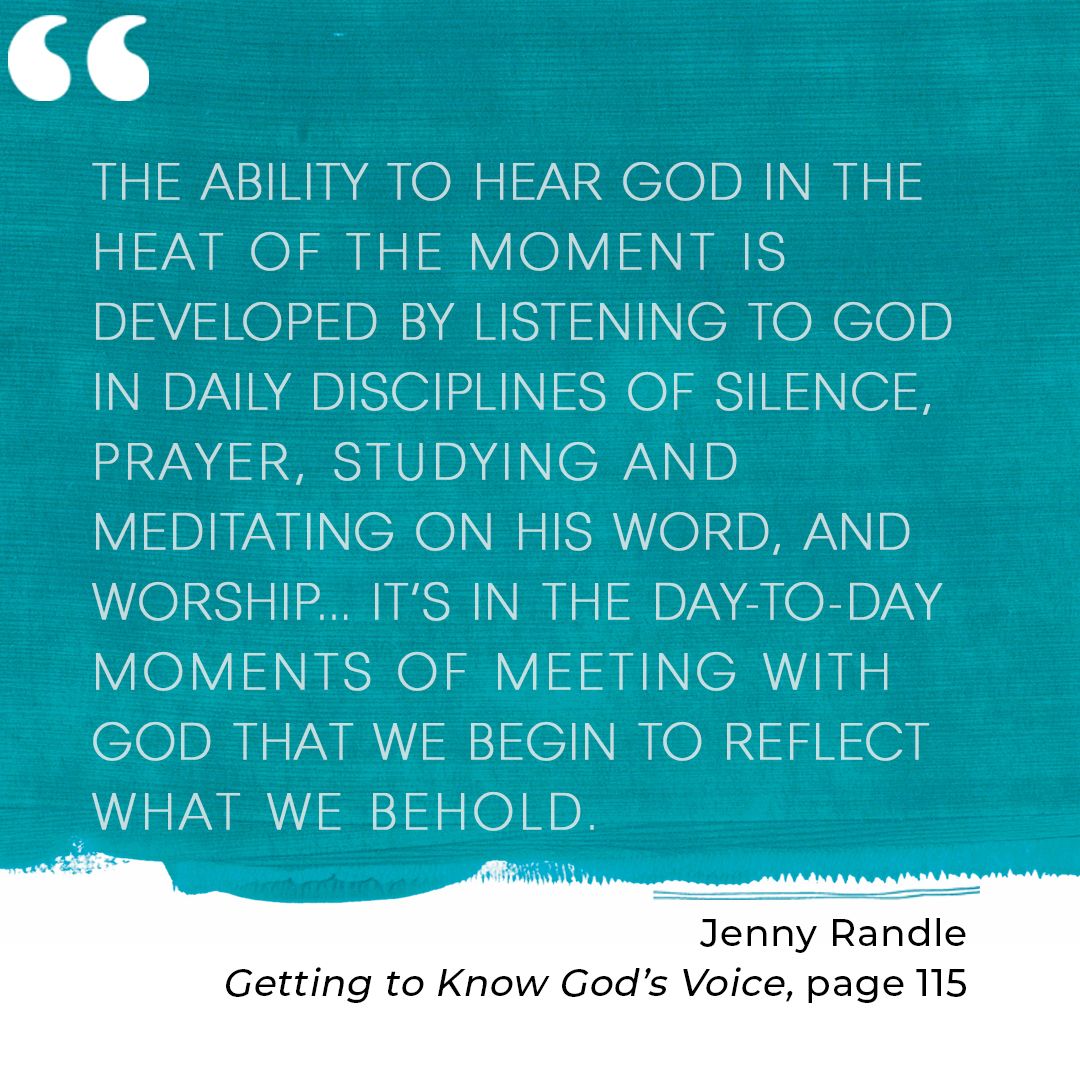 Quotes from Getting to Know God's Voice:
Here's a taste of some of my favorite thoughts from the book that help us learn to recognize the many ways God's speaks:
"When you dig into the Bible, your soul becomes focused on Jesus and fastened to truth. Your heart and mind start to feel the weight of what you're consuming and transform into what is good and holy. Reading the Bible aligns your natural mind with the supernatural."
"When you can't determine what He is saying, dwell on what He has said. Our feelings don't dictate whether God is speaking. Reading the Bible is a guaranteed way to get to know God's voice. God is speaking; the question is, are we listening?"
"We grow in maturity as we learn to identify God's leading and navigate circumstances with discernment."
"God uses ordinary people in extraordinary ways all the time. . .God uses people to speak and provide a heavenly wink."
"As Christ-followers, we have Holy Spirit, who speaks, guides, and helps us step in sync with His will for our lives. When Jesus is your central focus, you begin to hear His voice in concert with your own. As you quiet yourself before the Lord throughout your day, you'll notice the still, small voice of Holy Spirit speaking within."
"As you follow Christ, you lead in His strength and recognize opportunities to see God's good even in the bad, you speak words of life instead of death, you respond with hope instead of horror, and you trust that God is moving just as His Word says He is. Your obedience today sets up your opportunities tomorrow and the next day and the next. From the seemingly mundane moments to the shout-it-from-the-rooftop miracles, following God's purpose releases His power and promises, creating new possibilities."
Hear More from Ginger and Jenny
If you want to learn more about how to get to know God's voice, join us for the interview.
[wpdevart_youtube caption="" align="center"]FgsjPbuxHYw[/wpdevart_youtube]
[tweetthis hidden_hashtags="#bookgiveaway"]Hearing God clearly changes everything![/tweetthis]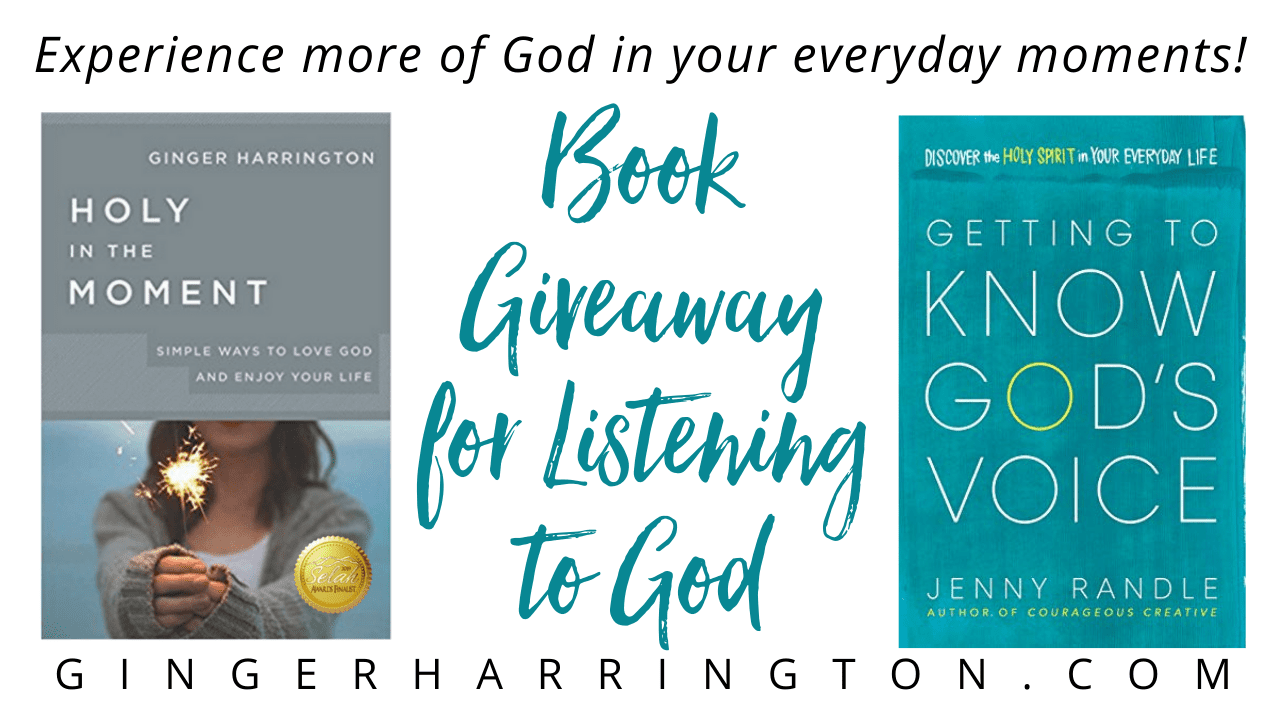 Yay! Congratulations to Kathy, winner of the book bundle! Woohoo!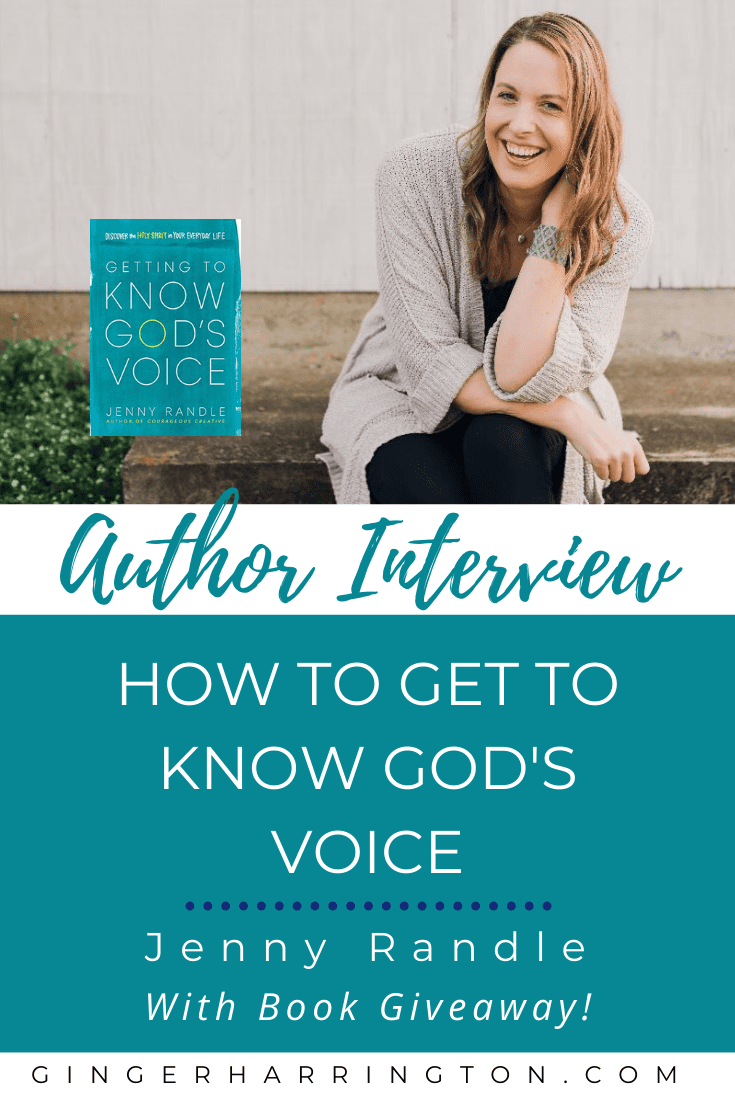 Do You Struggle with Listening to God?
Moments to Pray, Listen, and Think Bring Us Closer to God
Discover Six Important Truths about Listening to God
Eight Powerful Ways to Connect with God When He Is Silent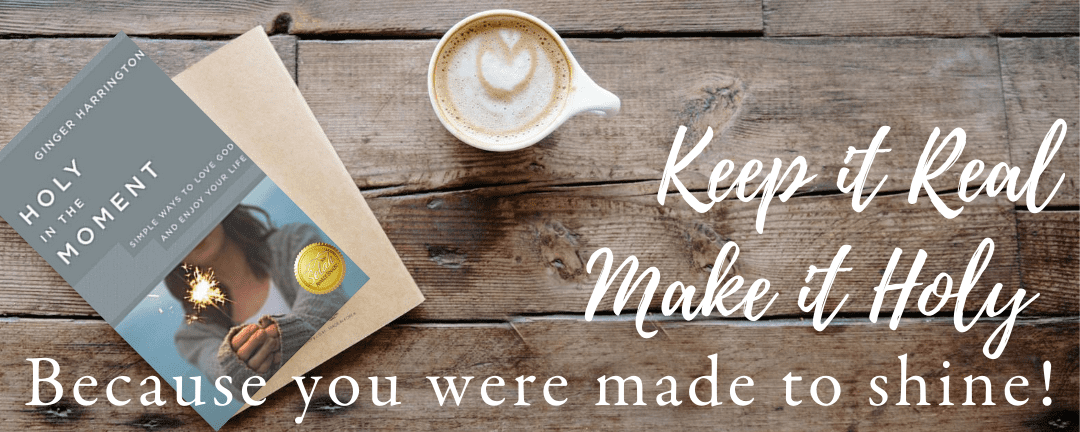 Linking with Grace & Truth, #HeartEncouragement, #TuneinThursday, and Faith on Fire.
Disclosure: This post contains affiliate links. That means, I may earn money or products from the companies mentioned in this post at no cost to you. Read my full disclosure here.