Will you celebrate with me? I'm excited to share my recent article published in the August issue of Refresh Bible Study Magazine! (p. 28) Here's a picture of the lead page of the article. I love sharing some of my water photos and reflecting on one of my favorite topics. Step out of the busy for a moment and refresh your soul as we talk about how to find peace.
After all, we can all use a little (or a lot) more peace.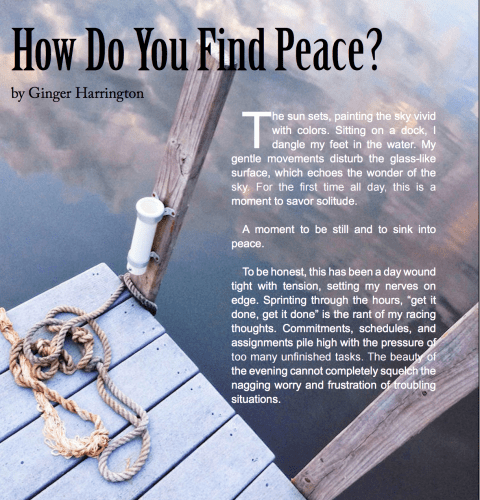 How do you find peace?
The sun sets, painting the sky vivid with color. Sitting on a dock, I dangle my feet in the water. My gentle movements disturb the glass-like surface, which echoes the wonder of the sky. For the first time all day, this is a moment to savor solitude.
To be honest, this has been a day wound tight with tension, setting my nerves on edge. Sprinting through the hours, "get it done, get it done" is the rant of my racing thoughts. Commitments, schedules, and assignments pile high with the pressure of too many unfinished tasks. The beauty of the evening cannot completely squelch the nagging worry and frustration of troubling situations.
Serene surroundings are not the same as truly experiencing the fruit of peace. And though I relish tranquility as the sun lingers near the water's edge, I know there is only one genuine source of peace.
Still, there's a part of me that searches for peace in the sunsets and calm waters of life, but this moment is for remembering peace isn't something to find.
"Peace I leave with you; My peace I give to you" (John 14:27 NASB).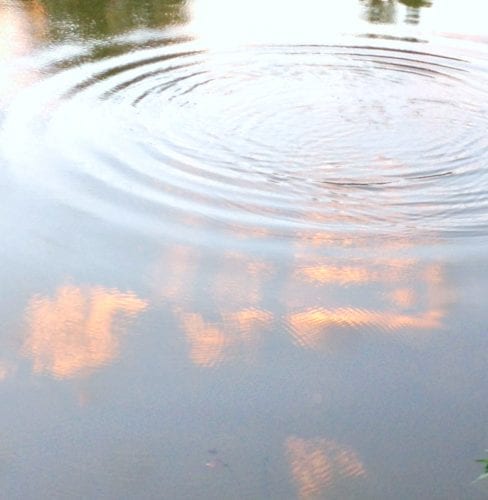 [tweetthis hidden_hashtags="#findingpeace"]Peace is a gift rather than an achievement.[/tweetthis]
In this verse we discover peace is a gift rather than an achievement. My peace (the peace of God) I give to you. Wrapped up tight in this Christ-peace is His power. His trustworthiness.
Because Christ is peace and He is with us, our hearts can rest from efforts to create a fleeting version of harmony. Trusting Christ within, we can experience the peace He gives, this sweet fruit of His Spirit dwelling within. Dipping my toes in the water, I set aside all my efforts of the day.
[tweetthis hidden_hashtags="#findingpeace"]Peace is not the result of my trying to do it all right and get it all done.[/tweetthis]
Breathing deeply, I remind myself peace is a fruit of His present Spirit, not the result of my trying to do it all right and get it all done. Silently, I count the treasures of His presence: "the fruit of the Spirit is love, joy, peace, patience, kindness, goodness, faithfulness" (Galatians 5:22 NASB).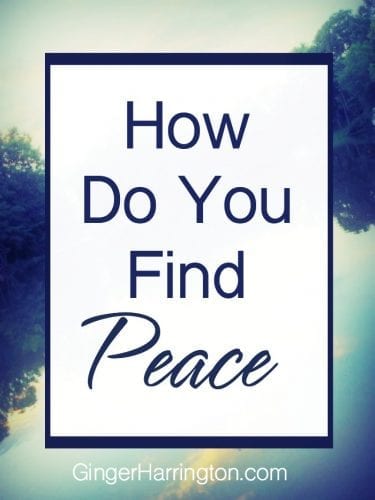 In today's world, stress has become our normal condition.
Our culture has many formulas for peace, or at least lots of ways to make us feel better. Try this, do that, buy this entice advertisements. The world's false peace shimmers on the horizon, visible, but always out of reach.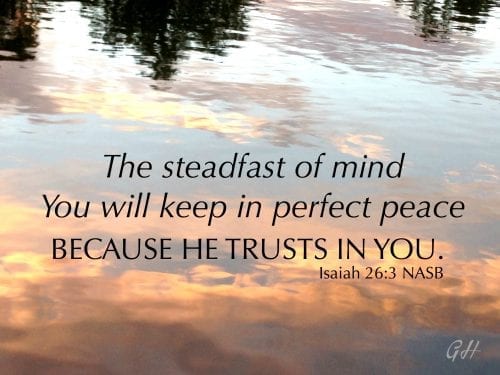 Perfect peace has everything to do with what's going on in our minds. Isn't it interesting that the content of our thoughts relates to the condition of our peace? Too often, we fall into that old habit of equating peace with sunsets and the absence of problems.
The steady mind.
The steadfast mind–this is the condition, the mental posture that enables us to receive the peace of Christ. We often think of steadfast as meaning strong and steady, but surprisingly, the Hebrew meaning of this word means to lean upon or take hold of.[i] On days marked by stress, conflict, or fear, it is tempting to pursue peace through our own efforts. Gritting our teeth, we strive to calm the nerves, settle the argument, or solve the problem.
Leaning on God, we can depend on Him to provide the mental focus we so often lack. It is the turning, the depending on God that opens the door to receive the soul peace He offers.
This is the soul-habit I long to nourish.
I hope read the rest of the article in Refresh Bible Study Magazine p. 28. More than that, I pray God will give you the power of his perfect peace right in the midst of whatever you are experiencing at this moment.
How do you find peace?
Need more peace?
Enjoy these posts to give you a renewed perspective on God's gift of peace:
God's Word + Obedience + Peace
When Peace Gets Away: My Struggle with Anxiety
You Can Find Peace: A Summary of Peace Verses
[i] https://www.blueletterbible.org/lang/lexicon/lexicon.cfm?Strongs=H5564&t=KJV