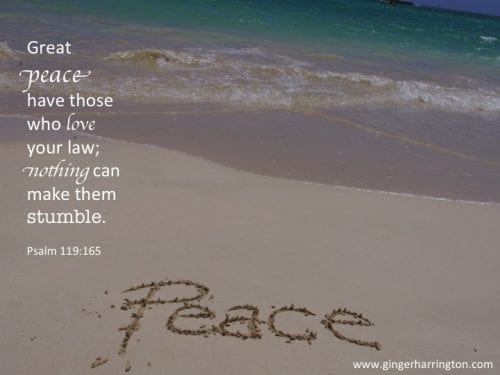 To have peace, or not to have peace…
All too often, that is the question, isn't it? When we're searching for peace, what is it, exactly, that we're looking for? For some, this may seem like a stupid question…but if you've ever been caught in a whirlwind of conflict or anxiety, if you've ever been plagued by a restlessness in your soul, you've grappled with the question. You know that peace can be hard to define and even harder to obtain.
God knows we need peace.
In fact, words on peace move consistently throughout the Bible, from Old Testament to New. From the first act of disobedience in the Garden of Eden and ending with the millennial reign of Christ, God consistently speaks to our need for peace.
He acts to provide this peace that we need.
The Bible states that those who have God's word, or law, have peace. When we embrace God's ways, one of the by-products of obedience is the blessing of peace. Conversely, when we choose to disobey God's ways, one of the pathologies of sin is lack of peace. Most of us  have smoke detectors installed in our homes to warn us of the danger of fire. Programmed to sound a sleep-jarring alarm, detectors indicate the presence of smoke. In much the same way, lack of peace, (in whatever form you experience it) provides a warning, calling our attention to a problem.
God's Word + Obedience = PEACE.
In reality, the formula for peace is simple. Not easy, but rather simple.
Psalm 25:10 tells us "All the paths of the Lord are lovingkindness and truth
To those who keep His covenant and His testimonies." God's ways are good, and obedience brings many blessings, one of which is sweet peace. When you know deep in your soul you are on the right track, peace rules. "Let the peace of Christ rule in your hearts, to which indeed you were called in one body; and be thankful. Let the word of Christ richly dwell within you... " (Colossians 3:15-16a).
When we veer off course, choosing to go our own way,  lack of peace shows up in a myriad of ways–guilt, remorse, unease, bitterness, resentfulness, discontent, or fear. We've all done it. We have experienced it. Many of us have some area of sin that keeps coming around, a frequent temptation.
Prone to Sin
Do any of these words sound familiar?
"Love is patient, love is kind. It does not envy, it does not boast, it is not proud. It does not dishonor others, it is not self-seeking, it is not easily angered, it keeps no record of wrongs. Love does not delight in evil but rejoices with the truth" (1 Corinthians 13:4-6).
For me, this is an area that I struggle to follow God's instructions. When my feelings are hurt, I have a hard time letting it go. My sinful tendency is to keep a record of offenses, to mull them over, build cases, and re-hash the whole thing over and over. Let me tell you, this doesn't make for peace in my heart.
Somehow, I will usually turn the offense in on myself, and the emotional turmoil goes from bad to worse. A bad cycle that doesn't bode well for healthy relationships, God has had to remind me over and over again to love as He loves. I let it go, forgive and finally put the offense away, and peace returns.
How about you? What are those areas in life in which sinful thoughts, attitudes, or actions want to suck you in and rob you of peace? Now I'm not asking for true confessions here, but think about it. Identify those hot spots and do the following: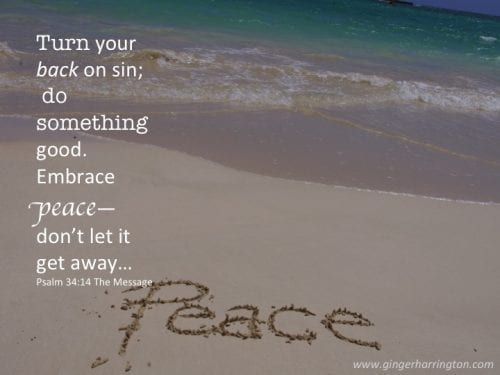 It's worth it–all day, every day. When we leave sin unchecked, peace is the first blessing to run out the door. So here's to embracing peace today.
Be sure to like this post if you have struggled with overcoming sin and finding peace. You may be able to encourage someone who needs this reminder.