Discovering strength to thrive  in every season of life, has everything to do with finding  our true source of strength. Now faith, is the holy habit of choosing to trust God and hang onto hope. Faced with difficulty, our first inclination is to do something to save ourselves, to fix the situation. Psalm 46 has words of wisdom for finding our strength in God.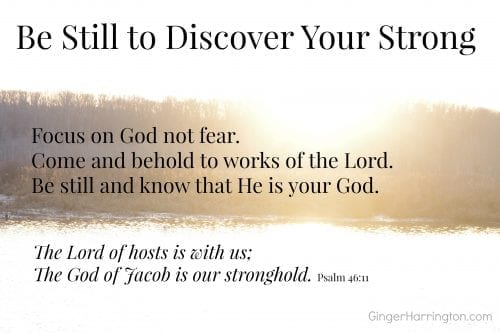 We learn to focus on God rather than fear when we truly believe He is our refuge, our place of safety and security that does not change no matter what is happening around us.  Psalm 46 teaches that God is our strength, and our present, findable help in the troubles and distresses of our lives.
We find our strong as we choose to come and behold to works of the Lord. Today we complete our reflection on Psalm 46, which is filled with practical ways to discover your strong.
When the nations rage and the kingdoms totter, it is our great temptation to give into the rising tides of trouble. Striving within, we often give way to fear and any other fix we can find to win the battle at hand. Yet in the middle of our mess, God commands us to be rather than to do. Be still and know is one simple choice that opens the door to God's strength.
Cease striving.
Cease striving is often translated, be still. Stop the striving and the battling. The Hebrew word for be still is raphah, meaning to sink, relax, sink down, let drop. It also means to let down your hand and to desist from any person or thing.
Oh friend, sink into this quiet place of inner stillness that has laid down every self-effort, every resentment, every false source of strength. This is the two-fold command:
Be still
and
Know…
I am God.
When the battle rages and my emotions strive within my soul, I cannot hear the quiet strength of God. It's hard to see, and hard to know by experience that God is my very present source of strength.
Why is it hard to find our strong when mountains are slipping into the sea? What difference can one simple choice to be still make?
Think of trying to find good reception on a radio station. As long as we are frantically turning the dial, we only hear static and the incomplete broadcast before we move the tuner again. It is only when we slow down, tune in, and be still  that we can receive a clear station.
The knowing comes as the striving stops.
It is in that place of inner stillness that the streams of God's presence calm my heart and I can know the He really is God Most High, God Right Now.
This knowing isn't an intellectual or a casual knowing. It isn't a far off in the distance as in I know about…
This knowing is a deep, inner knowing that comes through our experience. It points to a process of learning to know, to become aware of, to discover, and to become acquainted with. This knowing is deeply personal and present, right in the center of our need, our hurts, and our fears.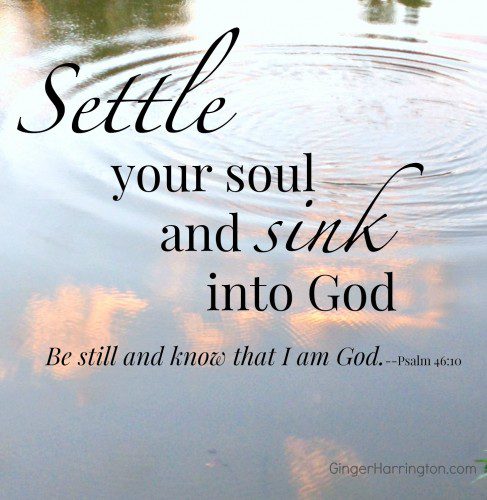 Settle your soul and sink into Him.
Take your hands off the lever that cranks and twists your fears like churning butter. Pry your fingers off the problems and lift your eyes to your Most High.
I will be exalted among the nations, I will be exalted in the earth."
From beginning to end with all the problems in between, God is our refuge and strength.
The Lord of hosts is with us;
The God of Jacob is our stronghold. Psalm 46:11
For thus says the Lord, "do not fear or be dismayed because of this great multitude, for the battle is not yours, but Gods." 2 Chronicles 20:15
The burden of proof is on Him.
He is with us, right in the very midst of us. Let this truth be your strong hold of faith as you let God fight the battle. Grace for this moment is for the attitudes and choices that we make to focus on God rather than fear, to come and behold His works, and to be still and experience He is God.
How can you choose the simplicity of stillness to live full of God and full with God as you find your strong in this moment?