Now faith.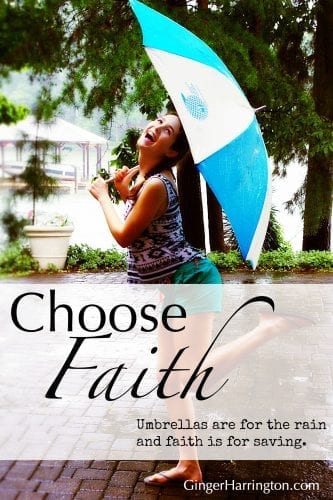 Just as umbrellas shield us from the rain, faith covers us from the questions and fears that flood our souls. When storm clouds gather, rain can sprinkle in a mist or pelt in torrent and an umbrella is only as good as the using of it in the moment.
Umbrellas left in the closet or forgotten in the car offer no protection from the deluge. And faith left unused, growing rusty in the back of our hearts will not shield us from unbelief.
Enough for now.
We need now faith for every moment to choose the simple and the whole.  Faith in the moment stretches us to believe God for what we cannot see. Faith for one simple thing is ours for the choosing.
Now faith is for this moment, not left over from yesterday's issue or saved up for tomorrow's trial. Now faith rests in the wholeness of choosing God in the moment before us, the one opening up right now.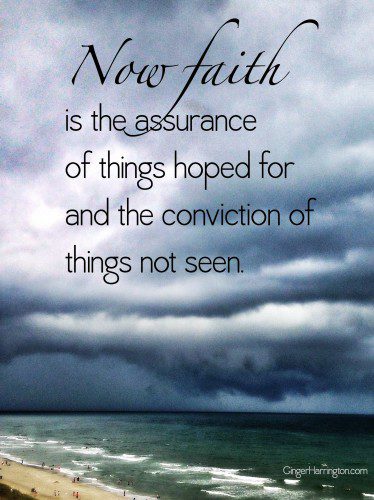 Now emphasizes and points to the timeliness of faith. Raise the umbrella of faith over the banter of doubt that echoes in your ears and tugs at your insides. Rest in this moment standing under  the power of one holy choice to trust God, to hang onto hope.
"…yet, with respect to the promise of God, he did not waver in unbelief but grew strong in faith, giving glory to God,  and being fully assured that what God had promised, He was able also to perform. Therefore it was also credited to him as righteousness."–Romans 4:20-21
[tweetthis hidden_hashtags="#faith"]Now faith has the power to hold on in this moment.[/tweetthis]
Gather for the day and rest in the moment, refusing to step off to the left or right. Set one foot in front of the other, now faith is a step by step journey right into the goodness of God.
Strong and steady, faith is one simple thing for the choosing. What moment is before you? What is your right now need for faith? A fear or frustation? A discouragement or decision?
In this moment, choose to trust in the rightness of God who gives faith by the sweet gift of grace.
Ask Him. Trust Him for…
… the righteousness of God is revealed from faith to faith"–Romans 1:17
Now faith takes us all the way…
From faith.
To faith.
Here is the power of this moment.
Faith for this moment has power to protect because it is God's hand that covers. It is His righteousness and steadfastness that enfolds our souls. How many times have I thought that faith is dependent on my strength?
"We who have run for our very lives to God have every reason to grab the promised hope with both hands and never let go. It's an unbreakable spiritual lifeline, reaching past all appearances right to the very presence of God… " Hebrews 6:18-19 MSG
Faith is the power that anchors hope to our souls. Hold fast with confidence when the waters rise. Now faith is for the rainy moments–the showers, the drizzles, and the downpours. Open your umbrella and choose  wholeness that is your solid ground when dreams grow soggy at your feet.
Don't wait for the rain to stop.
Umbrellas are for the rain and faith is for saving.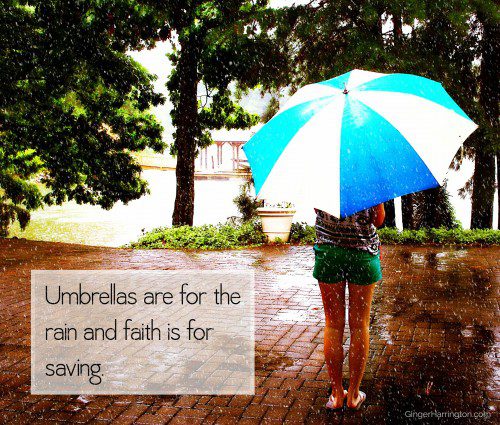 Choose now faith for one simple thing.
[tweetthis twitter_handles="@GingHarrington" hidden_hashtags="#faith"]Choose God's best for you one moment at a time.[/tweetthis]
Choose holiness in the simple things. Choose life that brings joy despite the rain and grace in the moment. Rest your goals in His hand and seek God with all your heart. Love your family and do your work–but each day choose grace in the simple things and let the moments add up to God's best in you.
God's best for you.
One moment at a time.
[tweetthis twitter_handles="@GingHarrington" hidden_hashtags="#faith"]Now faith rests in the wholeness of choosing God in the moment.[/tweetthis]
What challenges have caused you to struggle in faith? Which scripture passage most inspires you to choose the wholeness of now faith?