choose to believe God will work in the midst of your every-day moments.
Now it happened that…while he was performing his priestly service before God…
It was just a regular day.
Maybe the day started out like so many others.  In the midst of doing his duties—while he was performing his service—an angel showed up.
Chosen by lot, what many in this day would consider a chance, Zacharias was chosen to light the incense. Faithful in the everyday, God placed him in a position to have a very special encounter. A personal message from God Most High, spoken through the astounding presence of an angel.
In the midst of serving God, even in the midst of worship, Zacharias  receives a life-changing message, the first message of Christmas.
Did he enter the temple that day with a sense of excitement, a premonition that heaven was coming to meet earth before his very eyes?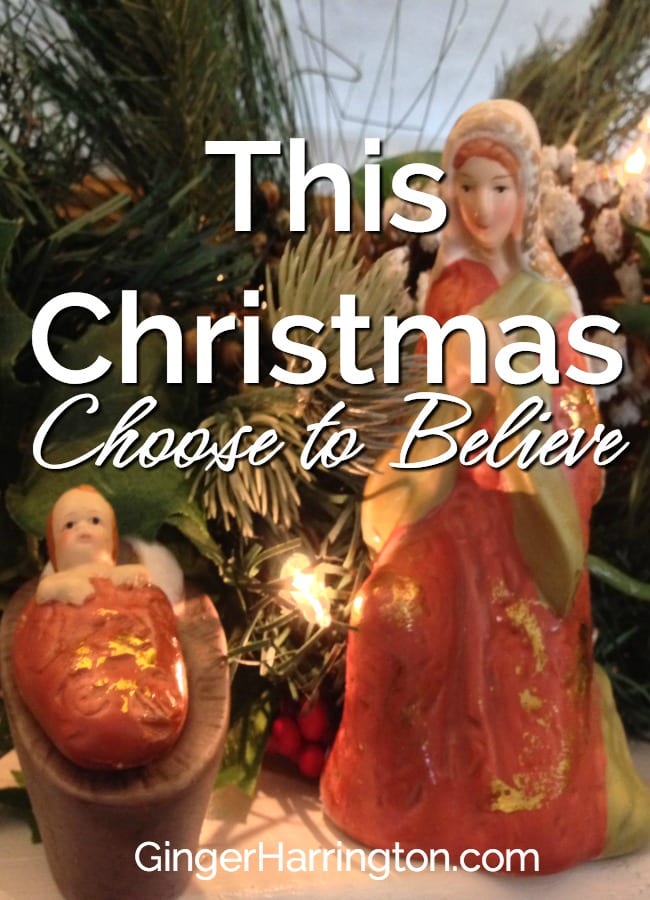 This Christmas…choose to believe worship makes a difference.
And the whole multitude of the people were in prayer outside at the hour of the incense offering…
It happens against the backdrop of the multitudes worshipping God in prayer, hearts raised with holy words.  In the midst of worship, God breaks forth with the extraordinary.
This Christmas…choose to believe God speaks to our fears and concerns.
And an angel of the Lord appeared to him, standing to the right of the altar of incense. Zacharias was troubled when he saw the angel, and fear gripped him. 
But the angel said to him, "Do not be afraid, Zacharias…
This is the first message of Christmas, a heaven-sent message placed in that holy intersection of the mundane and the sacred–Do not be afraid.
Do not be afraid. As these words roll over my scattered thoughts burdened by tasks, disappointments, and uncertain futures, something deep settles. Do not be afraid.
That God would care about our fears,  this truth rests like the comfort of a loving hand on my shoulder. This first encounter of Christmas comes forth in a personal message to a man who has long served God. Zacharias has walked faithfully, setting aside the grief and pain of desires unfulfilled, of longings hoped for but left empty in the arms of a childless wife.
Called by name.
Then the angel calls him by name. Zacharias. This is no generic angelic episode. There is nothing impersonal or Christmas-card sentimental about this moment. A specific message to a certain man, and it is a message that will change his world. It has changed our world.
This Christmas…choose to believe God hears our prayers.
for your petition has been heard…
Emotion pricks at the back of my eyes with the sting of truth,  hot with the power of God at work in a life.
Your prayers have been heard.
Isn't that what we all want, assurance that we have been heard? That God has seen our longings, understood our fears, and cared about our concerns? Isn't that what we all want this Christmas?
Every Christmas?
Do not be afraid, __________, (fill in your name); your prayers have been heard. Say it to yourself with the whisper of faith.
Shout it to yourself with a leap of joy.
Let hope seep over those hard places you have held out–prayers that have seemed to go unanswered. Inhale fresh air into those stale places of unfilled desires that wear away at faith. Your prayers have been heard by a God who says, do not be afraid.
This Christmas…Choose to believe God meets us where we need it most.
In this first message of Christmas, God meets man where we need it most–the deepest concern of our hearts.
"and your wife Elizabeth will bear you a son, and you will give him the name John.  You will have joy and gladness, and many will rejoice at his birth."
What are you choosing to believe God for this Christmas?
Get a free Christmas devotional from Ginger when you sign up for my newsletter! Enjoy this beautiful ebook to spark hope in your life this Christmas. This is my Christmas gift for you.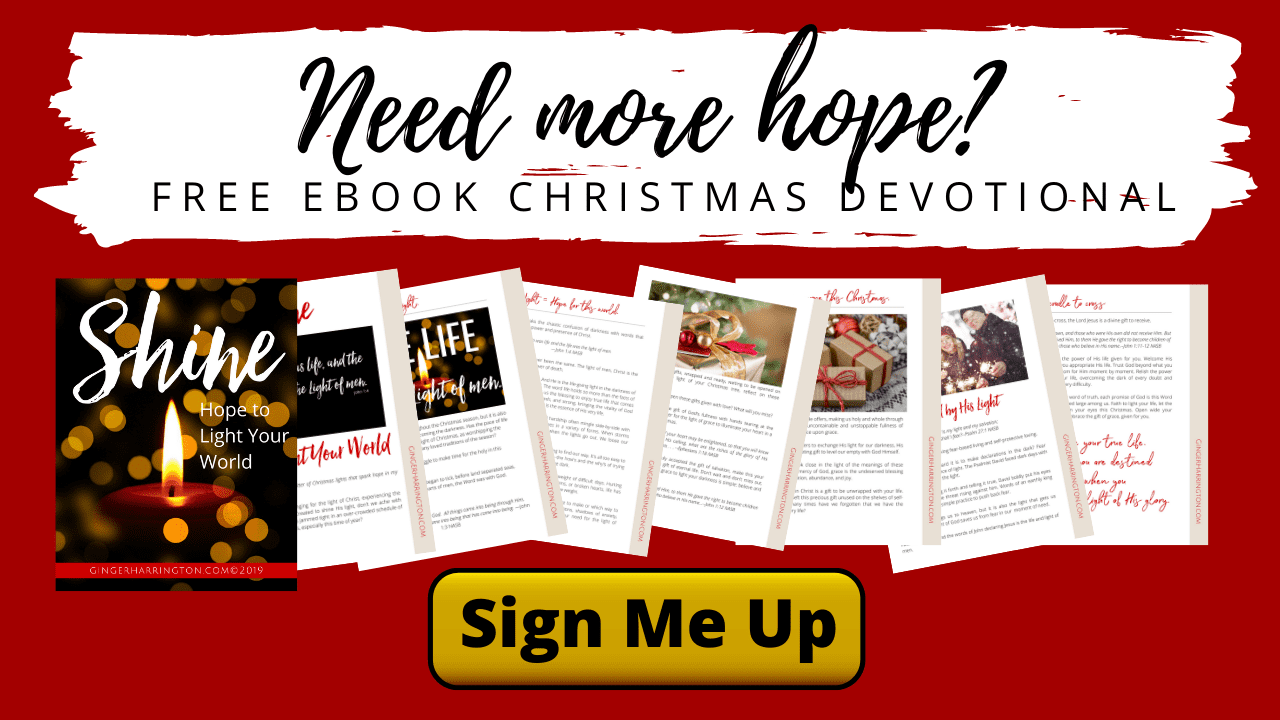 ---
Enjoy the Best of Christmas from Ginger
A curated collection of Christmas content from award-winning author and blogger, Ginger Harrington. Take the Christmas Worship Challenge, read inspiring devotions, download free gifts, gather ideas for family fun, make a special gift, and chuckle with Ginger's Christmas humor. Read the story of Ginger's Christmas miracle in a free chapter from her book, Holy in the Moment. Enjoy the best of Christmas that you'll want to come back to year after year!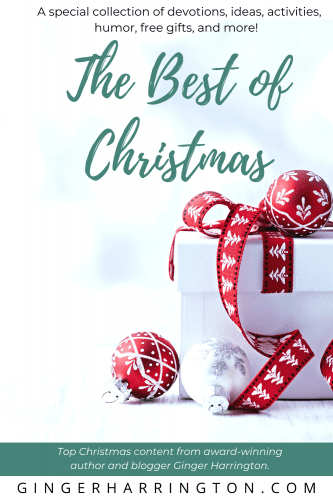 ---
Get Your Free Chapter!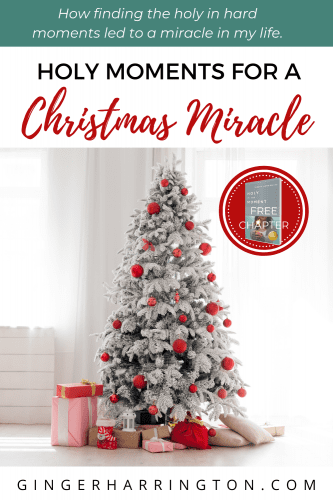 Read the story of a Christmas miracle I experienced in the first chapter of my award-winning book, Holy in the Moment. You'll read  a poignant story from one challenging Christmas in my life at the end of the first chapter. Read the story of what happened here. Give the gift of holy this Christmas–Holy in the Moment makes a wonderful gift to encourage faith in a practical way. Learn more about the book here.
Download your free chapter here.