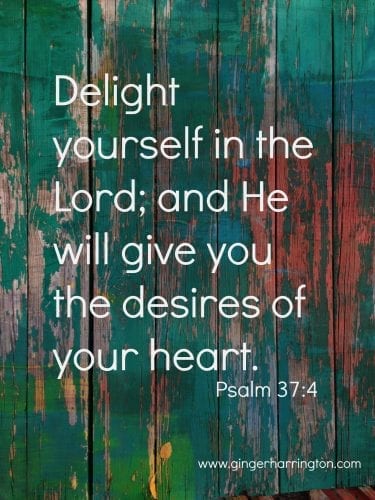 Let's face it, we are all interested in achieving goals, maximizing potential, and living a good life. After all, when is the last time you planned to fail? Do you ever say things like, "Think I'd really like to be miserable today?" Or how about this one, "I hope I never get what I want?"
We're just not wired this way.
Welcome back to a look at Psalm 37, focusing on how to make the most of each day this year. (Click the link if you missed part 1 of this post.)  Just to recap, here are the first couple of simple (not necessarily easy) steps to full-life living today and every day.
Don't give into negative emotions (fretting, worrying, envying…).
Trust in the Lord.
Occupy yourself with doing good.
Dwell in the land (your now, your God).
Grow faithfulness.
Easy-peasy, right?
How to delight yourself in the Lord.
We can find a million and one things to delight in, to chase after, or set our hearts on. In today's media-bombarded culture, there's always something new to delight in. Enjoying God can seem like a nebulous activity of the super spiritual, yet over and over God calls our hearts to find our delight in Him.
Delight in…
His Character
His Word
His way
His works
His nearness
An honest question…
Is my delight in God or in other things? <Tweet this. Cuts to the quick, doesn't it?
Recently, God reminded me that trust is the foundation of delight. Delighting in God is a specific way of loving Him with my whole heart. As I trust Him with all of my desires and concerns, fears and failures, joys and victories, delight will spread wide and sink in deep.
So what's my job this year?
To delight in God.
What God will do…
And when I do, this is His promise in return: I will give you the desires of your heart. At first glance, this may look like a spiritual version of writing a letter to Santa Clause, but it is so much more.
This promise is about transformation. It's about abiding in Christ to the extent that His desires become my desires. Certainly there are times when God simply blesses us with good gifts, but the better gift is to receive the desires that He can place within us. This is the secret to making the most of each day–desiring the best things, the real things, rather than the countless counterfeit paths to joy.
Delight in God increases when I experience His faithfulness and tender mercy.
It grows strong when I discover that His way truly is best.
It multiplies when He gives extraordinary grace to a gal who is more than a mess.
Delight overflows when I count His blessings rather than hoard my fears.
More delight.
But his delight is in the law of the Lord, and in His law he meditates day and night. Psalm 1:2
When my anxious thoughts multiply within me, Your consolations delight my soul. Psalm 94:19
How amazing are the deeds of the Lord! All who delight in him should ponder them. Psalm 111:2
Surround me with your tender mercies so I may live, for your instructions are my delight. Psalm 119:77
So this year…
let's make a conscious decision to…delight in the nearness of God.
What's your favorite way to delight in God? Share this post with someone who could use  a little delight today.
If you would like to have Where the Spiritual Meets the Practical delivered to your inbox, simply click here: Subscribe to Ginger Harrington