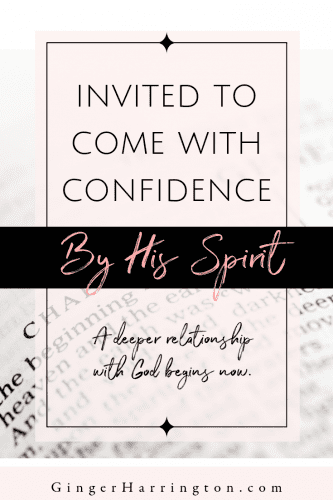 Have you ever stood at the doorway of a room full of people who seem out of your league?
I've stood on the outside looking in, longing to turn around and leave. I worried that I wouldn't be accepted. Feeling like I didn't belong, I worried I wasn't qualified to be in that place.
Maybe you have experienced this lack of confidence that can hinder your participation or progress if you let it.
We can experience a similar hesitancy when it comes to entering God's presence. And yet, God invites us to come to Him with confidence that we will be received.
Contrast this fear of rejection with the way a child comes into the house, entering with the joy and confidence of coming home. She know's her father will be glad to see her. And she knows she belongs for she's part of the family.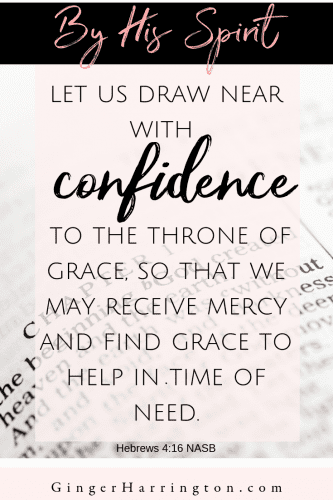 Draw near with confidence.
God invites us into a deeper relationship by the power of the Holy Spirit in a variety of ways. In our last post, we reflected on the invitation to come with the faith of a child.
Come with confidence–this is another precious invitation to deepen our relationship with God.
For we do not have a high priest who cannot sympathize with our weaknesses, but One who has been tempted in all things as we are, yet without sin. Therefore let us draw near with confidence to the throne of grace, so that we may receive mercy and find grace to help in time of need.

Hebrews 4:15-16 NASB
Quiet Time Tool: I often read Bible passages in several translations in order to benefit from a variety of words used in translating the content. One of my favorites is the Amplified Bible because it "amplifies" the message by inserting definitions and details into the verses. Consider the way the Amplified Bible expands our understanding of Hebrews 4:16
Therefore let us [with privilege] approach the throne of grace [that is, the throne of God's gracious favor] with confidence and without fear, so that we may receive mercy [for our failures] and find [His amazing] grace to help in time of need [an appropriate blessing, coming just at the right moment].

Hebrews 4: 16 AMP
Come with confidence, reliance, and trust in God. Too often, we get stuck trying to stir up self-confidence. In this passage, confidence is based on God's merits, faithfulness, and invitation.
God invites us to come confidently without fear of punishment—for it is in his presence that we receive deeper faith, forgiveness of sin, and restoration. Sometimes I need the reminder of what an incredible privilege it is to simply come to God in prayer.
Isn't it a wonder to embrace the truth that the Spirit beckons us come with confidence enter the intimacy of the holy place? During the days of the Old Testament, only the high priest could enter the Holy of Holies one time a year. But now, God invites us to come boldly. To enter is a progressive coming closer, committing to go all in, to be fully present with God as well as welcomed by Him.
Come and receive–God's invitation for every moment.
What a blessing to be able to come to God, to seek His help at any time. It is in our coming that we receive what we need: forgiveness, cleansing, washing, assurance, mercy, grace, help. . .
God's invitation to enter fully by His Spirit is based on His love and faithfulness and on the sacrifice of Christ.
[tweetthis]Enter God's presence by permission not by performance. It isn't based on our good religious track record, doing the right things to please God.[/tweetthis]
Invited to receive.
The Holy Spirit invites us to find our deepest needs met in Him—to be accepted, valued, loved, and secure. To be fully known and to fully know our true selves free from guilt and shame.
Maybe you already know this truth, but there is a fresh blessing for each of us when we appreciate anew the sacred invitations of God.
For it is by His Spirit that we push past the clamor of conflict, the stress of busy lives, and the weariness of too many burdens, giving God our full attention. It is the gentle whisper of the Holy Spirit who reminds us to seek God in it all–the good, the busy, the bad, and the broken.
Yes, Friend, this is your moment to come confidently.
Come boldly.
Cherish God's invitation to settle your heart in His loving presence. A deeper relationship with God begins now.