As I step into my bedroom, darkness seems to swallow me in thick blackness. Without the normal faint glow from the night light in the hall, I feel disoriented. Hands groping along the wall, I'm careful with every step. Hesitant and unsure, with hands stretched forward, I inch my way to the bed, not wanting to stub my toe on the dresser.
Ever feel like your life is like walking in that dark room?
Darkness wears many faces.
Physical darkness
Emotions, thoughts, and actions can be dark as well.
Dark situations can lead us to despair.
Confusion is a mental darkness as we search for answers, trying to make sense of tragedy or rejection.
How do we keep faith fresh in the darkness?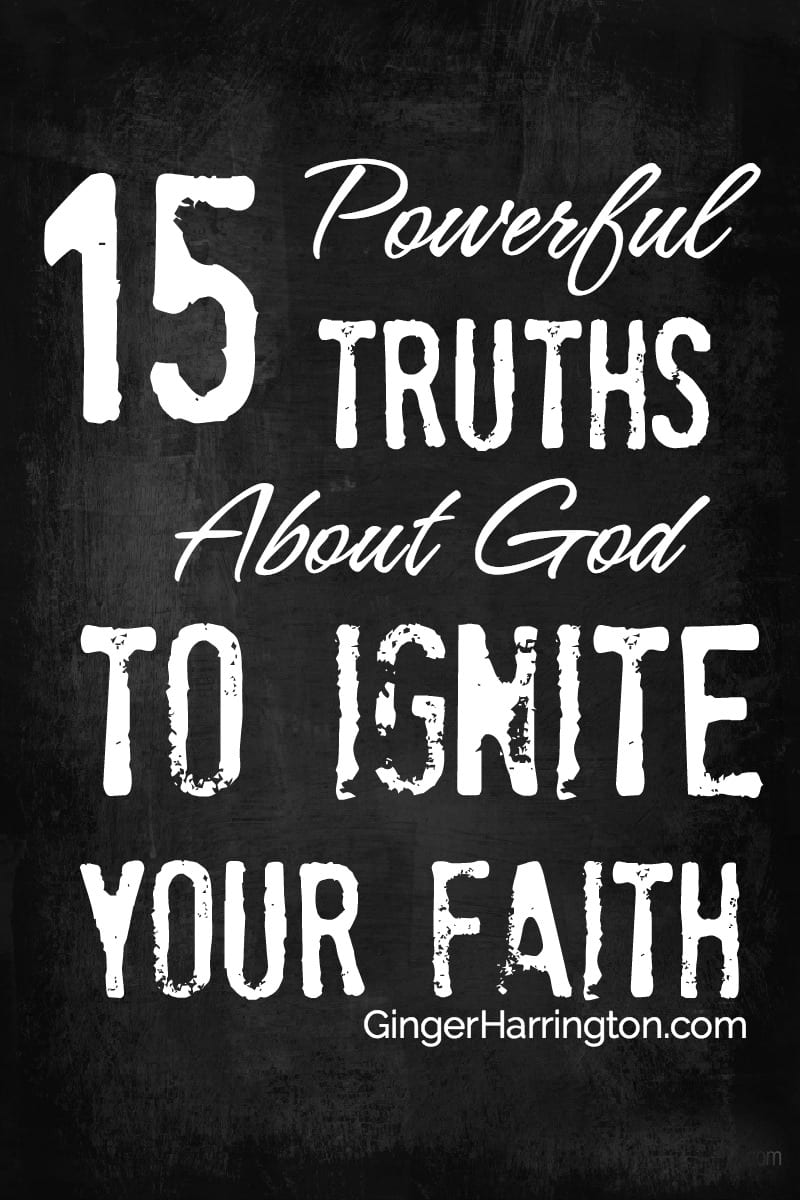 Consider how David faces dark challenges in Psalm 27.
The Lord is my light and my salvation;
Whom shall I fear?–Psalm 27:1
God is light and salvation in every situation. Friend, circumstances, and emotions can be a wild ride, but God never changes. What a difference light makes in the darkness.
What a difference light makes in the darkness.
Shining in the darkness of confusion, God's light brings understanding by illuminating what we cannot see for ourselves. As God shines His light and we can see what is revealed.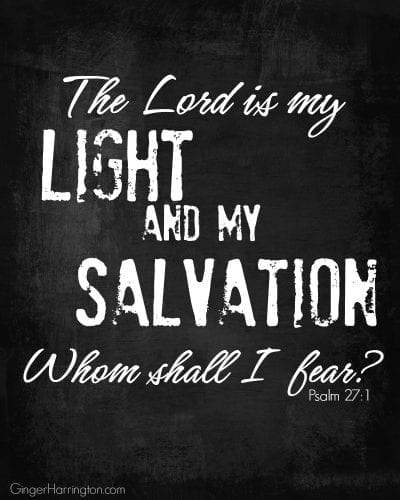 Salvation: deliverance and help
Whom shall I fear? 
Before David mentions his situation, he affirms that God is his light and salvation. Don't miss this practical step. Speaking truth to ourselves is a holy habit that ignites faith. Saying it aloud is a way of shining God's light into your darkness.
Overcome fear by looking at your situation in light of God's presence and strength.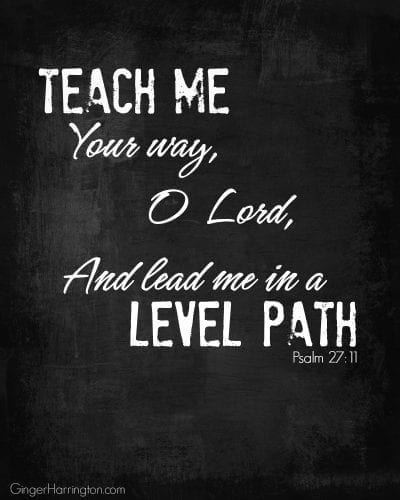 Trust God to lead you on His level path:
Physical level place: Remember the relief of a level path after a strenuous uphill climb?
Spiritual level place: righteousness, to make straight–bringing our thoughts, emotions, and decisions in line with the rightness of God's nature.
Emotional level place. Fear triggers many emotions, tempting us to react to feelings rather than respond with faith. Feelings can drive our actions and shape our truth if we let them.
Mental level place–wisdom to know what to do in the challenge. It is also the quality of remaining focused and calm in our thoughts.
Light of truth overcomes despair.
As David faces his enemies, he strengthens his faith by reminding himself, affirming what is really true: God is my light and salvation.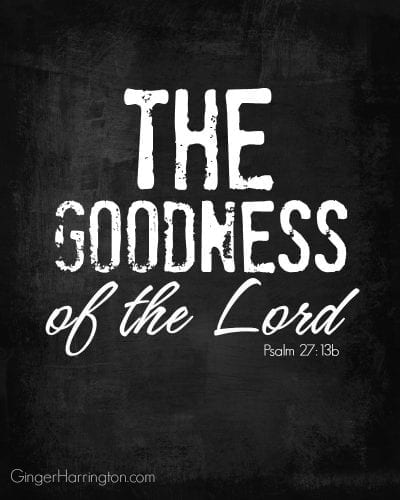 I would have despaired unless I had believed that I would see the goodness of the Lord in the land of the living.–Psalm 27: 13
Note to self: It takes light to see God's goodness.
Many times my experience has been more like this: I totally lost it. Consumed with anxiety, I am nearly giving up. I hope I'll see the goodness of God, but I'm a wreck.
[tweetthis hidden_hashtags="#faith #fightfear #trustGod"]Don't let feelings define your faith.[/tweetthis]
David experienced a victory by not allowing his emotions shape his belief about the situation.
He held fast to the unchanging fact that God is good.
Even though God is good, hard days will come.
Maybe you're stuck in the middle of a mess right this moment. Are you dangling over the edge with nothing solid beneath your feet?
[tweetthis]Hold on to the truth that God is good, and believe that you will see His goodness.[/tweetthis] In the land of the living.
Waiting can be a hard place to be. This kind of waiting means to expect, look forward to, linger for, as well as to bind together.
"To wait for the Lord is to make the Lord the clinging place of the soul, and therefore the resting place, and therefore the growing place."–J. H. Jowett.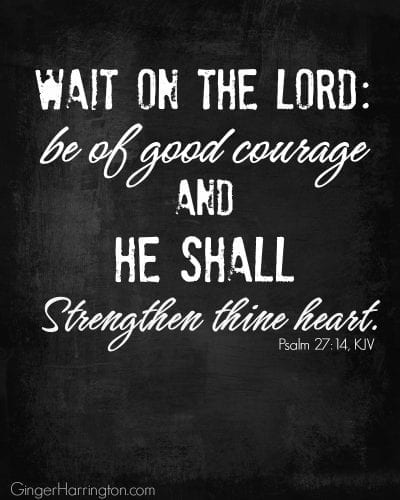 15 powerful truths about God to ignite your faith.
Seeking guidance? Facing a strong enemy? Struggling in a difficult situation?
If you missed part 1 of this post, check out 5 Things You Need to Know About God's Guidance which covered Psalm 25:1-5.
Click here to read both Psalm 25 and 27 fully. What else can you to the following lists?
Read aloud the following truths and let the Holy Spirit energize your faith. Listen to God's heart as truth speaks life to your soul:
God is my I AM who…
 is completely trustworthy. Ps. 25:1
 keeps me from shame and disappointment. Ps. 25:1
 causes me to know His ways. Ps. 25:4
 teaches me His paths, His way of living. Ps 25:4
 leads me in truth. Ps. 25:5
 saves and delivers me. Ps. 25:5
 is worth waiting for. Ps. 25:5
 sheds light in my darkness. Ps. 27:1
 protects me; I do not need to give into fear. Ps. 27:1
 leads me on level paths. Ps. 27:11
 provides hope to overcome despair. Ps. 27:13
 is always good. Ps. 27:13
 enables me to experience His goodness. Ps. 27:1
 revives, refreshes, and renews my heart. Ps. 27:13
 strengthens me with courage and boldness. Ps. 27:14
What's our part?
In the verses we've covered from Psalm 25:1-5 and 27 what was David's action? What is our part? Declare to your soul that you will depend on God to do the following:
Relying on God, I will:
Receive God's teaching
Follow truth
Remember God is my salvation
Be willing to wait for God
Look for God's light
Resist fear
Follow His leading
Believe I will see His goodness
Receive God's strength
Confidently expect God
For this moment, make the holy choice to receive all that God provides. Embrace the truth of who He is and what He does. Receiving invites God to go to work.