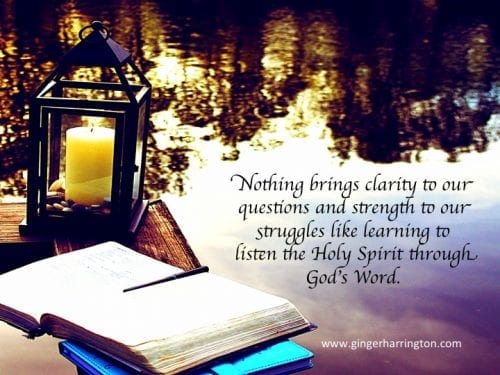 Therefore, everyone who hears these words of Mine, and acts upon them, may be compared to a wise man, who built his house upon the rock.  And the rain descended, and the floods came, and the winds blew, and burst forth against that house; and yet it did not fall, for it had been founded upon the rock.  Matthew 7: 24-27 (NASB)
Hearing and acting…it's more than a game.
During the days he walked this earth, Jesus often spoke about wisdom for a strong life. In this passage,  we read a simple story that reaches to the core of our desires, questions, and needs. So simple that kids sing songs and read picture books about this wise man. Maybe you remember the end of the song, the part about the foolish man that kids love, "And the house on the sand fell flat!"
 Longing for strength and security, we want our lives to stand on a firm foundation. No one plans for instability–we are a people that place high value on having our act together.
In these verses Christ vividly illustrates the stability of a life built upon His Word (strength and stability that rest on the solid truths of God.) Yet no matter how well we try to build our lives, rough weather will come. Here the question is when, not if, the storms of life are going to blow. Even though we know this, sometimes those storms catch us by surprise, as if we missed the weather report that day.
These words of Mine.
Jesus challenges us to hear and act on "these words of Mine" (emphasis added). His use of the word "mine" reflects the personal manner in which he appeals to us. I love this personal touch! Don't you?
One day, winds of change blew into my life in the form of another set of military orders to a new place. Although we had moved many times, this would be our first move with teenagers, which upped the emotional stakes tremendously.
My initial look-on-the-bright-side response soon disintegrated into anxiety. Up late worrying one night, I huddled on the sofa, covered with a blanket to try and ward off a chill I couldn't shake. Bible in hand, I cried out to God for assurance.
When we call out to God…
Flipping through the Psalms, my worries multiplied with each turn of the page until I told the Lord, "I am not getting off this couch until I hear from you!" Gracious about my emotional outburst, God drew my attention to the words already before my eyes, "I sought the Lord, and He answered me, and delivered me from all my fears (Psalm 34:4). I continued reading, "O taste and see that the Lord is good; how blessed is the man who takes refuge in Him (v. 8)!" The next thing that popped into my mind was a verse I had memorized long ago, "It will also come to pass that before they call, I will answer; and while they are still speaking, I will hear" (Isaiah 65:24).
I knew I had heard from God and my anxious heart began to settle.
Take advantage of the calm days.
In our search for security, are we seeking to hear the words of Christ? When life is calm, are we developing a commitment to act upon them?  When the bottom drops out and the storms of life rage, we can know the rock-solid truth of God, as well as the comfort of his presence.
Nothing brings clarity to our questions and strength to our struggles like learning to listen and respond to God through His Word. It is a matter of the heart longing to grow deeper in relationship with the living, loving, ever-present God who specializes in grace.
How have you heard from God lately? Leave a comment and share a bit of wisdom God is building into your life. Be sure and use the social media buttons to share this post with others.