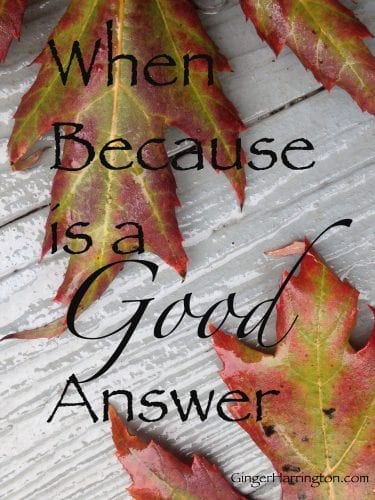 Teach me.
Converse with me.
May we share Your word together, breaking bread at the table.
Write Your truth on the soft lining of my heart and the marrow of my bones, the joints where flesh and spirit meet.
This is my heart and I offer it on this page.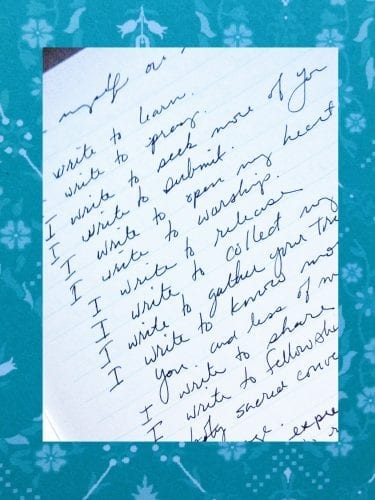 Why?
Many days I wonder, where does this desire come from? Why do I continue to form words on this page, marking time with ink?
I want to write, not to please myself or to impress others. Yet too often the concerns of this world creep in, Lord, purify the motivations of my heart.
Because.
I need to know that Your words in me are an expression of grace and not a squandered use of time. Days of decision are coming and I will have to know: is this what You would have me do in this next season?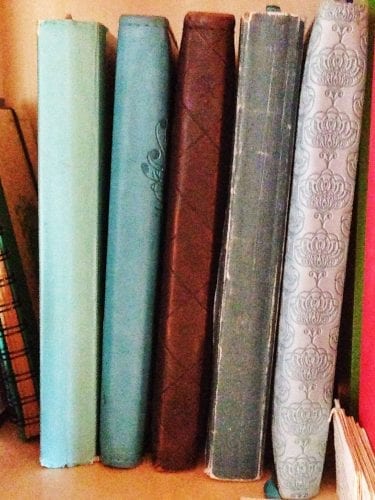 Show me Lord what is under the because.
I write because…
I write to learn and understand the tangles of my thoughts, twisted like spaghetti.
I write to pray, sacred conversations on a page.
I write to seek more of You; this is our tent of meeting.
I write to listen for my attention wanders with every stray thought.
I write to open my heart, breaking through the surface to reach the depths.
I write to worship with wonder and praise.
I write to collect my thoughts that scatter like seeds in the wind.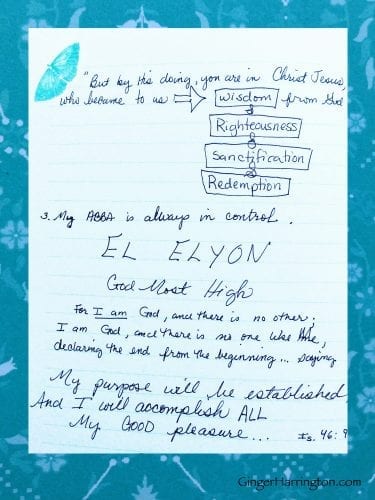 I write to surrender the rights my flesh clings to with a grip of steel.
I write to receive boldness to trust and courage to brave the steep paths.
I write to release hurts and resentments so I can forgive. And forgiveness opens wide the door for joy.
I write to remember I am enough when the grit of expectation and demand chaff at my soul.
I write to offer wisdom and encouragement, for the gift of truth is meant to be shared.
I write to  count Your mighty works because in my distraction I forget like sand slips through my fingers.
I write discover and express the living Christ within.
Speak Your words in me.
I write to believe as faith flows like ink, and I know the security of grace, safe in the words of God.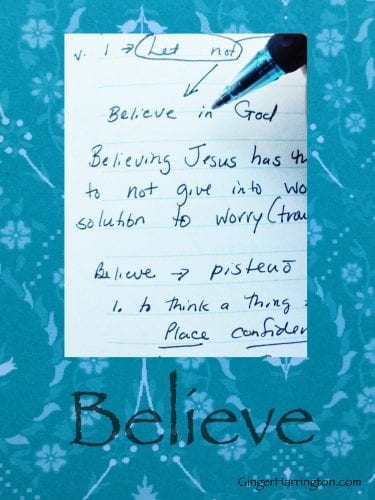 I write to explore, diving deeper into meaning and connection.
I write to teach for I cannot keep this truth to myself–my tongue burns and my fingers itch to spread hope far and wide.
I write because I am grateful to be alive. So grateful.
I write to create the art that wells up in my soul, overflowing with the sweet ache of release.
I write because…this is how You have shaped me to interpret my world.
And sometimes that is all the good answer I need.
I am a writer.
Because.