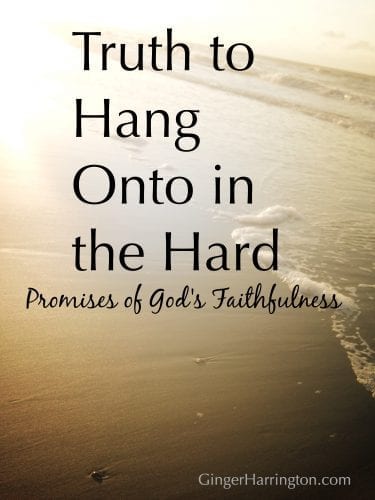 When my mother was diagnosed with stage-four lung cancer, I was thousands of miles away, living in Japan. I struggled with why God allowed such a devastating diagnosis to come three weeks after my Marine husband left for a six-month deployment. Why this? Why now? When I'm so far away?
Promises of God's Faithfulness
We all face challenges that make us feel alone, trials that make us wonder how we will make it through the wilderness of hardship. Fear can tempt us to forget God's love and care.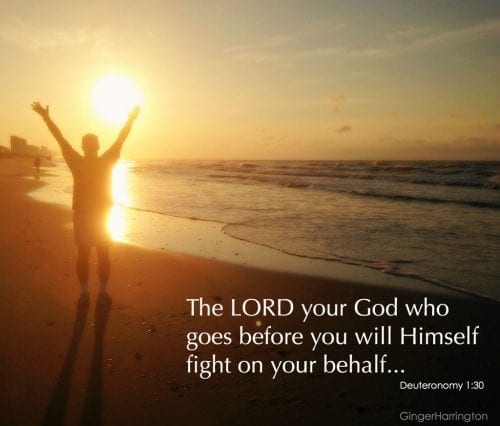 We are not alone.
"The LORD your God who goes before you will Himself fight on your behalf, just as He did for you in Egypt before your eyes, and in the wilderness where you saw how the LORD your God carried you, just as a man carries his son, in all the way which you have walked until you came to this place'"–Deuteronomy 1:30-31.
What a clear picture of the love of God.  Embedded in these words are principles of God's love in the trials and transitions we wander through:
God goes before us—we are not alone.
[tweetthis hidden_hashtags="#trustGod"]When we are following God, He will fight on our behalf.[/tweetthis]
When we find ourselves in the wilderness (difficulties and confusion) on our way, God will bring us through with loving care.
There are times when God carries us, just as a father carries his child.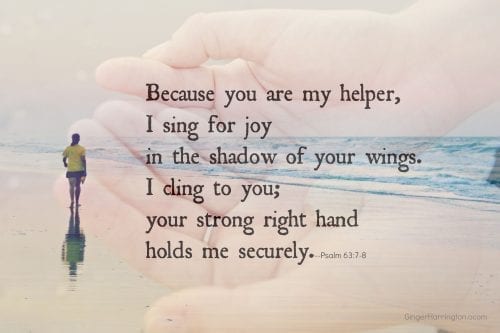 God seeks out a place for us.
[tweetthis twitter_handles="@GingHarrington" hidden_hashtags="#TrustGod #Godgoesbeforeus"]God will show us the way we should go.[/tweetthis]
Grab hold of this truth and don't let go.
But for all this.
"But for all this, you did not trust the LORD your God, who goes before you on your way, to seek out a place for you to encamp, in fire by night and cloud by day, to show you the way in which you should go" (Deuteronomy 1:32-33).
I am haunted by Moses' words, "But for all this, you did not trust the LORD your God…"
On those days when I forget God's love is real…
On those days when I struggle with negative thinking or a fearful outlook…
On those days when I think I am staring a giant in the face…
I forget God has been good and faithful in every hard thing.
Don't let insecurity overwhelm you.
There are times when biblical concepts and patterns play out in our lives. The details of the situation may change, but the principle resonates through time, out of the pages of ancient writings and into the details of our challenge.
When we face difficulty we can choose to trust God and move forward, believing He loves us and will help us.
Do you need to pray?
If you face a situation where your emotions and doubts are getting the best of you, join me in this prayer:
Lord, forgive me that I have been discontent and fearful about_________. Change my perspective so that I can move forward and enter into what you have for me. I ask you to give me this place, to make it my own and to possess what you have for me here.
I speak your word to myself: do not fear. You are going before me and you will fight on my behalf. I believe you will help me through this challenge as a father carries his son.
Thank you for fighting on my behalf.  I trust you to show me the way I should go.  Guide my choices and decisions—may they be prompted by faith rather than fear.  I will not let my emotions hold me back.
 Don't let me be rebellious and unwilling in my heart, and prevent me from trying to fight the battles on my own, working out what I think needs to be done–putting myself where I think I should be.
Lord, I want what you want.
I will go where you lead.
In Jesus' name, amen