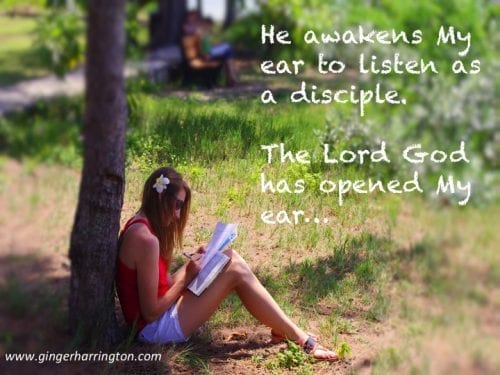 Learning to listen to God is a challenging and sometimes frustrating process for many of us. If you have struggled with hearing God, I hope this will help.
"Long ago God spoke many times and in many ways to our ancestors through the prophets.  And now in these final days, he has spoken to us through his Son…"–Hebrew 1:1-2a (ESV)
Read God's Word as a conversation with the Living God.
It is helpful to learn practical ways to listen attentively, with the awareness God will speak. For all of us, this is a process.  Time in God's Word is the training ground where we learn to recognize his voice. Learning to respond to the voice of God comes easier when we read his Word as a personal conversation. He speaks; we listen. We read; he speaks; we hear. We process what we've read by getting to know him through his words, responding to what we have learned. This is the heart of a Quiet Time.
Recognizing God's voice:
God speaks through his Word, and His Spirit leads us by giving understanding as we read thoughtfully. As we read, the Holy Spirit speaks to our thoughts acting as leader, teacher, guide, and comforter. Learning to recognize God's voice challenges us to fight the tension between the physical and the spiritual, between the auditory and the intuitive. Rather than a verbal conversation, the Holy Spirit speaks by drawing our attention to meaning, reminding us of personal connections, enabling us to understand or remember truth with increasing clarity and depth…
God opens our ears to listen.
"The Lord God has given Me the tongue of disciples,
That I may know how to sustain the weary one with a word.
He awakens Me morning by morning,
He awakens My ear to listen as a disciple.
The Lord God has opened My ear..."–Isaiah 50:4-5a
The Holy Spirit speaks in the holy space between God's truth on the page and the thoughts of our heart, calming fears, guiding decisions, revealing answers, convicting sins, strengthening weakness, teaching truth, and stirring up desire to know Christ. Faith that embraces the active presence of Christ through the words of Scripture opens our ears to hear and prompts our will to act.
The word of God and the voice of God work together:
"For the word of God is living and active and sharper than any two-edged sword, and piercing as far as the division of soul and spirit, of both joints and marrow, and able to judge the thoughts and intentions of the heart"—Hebrews 4:12 (NASB).
What challenges have you faced in hearing God?
If you are seeking to hear God, like this post and use one or all of the social media share buttons below. I am now on Pintrest, which is a great place to share inspirational photos and quotes from Ginger's Corner. Just click the Pintrest button:)