Family traditions are a memorable part of Christmas.
For many, the Christmas season is not complete without trimming the tree, baking cookies, and searching for that special gift. Christmas PJ's, reading the Christmas story, helping someone in need, and attending Christmas Eve service add to the variety of Christmas traditions.
I love Christmas traditions, both playful and sacred.  Wonderful memories are neatly wrapped around the ways that my family celebrates the birth of Christ.

The Grab Bag Activity
The Grab Bag is a fun time of drawing small gifts out of a mystery bag. My husband loved this family tradition he grew up with. Now it is a favorite with our kids.
Place an odd assortment of practical and silly gifts in a large bag.  Once the gifts are collected, tie yarn or string around them, place them in the bag, and wa-lah…the Grab Bag is ready!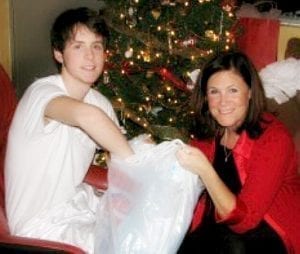 The Grab Bag is passed around until the bag is empty ( I usually plan for 2-3 times around).  If it is a wearable item, you must model your prize. Take your time and enjoy the frivolity that comes with each person's reaction to their prize.
Some treasures I gather from around the house…like a roll of toilet paper or fun photo from the year.  Others may be practical items such as toothpaste, a spatula, or a bungee cord.  Then there are the dollar store items…things like a tacky figurine, a birthday party favor, a kid's toy, a pack of post-it-notes, a candy bar…you get the idea.
Of course, there is often a lot of bartering and trading that goes on as folks try to redistribute gifts to the person that might best use the item…  For instance, this gift only fit one person in the family…
The best part of The Grab Bag includes the gag gifts that are mixed in.  Here again, the dollar store is your friend.  Fake tattoos, grungy Halloween teeth, colorful wigs, elf ears,  and a bag of coal are a few of the funnies that have shown up in our grab bag over the years.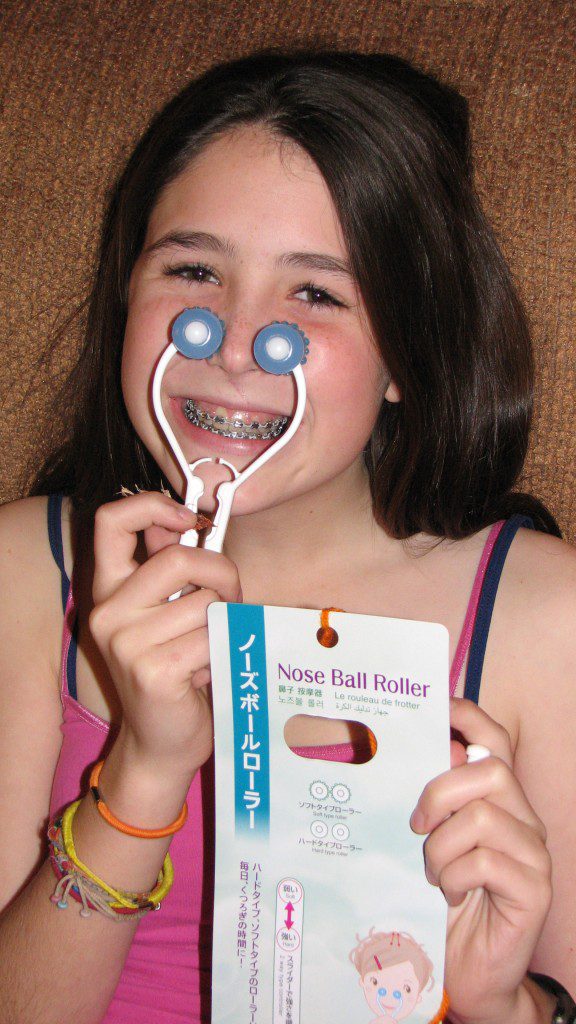 Need a nose ball roller?
When we lived in Japan, the most unique grab bag gift was a Nose Ball Roller from the 100 yen store. Why do we want to roll our noses?
One year our ten-year-old son pulled out one pink fuzzy child's slipper. He loved that one.
Everyone gets a chuckle when an adult pulls out a kid toy or a guy finds a girlie gift.  When my daughter was six, she pulled out a queen-sized pair of nylons in a Leggs egg (remember those?).  She laughed so hard when she saw those and proceeded to unwrap them and try to put them on over her cute little Christmas PJs—they stretched up over her head.
It's fun to be silly.
This is the year my son grew a mustache… Someone grabbed a family pack of stick on mustaches–one for everyone.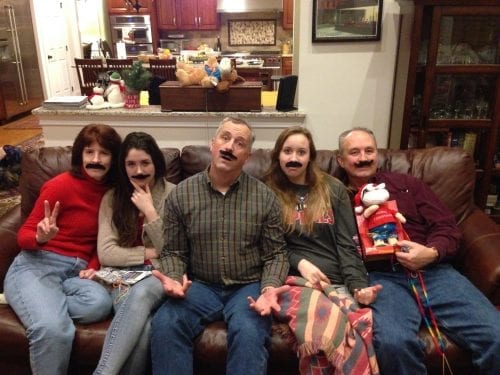 Add a few inside jokes.
One year we spent Christmas at my mom's. Because my brother joined us, I added in a joke just for him. As teenagers, we had a running game that involved finding the oldest item in my mother's freezer. Mom was very organized, labeling everything…such as the cupcakes from Jenny Jones birthday in June 1982.  We never knew what kind of pre-historic treasure we might find lurking in the back corner of the bottom shelf.
I pulled pork chops from Mom's freezer, wrapped them in foil and wrote, "pork chops, 1975" on the foil.  Luck of the draw was with me when my brother just happened to be the one to pull out those chops!  At first, he had no idea what incredible treasure he had received.
As soon as he figured out the joke, he laughed harder than I have ever seen him laugh.  It is probably one of the few times in my life I have ever pulled one over on him.  Let me tell you, it felt good!
As you can see, there's lots of room for fun and creativity with The Grab Bag.  [tweetthis hidden_hashtags="#ChristmasFamilyFun"]Enjoy the Grab Bag as a new tradition with your family this year![/tweetthis]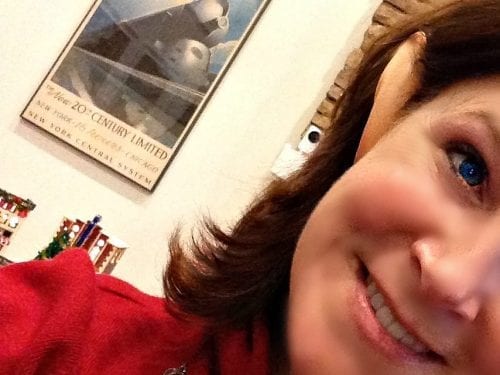 Elf ears, anyone?
---
Get a free Christmas devotional from Ginger when you sign up for my newsletter! Enjoy this beautiful ebook to spark hope in your life this Christmas. This is my Christmas gift for you.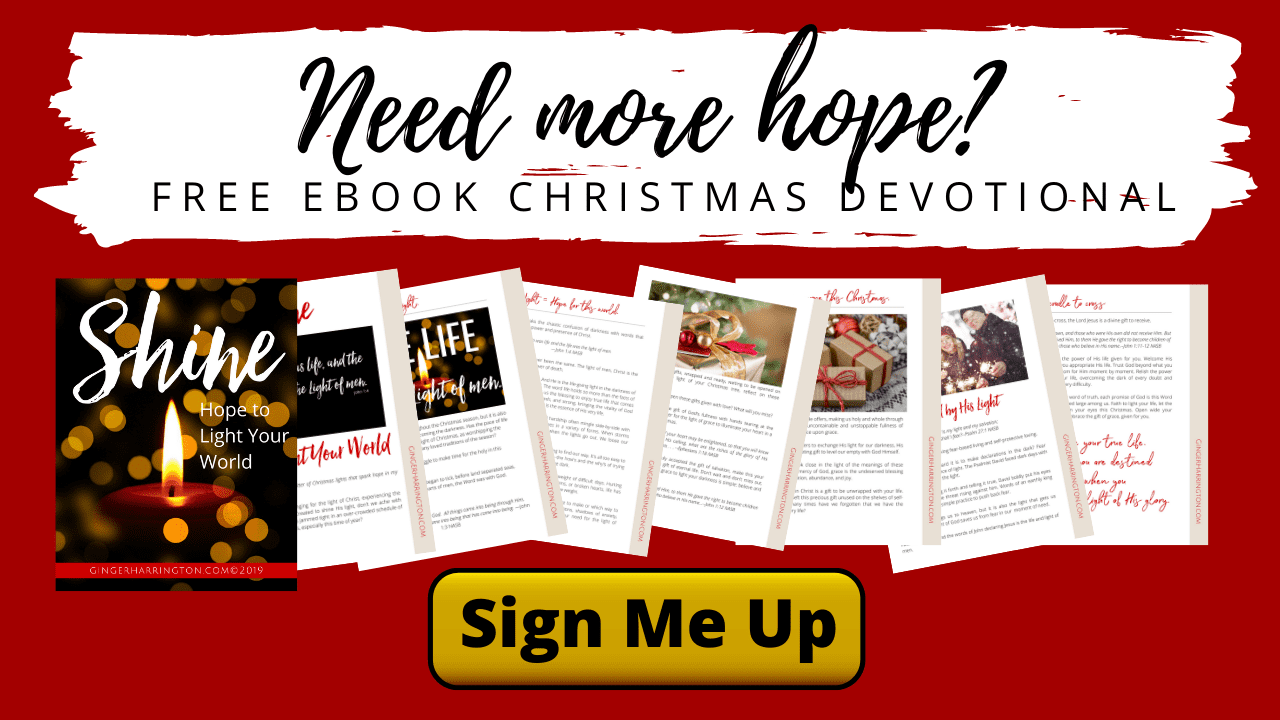 ---
Enjoy the Best of Christmas from Ginger
A curated collection of Christmas content from award-winning author and blogger, Ginger Harrington. Take the Christmas Worship Challenge, read inspiring devotions, download free gifts, gather ideas for family fun, make a special gift, and chuckle with Ginger's Christmas humor. Read the story of Ginger's Christmas miracle in a free chapter from her book, Holy in the Moment. Enjoy the best of Christmas that you'll want to come back to year after year!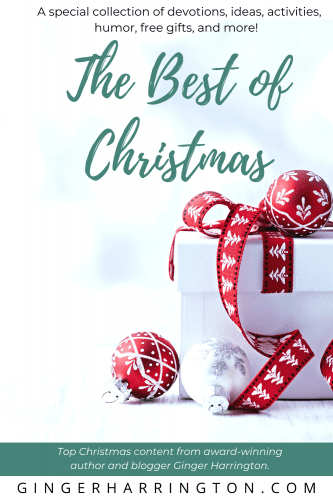 ---
Get Your Free Chapter!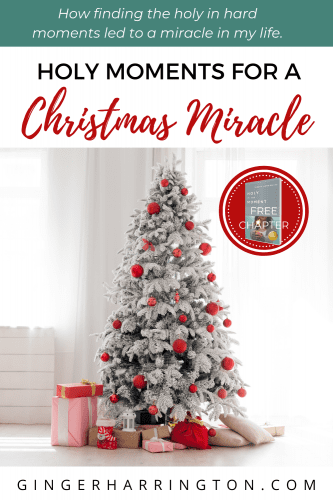 Read the story of a Christmas miracle I experienced in the first chapter of my award-winning book, Holy in the Moment. You'll read  a poignant story from one challenging Christmas in my life at the end of the first chapter. Read the story of what happened here. Give the gift of holy this Christmas–Holy in the Moment makes a wonderful gift to encourage faith in a practical way. Learn more about the book here.
Download your free chapter here.