Selfishness can be an uncomfortable topic. We want to think we are better than the pettiness of selfish actions and attitudes. It's so easy to point the finger at others when we start chatting about selfishness, right?
Yesterday I realized things I was upset about really came down to…being too caught up in my own interests. Busted!
"'How everything affects me' is the center of all that matters – self-conceit, self-pity, worldly self-fulfillment, self-gratification, and self-seeking."–Ezra Taft Benson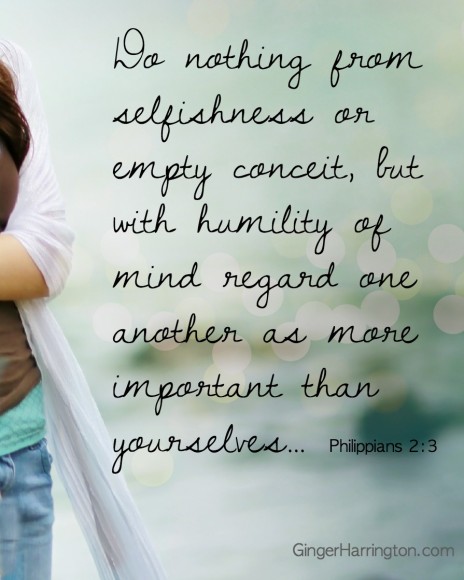 Nothing?
Do nothing from selfish motives or self-conceit.  Nothing?  Oh, this is hard! Self-focus is the natural default setting of our sin nature. If we could see a print out of our motivations over the last week, we'd be shocked at how pervasive selfishness is in our thinking.
Caring about the interests of others and sharing their concerns creates unity and bonds of friendship.
The humility of Christ is a stark contrast to the self-focus that lurks in our hearts. He emptied Himself of divine glory and did not insist that He be treated according to His right. Sacrificing Himself for our benefit is the extreme act of looking out for the interests of others. Love grows when we let go of our own interests and we care for others.
 Five Simple Ways to Beat Selfishness:
Pay attention to what others are excited about.
Be a cheerleader. See the best in others, especially when they can't.
Follow through with commitments to others.
Be thankful for the people God places in your life. Gratitude chases selfishness away.
Be intentional. Don't let busyness crowd out the needs of others.
For more biblical insights and five additional ways to overcome our tendency to focus too much on our own interests, join me for the remainder of this post at Five Minutes for Faith. See you there! Leave a comment and share how you beat selfishness in your life. I'd love to read what works for you.
By the way, I have recently added a photo gallery with some of my favorite images. This is a work in progress, so come check it out!
Joining with the bloggers in these lovely communities: #RaRaLinkUp .