If your physical health was in the same condition as your spiritual health, how healthy would you be?
"… In all respects you may prosper and be in good health, just as your soul prospers."
3 John 2–NASB

How often I get this backwards; I work on increasing health and the practicalities of life, paying attention to my soul only if there is time left over. You know the drill: finish the work, loose the weight, clean the house, make the meal…
We tend to get overly focused on the outward things, skewing our priorities. Maybe it's a health issue, a broken relationship, or an unmet goal. We do all the doing and then wonder why discontent or weariness buzzes like white noise in the background of our thoughts.
As I read this tucked-away verse, my breath catches on the phrase, "as your soul prospers."
Soul prospers.
Dead stop, my attention is on full alert as I sense that God has something to show me.
Taking time to investigate meaning brings the word prosper to life as I savor the nuances that hide between the letters. In this context, prosper has to do with the success of a good journey, as well as to thrive, grow, and increase.
Yes, this is what we are longing for: to live well, grow, and thrive in the whole of life.
If we only attend to soul matters if there is leftover time, we quickly trip over this truth: time doesn't come in left-overs.
Nurturing our soul is an intentional choice.
Friend, you are the only one who can make the decision to care for your soul. Others can poke and prod, should and ought, or encourage and nudge, but no one can take care of your interior world but you.
After all, as Dr. Suess says, ""Today you are you, that is truer than true. There is no one alive who is youer than you."
I don't know about you, in the schedule of the day, this is an easy truth to forget. Soul care gets buried under the pile constantly calling for our attention.
A prospering soul doesn't happen in a single moment.
The language in this verse points to a journey, step by step as we walk out what it means to believe God.
We navigate the joys and challenges of life with a heart that chooses to love God
in spite of…
instead of…
in light of…
because of…
Each choice becomes a step that moves us either closer or farther away from God.
Razor-sharp perception pierces: as the soul prospers, other areas of life increase. This is not the plastic promise of a prosperity gospel. The soul prospering is happening, and John is praying that now health and "all respects" might prosper as well. His prayer is a request for blessing.
The prosperous soul is learning to live out of the fullness of God's Spirit, rather than out of the strivings of the flesh, a self-focused heart.
The flesh will leave me spent and weary with my soul withering.
Seeking to enjoy spiritual blessings without trusting in Christ leaves my soul working to prosper, rather than resting to prosper.
In quiet trust, my soul lays down its self-work, self-ambition, and self-solutions and waits to be filled to all the fullness of Christ.
A prospering soul is the end of encouragement.
This life-giving energy strengthens me—not to solve every issue of life—but to know in greater measure the fullness of Christ.
What is the condition of your soul life today?
Are you increasing in soul health? If not, join me as I follow the advice of the One who put the stars in place: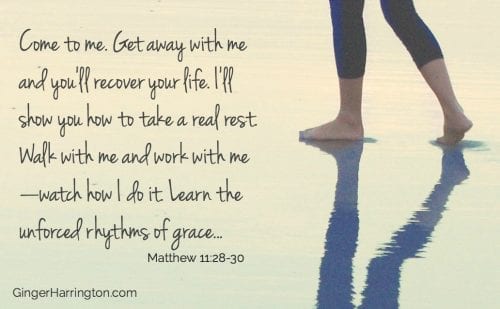 "… and to know the love of Christ which surpasses knowledge, that you may be filled up to all the fullness of God. Now to Him who is able to do far more abundantly beyond all that we ask or think, according to the power that works within us…"  Ephesians 3:19-20 NASB
How healthy is your soul?