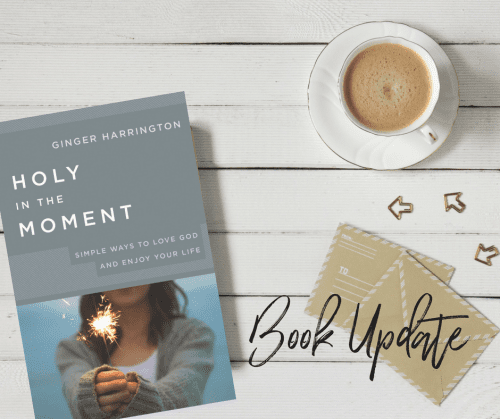 Exciting things are happening around here. We recently completed the final edits for the typesetting and the book was sent to the printer! In an earlier post, I shared about finishing the manuscript and gave a peek behind the scenes of writing my first book.
HOLY IN THE MOMENT is becoming very REAL at the moment.
I'm celebrating this milestone and gathering my launch team for the book release March 6. More about that later in this post!
I'm thrilled to share the message of hope, healing, and wholeness in Holy in the Moment: Simple Ways to Love God and Enjoy Your Life. Here's a little about the book so you can see why I'm so excited to see this dream become reality as the book releases in a few weeks!
Confusing holiness with productivity and performance,  it's all too easy to scurry through the day leaving a trail of the undone that calls out condemnations and spurs us to try harder to please God.
Feeling less, we take on more, and try harder, be better, do more is the rant of souls that have swallowed the compelling lies of this chaotic, bent world. The myth that we can do it all, have it all, and be it all drives us to lose focus with too many yeses and too many shoulds.
What a relief to recognize we don't have to make ourselves holy and acceptable to God. Rather than requiring our perfection, God simply asks us to offer ourselves, to place our lives in His hands.

The truth is that holiness is a secret to freedom and joy, empowering us to live out of our identity in Christ. How do we bring the reality of grace, healing, and freedom of holiness into our daily experience? How do find the holy in the hard times of life? How do we bring our thoughts, emotions, and actions in line with our faith?
On choice at a time.
With each choice to trust God and rely on Christ, God does the sacred soul work of healing, wholeness, and holiness. For me, these are the truths and practices that God has used to help me overcome struggles with things like anxiety, people-pleasing, perfectionism, discouragement, and insecurity.
May God himself, the God who makes everything holy and whole, make you holy and whole, put you together—spirit, soul, and body—and keep you fit for the coming of our Master, Jesus Christ. The One who called you is completely dependable. If he said it, he'll do it!–1 Thessalonians 5:23 MSG
[tweetthis hidden_hashtags="#BookRelease, #HolyintheMoment"]Are you longing to celebrate life with holy habits to impact both today and eternity?[/tweetthis]
Are you searching for ways to be more purposeful, to live well with sacred choices to . . .
love God and believe He is faithful?
abide and rest in Christ?
stop and pray?
listen to God's guidance?
embrace God's truth with obedience?
spot faulty thinking based on lies you have believed?
process feelings in a healthy way?
enjoy life with good attitudes?
love others well?
invest in family and friends?
rely on Christ as you work?
We will explore these questions and more. [tweetthis hidden_hashtags="#HolyintheMoment"]Whole moments are for giving love, heart, soul, and strength to God, others, and ourselves.[/tweetthis]
Did you know that pre-orders impact a book release in a really important way?
Pre-order your copy today and make a difference. Ya'll I'm so excited and can't wait for you to enjoy the book! Want to stay up to date with the book release and the latest posts from Ginger? Subscribe to Ginger's newsletter here. 
Here are a few places you can pre-order the book: 
Join the Team and Help Get the Word Out!
Does the message of choosing holy in the moment resonate with you? Would you be interested is sharing hope and healing with others? If so, please spread the word about the book!
I'd love to have you apply to join my launch team, a tribe of influencers willing to spread the word about Holy in the Moment. You can be a very special part of bringing the practical and life-changing message of choosing to trust Christ in the moment. An active launch team is a crucial part of a successful book release. The simple gift of sharing your influence makes a big impact!
I am currently setting up a launch team for the upcoming release of my debut book, Holy in the Moment. Launch Team members will be the first to read the book!
Team members do a variety of things, but the basics include:
Pray!
Read an advance digital copy of the book.
Leave a short review on Amazon, Barnes & Noble, CBD, Goodreads, or other book retailers as soon as the book is released. Links and instructions will be provided.
Share my book and blog with your friends on the social media platforms you use. You will be provided with graphics and content to make sharing quick and easy.
If you have a website, write a book review, interview the author on your blog, or share a video testimony about how the book impacted you.
Participate in book launch events like a Facebook Release Day party.
Join the exclusive Holy in the Moment Launch Team Facebook group.
Linking with the fabulous bloggers at #TellHisStory and #coffeeforyourheart.