More than an attitude, gratefulness is a holy habit that draws us closer to God, strengthens faith, lifts our emotions, and relieves the burden of worry. Kick off your Thanksgiving week with a fun broadcast with Ginger and Larissa and a special gratitude giveaway!
. . . . . . . . . . . . . . . . . . . . . . . . . . . . . . . . . . . . .
We  don't think about gratitude as an antidote to worry and anxiety, right?
To be honest, when anxiety ramps up in my emotions, my first thoughts are not grateful.
I "what if."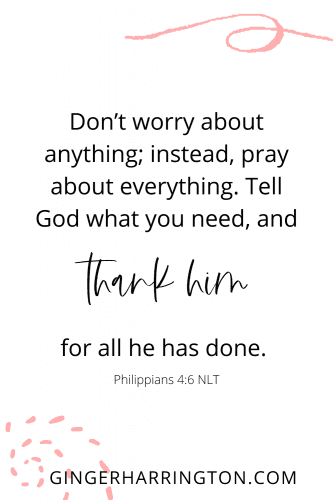 My default is to imagine worst case scenarios or to problem solve.  I work double time or try harder to control outcomes and mentally prepare myself for the worst. When self effort doesn't settle my nerves,  I shift to more emotional responses like complaining, griping, or throwing a pity party.
It's not pretty, and I'm definitely not my best self when I struggle with anxiety or other difficult emotions and attitudes.
Choosing the holy habit of prayer and remembering the promises, character, and presence of God reminds my soul that I can let go of the old coping strategies and patterns that anxiety triggers.
Isn't it easy to underestimate the transformational and freeing power of gratitude and thankfulness?
Gratitude isn't a natural response when you're feeling down, left out, left behind, overwhelmed, anxious, frustrated–or just tired of being at home.
Can I get an amen on the challenge of being housebound and social distancing at Thanksgiving?!
The power of intentional choices.
When we pivot from the problem before us and put our attention on God with a grateful heart, our perspective shifts, lifting our emotions, and literally re-wiring our brain to healthy patterns. The Bible tells us that prayer and thankfulness open the door to God's peace that guards our hearts and minds.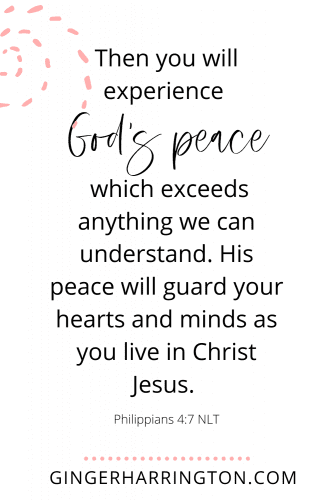 In the book Switch on Your Brain, Dr. Caroline Leaf explains, "Breakthrough neuroscientific research is confirming daily what we instinctively knew all along: What you are thinking every moment of every day becomes a physical reality in your brain and body, which affects your optimal mental and physical health. These thoughts collectively form your attitude, which is your state of mind, and it's your attitude and not your DNA that determines much of the quality of your life" (p.13-14).
Dr. Leaf also emphasizes the power and blessing of choice:
"The process of thinking and choosing is the most powerful thing in the universe after God, and it is a phenomenal gift from God to be treasured and used properly. The basic ingredients of quantum physics are: paying attention, thinking and choosing, and consequence." p. 103
Building holy habits and making grateful moments doesn't just happen. It takes intention and practice. Thinking and choosing are amazing gifts from God to be stewarded with care.
Help for getting more gratitude in your life.
In the attitude chapter of Holy in the Moment  I shared simple ways to choose good attitudes. Each of these choices can unlock gratitude and other positive, life-giving attitudes in your life. Consider this variety of ways to cultivate a grateful heart. Which of these choices could make a real difference for you today?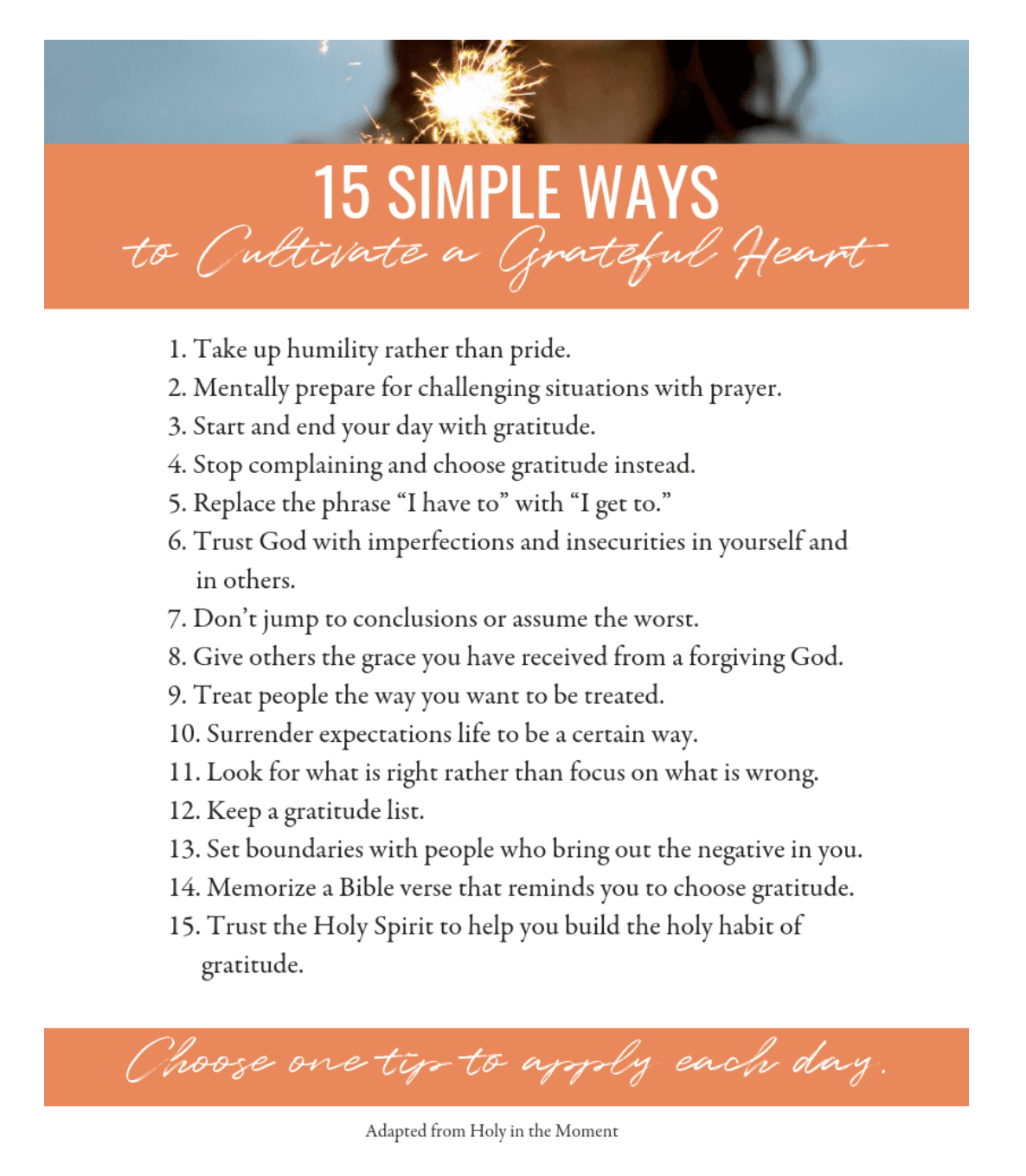 This graphic is part of my Moments for Gratitude Workbook. If you want help cultivating gratitude in your life, grab a free copy of the workbook when you sign up for my newsletter.

Sometimes gratitude is a fight, an uphill climb that feels more like a marathon than a victory. But here's the truth, every time we thank God for something it's a win.
It's eternal.
And it's worth the work.
A habit to make your heart holy and whole, gratitude is a powerful part of God's process of transformation. The next time you feel anxious, what is one thing you can be thankful for? Planning ahead just might be a powerful prompt to prepare your heart to make the better choice in the next anxious moment.
[tweetthis hidden_hashtags="#gratitude #gr8tfulchick #thanksgiving"]More than an attitude, gratefulness is a holy habit that strengthens faith.[/tweetthis]
Meet one of my besties.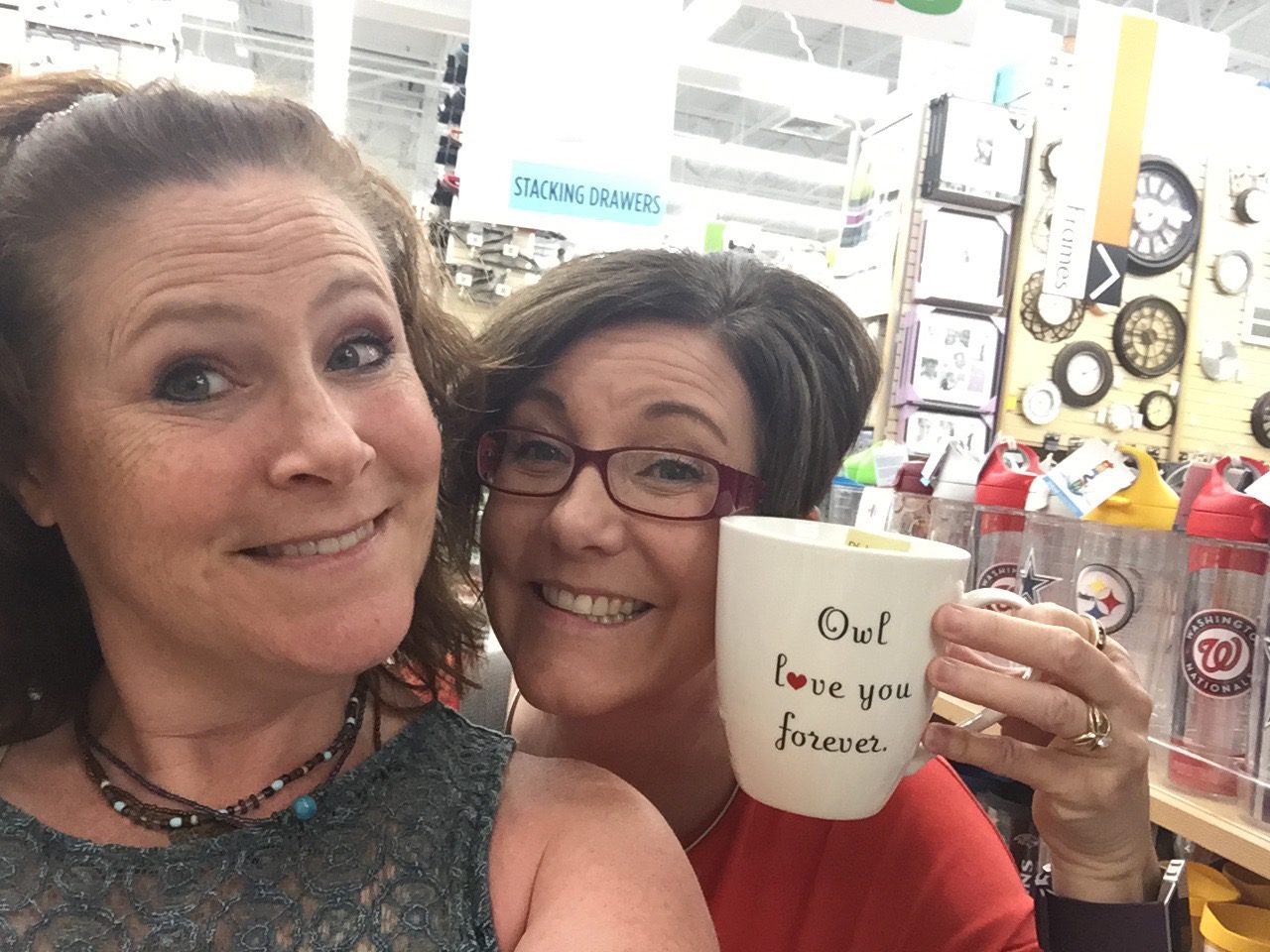 My good friend, Larissa Traquair is known as Gr8tful Chick. She has cultivated a grateful heart that has strengthened her to face many challenges. God has used her intentional choices to be grateful to inspire many  as she cared for her husband in a long battle with cancer. Her tough-as-nails-Marine, Bill Traquair finished his race on September 17, 2020. He is loved and missed by many. Here's picture of Bill and my husband from a sweet visit in 2017. My hubs is on the left and Bill is on the right.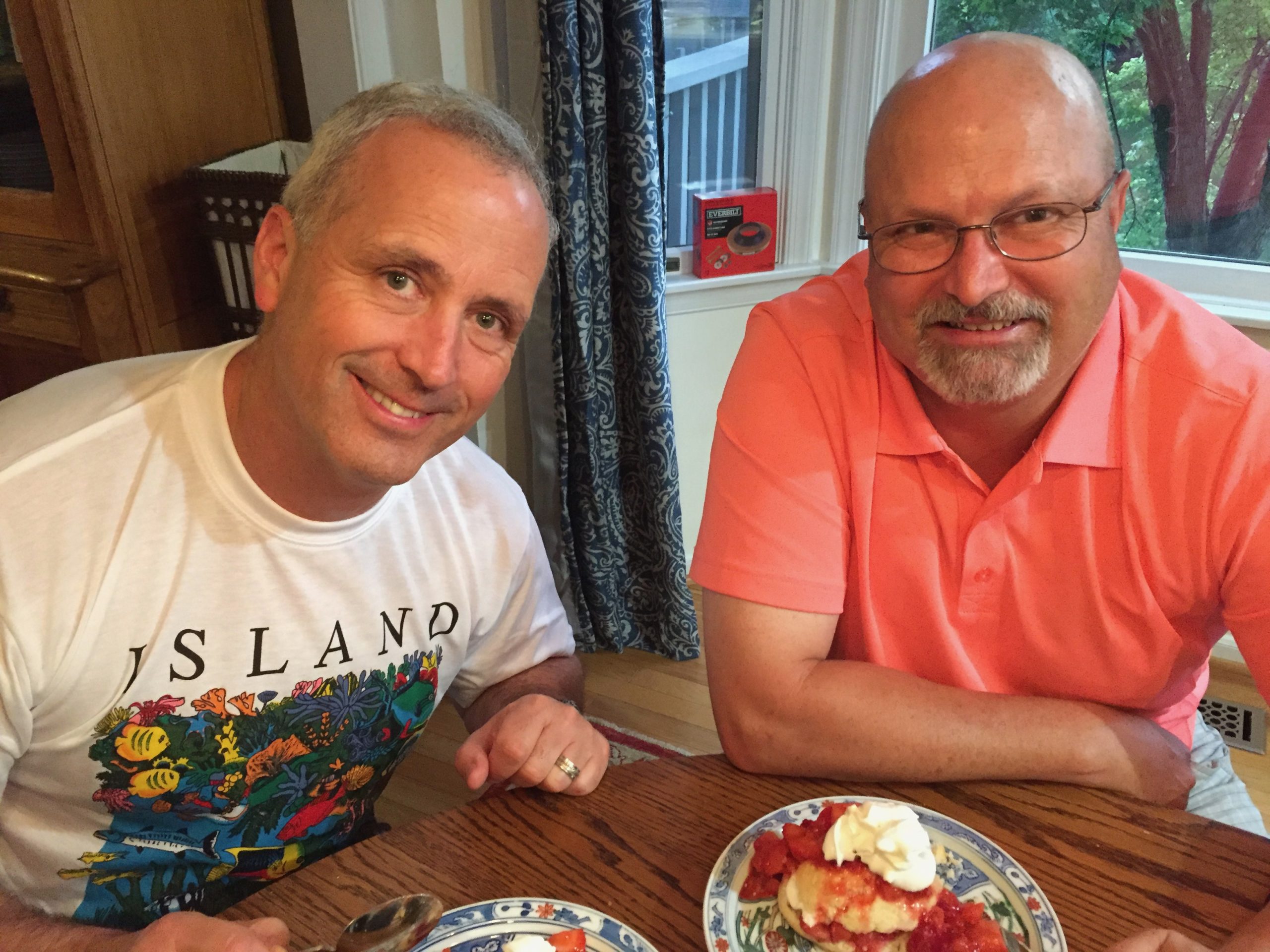 Larissa can testify to what God can do in brutally difficult days through the power of thankfulness and gratitude. She graciously shared her story in chapter 12 of Holy in the Moment and regularly broadcasts on Periscope and Facebook in the Gr8tful Tribe: Doing Community Well.
Project Gr8tful
Recently Illustrated Faith has created Project Gr8tful honoring Larissa's ministry of gratitude. It is a colorful digital download for crafters, scrapbookers, planners, and Bible journalers. Ya'll this is so fun! I gonna  get  my crafty on! You can get one too if you are one of the winners of our giveaway! Check out Larissa's Instagram for lots of creative ideas to use the kit.
Join Us Live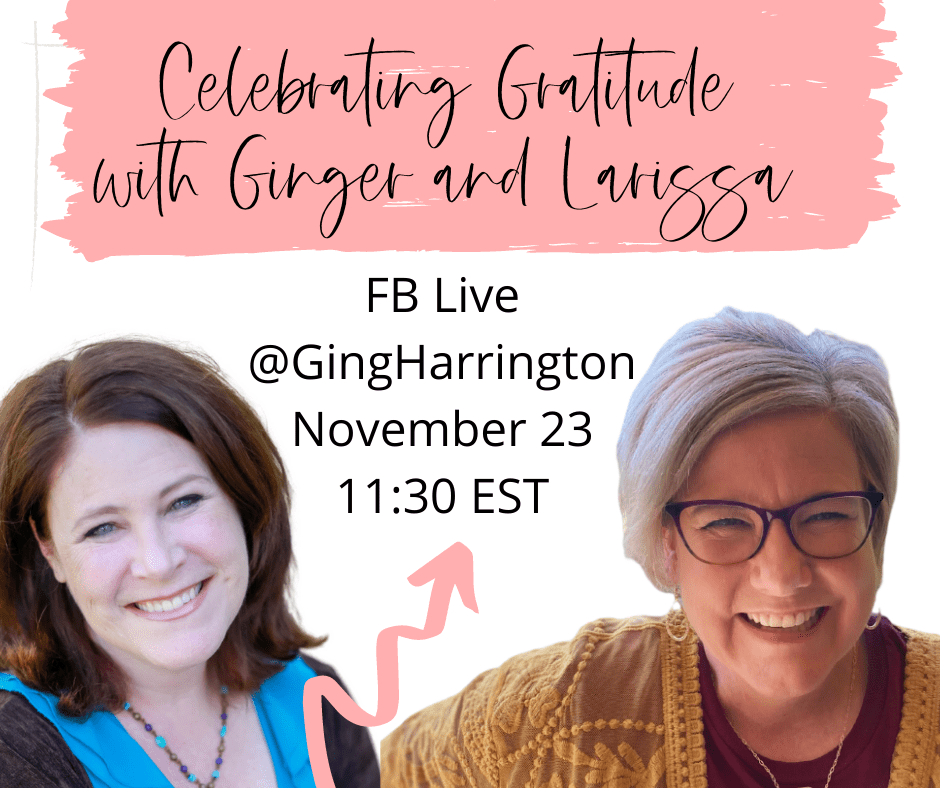 I'm super excited to team up with one of my besties to celebrate gratitude with a FB Live broadcast and Gratitude Giveaway! Join us for a fun and inspiring conversation. Enter to win a copy of Holy in the Moment and a Project Gr8tful kit in our celebrate gratitude bundle! There are lots of ways to earn points in the Rafflecopter below. We'll announce two winners next week!
a Rafflecopter giveaway

[tweetthis hidden_hashtags="#thanksgiving #gratitude #giveaway"]Project Gr8tful and Holy in the Moment gratitude giveaway! Happy Thanksgiving![/tweetthis]