Try a new sacred tradition each year to create holy moments for your family.
We are just a few days from Christmas. The kids are all home. As we transition to a new season of life with an empty nest the time together as a family is all the more special.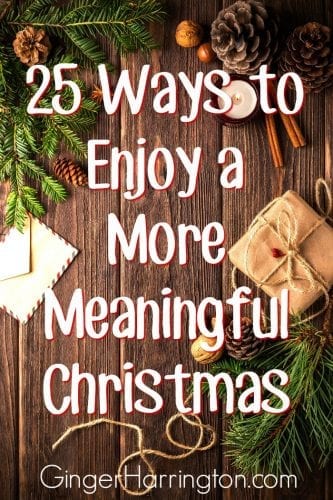 Traditions are memorable part of Christmas. Making Christmas cookies, hanging outdoor lights, and attending church on Christmas Eve are a few of the traditions we do every year.
Though many of our traditions are still a fun and meaningful part of Christmas, this year we've done some new things that have been very special. A visit with relatives in North Carolina has been a very special addition to our Christmas. Our girls have been making time to spend time in God's word together, which is something new. In addition, we took a fun excursion to visit Christmas Town at Busch Gardens, enjoying the lights, carols, and festive shows.
[tweetthis hidden_hashtags="#meaningfulChristmas"]As much as I love traditions, it has been wonderful to do some new things this year. [/tweetthis]We are starting a new tradition…of trying a new tradition each year. Trying new things, means adjusting some of the "normal" traditions so that we aren't running ragged by Christmas day.
To keep things fresh, consider starting a tradition of trying one new thing each year. Involve your kids in choosing a new activity to add to your celebration. Maybe each year a different child gets to help choose the activity.
Give gifts of service or time to someone in need.
Read Christmas devotions by candlelight at dinner or before bed each  night.
Create a Family Christmas Journal. Let everyone write letters to God expressing thanks and praise for God's blessings. Add favorite verses and a few family pictures. Write notes of appreciation for each other in the journal. Write down special moments to remember. Let younger kids draw pictures. What fun to save your family Christmas Journal, adding to it through the years.
Create a Christmas memory book.
Collect Christmas cards in a basket. Pray for one family at each meal as you draw a card out of the basket.
Write down gifts for Christ, kind comments for family members, or thankful things and place in a white stocking or special box throughout December. Share the contents of the stocking as a family activity.
Take a short trip together to visit family or a fun destination.
Celebrate Advent.
Attend a concert of sacred music.
Make an Advent Jesse tree.
Give a daily gift of encouragement to others.
Pay kids for chores to use for a gift for Jesus. Put money in a gift box to use for Angel Tree or Toys for Tots.
Share the Gospel through the Legend of the Candy Cane.
Support a missionary or relief organization.
Draw family names for mystery gifts of service each week in December. Try to guess who had your name.
Send Christmas cards, Scripture verses, or care packages to deployed military.
Give a Christian book or devotional to read as a family.
Wrap and hide the Baby Jesus from your Nativity. Let kids search for the Baby Jesus as the first or last gift of Christmas.
Make a birthday cake for Jesus.
Choose a Christmas verse to pray for each member of the family. Mark it in your Bible to pray throughout the year.
Commit to practicing kindness daily.
Attend a Christmas Eve service.
Act out the Christmas story—dressing up is fun for young kids.
Which of these simple ideas will help you keep faith fresh this Christmas? What is one way you stay focused on the holy in your holiday this Christmas?
Enjoy Ginger's content all year long when you subscribe to Ginger's newsletter. Get updates, bonus content, and inspiring devotions to keep faith fresh this next year!
Get a free Christmas devotional from Ginger when you sign up for my newsletter! Enjoy this beautiful ebook to spark hope in your life this Christmas. This is my Christmas gift for you.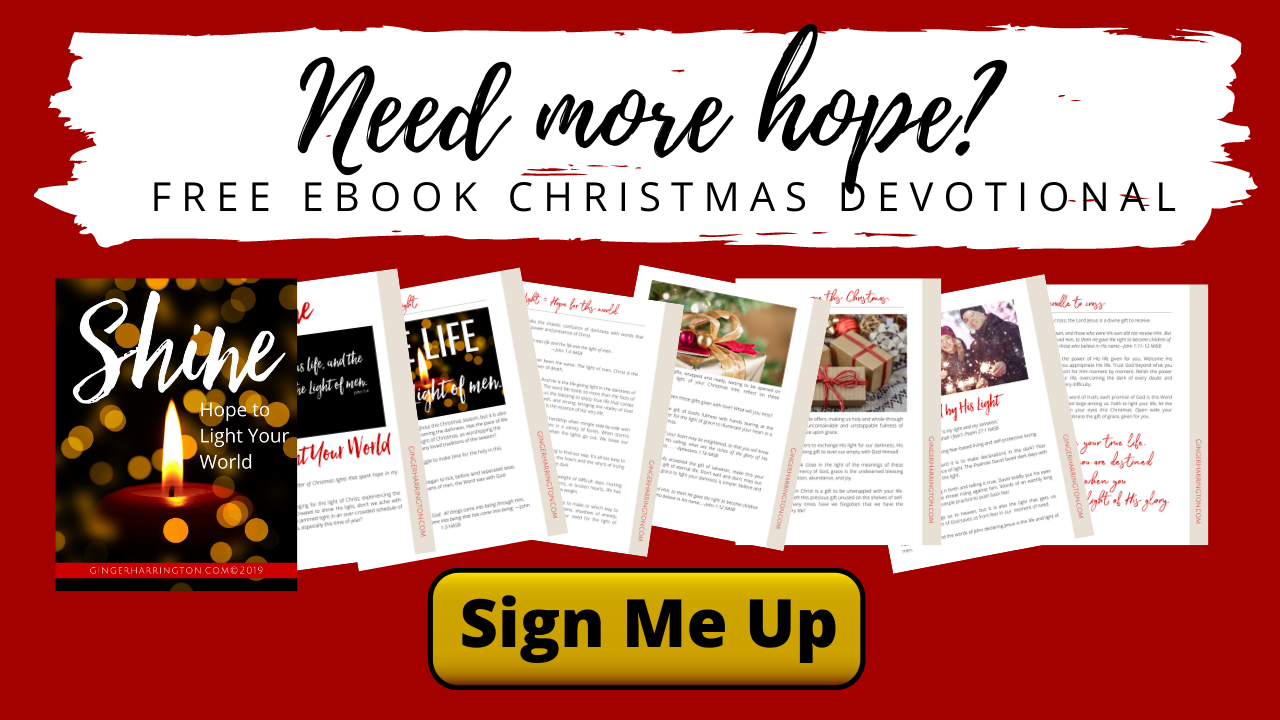 ---
Enjoy the Best of Christmas from Ginger
A curated collection of Christmas content from award-winning author and blogger, Ginger Harrington. Take the Christmas Worship Challenge, read inspiring devotions, download free gifts, gather ideas for family fun, make a special gift, and chuckle with Ginger's Christmas humor. Read the story of Ginger's Christmas miracle in a free chapter from her book, Holy in the Moment. Enjoy the best of Christmas that you'll want to come back to year after year!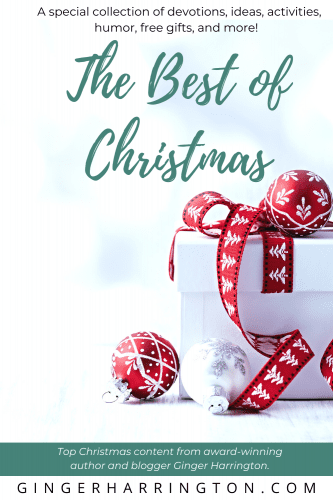 ---
Get Your Free Chapter!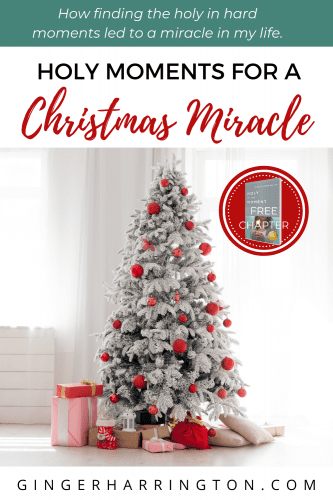 Read the story of a Christmas miracle I experienced in the first chapter of my award-winning book, Holy in the Moment. You'll read  a poignant story from one challenging Christmas in my life at the end of the first chapter. Read the story of what happened here. Give the gift of holy this Christmas–Holy in the Moment makes a wonderful gift to encourage faith in a practical way. Learn more about the book here.
Download your free chapter here.