The Bible teaches the value of giving thanks with a variety of truths and instructions that help us cultivate a grateful heart. Giving thanks is also an important practice for mental, physical, and spiritual well-being. This post explores what we can learn about gratitude from a variety of Scriptures on giving thanks. Don't miss the free Gratitude Journal Download at the end of this article.
Most people agree that being thankful and showing gratitude are important. Hashtags like #gratefuleveryday and #gratitude, and #gratefulheart are popular, especially this time of year. According to Top Hashtags, gratitude hashtags are trending for 2023 on instagram and TikTok. But we don't need to follow social media trends top know that thankfulness is important.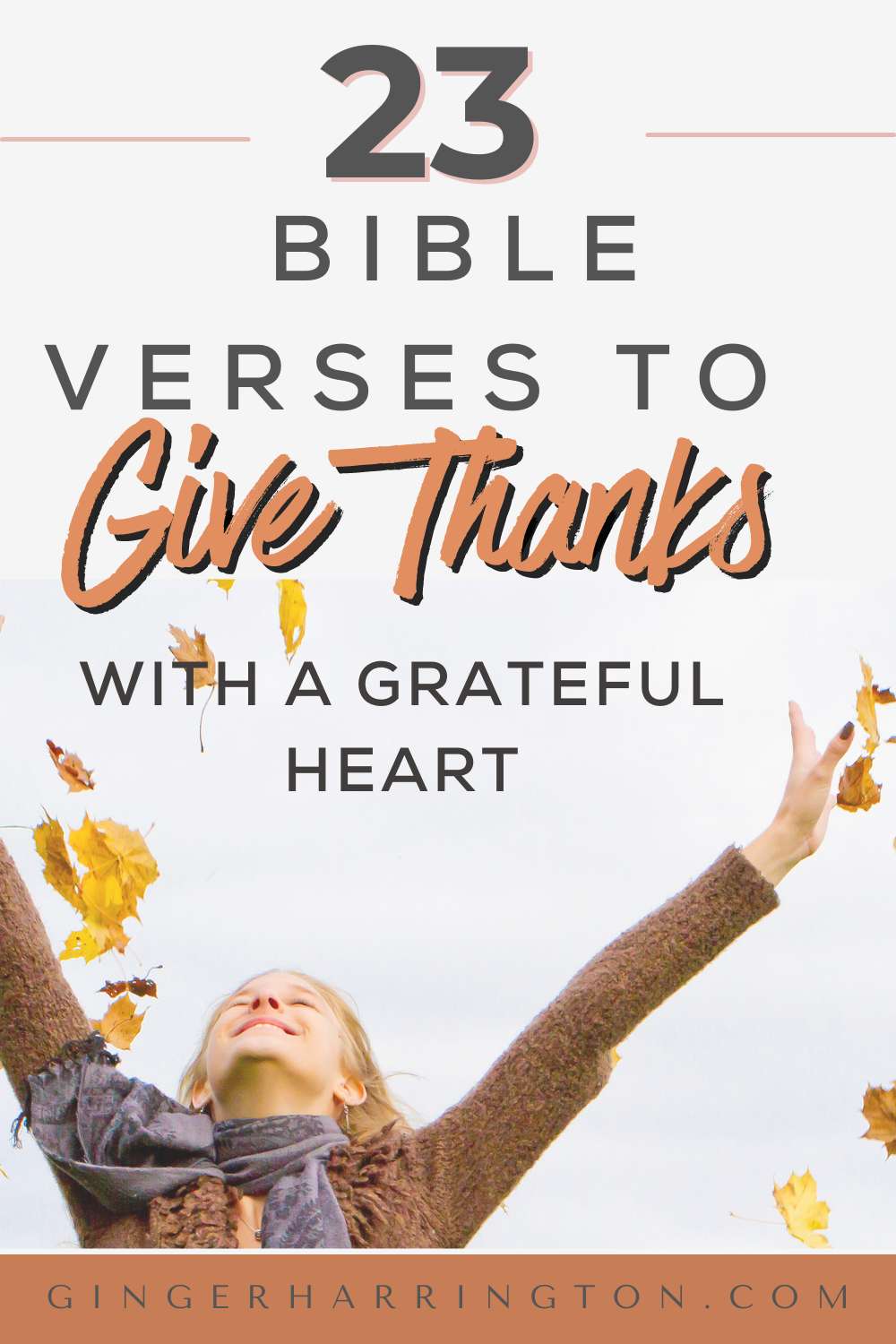 Before our children could talk, we taught them sign language for the words, "please," "more," and "thank you." It was amazing how quickly they understood and repeated the signs. As they began to talk, we spent a lot of time teaching the importance of manners. "Say thank you," I often prompted when they received a compliment or a gift.
The Importance of Thankfulness and Gratitude for Your Well-Being
Can expressing gratitude improve your mental, physical health?
Though we know gratitude is important, we may not realize the powerful role of thankfulness in our well-being. Being thankful can become a mindset that improves physical, mental, and spiritual health. Dr. Caroline Leaf writes that negative emotions impact our brains, but positive feelings of love, joy, appreciation, and gratitude increases our resistance to disease and "changes the shape of our DNA for the better" (Switch on Your Brain, p. 35, affiliate link).
Other researchers show that thankfulness has these additional benefits for health and well-being:
Better mood
Decrease anxiety and depression
Increase quality of sleep
Reduces stress
Promotes happiness
Helps with pain
Improves self-esteem
What Does it Mean to Be Thankful?
The Cambridge dictionary defines thankfulness as "the feeling of being happy or grateful because of something."
The biblical meaning does deeper than feelings and is a vital aspect of our relationship with God. To be thankful is to express gratitude to God with praise and adoration.
Beyond mental and physical benefits of thankfulness, the Bible teaches us about the spiritual blessings of gratitude in our relationship with God and with others. Exploring Bible passages on giving thanks provides many lessons on the spiritual value of gratitude.
23 Verses to Help You Give Thanks with a Grateful Heart
Consider the importance of what we can learn about giving thanks and gratitude from this selection of Bible verses. As you read, reflect on what God's word reveals about the importance and benefits of thankfulness as well as instructions to help us cultivate the habit of thankfulness as a core value.
Oh give thanks to the LORD, call upon His name;
Make known His deeds among the peoples.
Sing to Him, sing praises to Him;
Speak of all His wonders.
Glory in His holy name;
Let the heart of those who seek the LORD be glad.
Seek the LORD and His strength;
Seek His face continually.
Remember His wonderful deeds which He has done,
His marvels and the judgments from His mouth (1 Chronicles 16:8-12).
Giving thanks to God is listed with other worshipful actions to express honor and gratitude to God.  Each of these actions can help us  deepen our relationship with God.
Prayer: call upon His name
Worship: singing and giving God glory
Speech: Talk about His wonders
Attitude: be glad
Dependence: seek the Lord and His strength
Focus: Seek His face continually
Remember: Don't forget the great things God has done
"Oh give thanks to the Lord, for he is good; for his steadfast love endures forever!" (1 Chronicles 16:34 ESV).
This specific instruction is repeated 77 times in the Bible. Repetition points to the importance of the goodness and faithfulness of God that deserves our thanks. Gratitude is a foundational response to the sovereignty of God.
"I will give thanks to the Lord with my whole heart;
I will recount all of your wonderful deeds.
 I will be glad and exult in you;
I will sing praise to your name, O Most High" (Psalm 9:1-2 ESV).
In this passage, David commits to thank God for wonderful things He has done. Some consider this psalm to refer to David's victory over Goliath. Written directly to God, this passage can inspire us to express whole-hearted gratitude to God in prayer.
"The Lord is my strength and my shield;
in him my heart trusts, and I am helped;
my heart exults,
and with my song I give thanks to him" (Psalm 28:7 ESV).
Psalm 28 is a lament where David faces danger with faith. In troubling times, David's faith is strengthened as he expresses gratitude to God.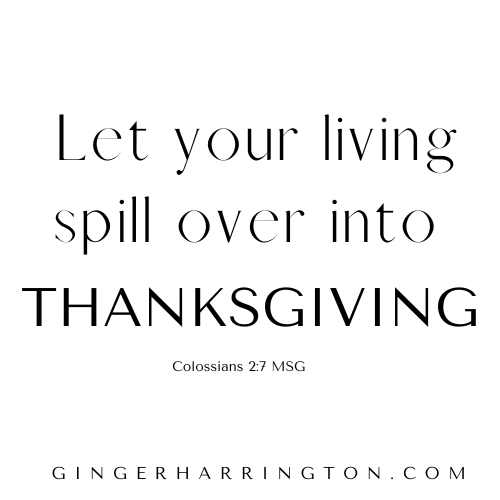 "It is good to give thanks to the Lord
And to sing praises to Your name, O Most High;
To declare Your lovingkindness in the morning
And Your faithfulness by night… (Psalm 92:1-2).
Thankfulness can be a regular pattern throughout the day as we declare the wonder of God's character. Think about ways you can weave thankfulness into routines of your day to help cultivate a grateful heart.
Enter His gates with thanksgiving
And His courts with praise.
Give thanks to Him, bless His name.
 For the Lord is good… (Psalm 100: 4-5a).
This is one of my favorite passages on thankfulness. In this Psalm we learn a valuable insight about connecting with God. Entering God's presence with gratitude and praise honors God and prepares us to worship.
"I will give thanks to You, for I am fearfully and wonderfully made; Wonderful are Your works, and my soul knows it very well" (Psalm 139:14).
In this intimate reflection, David meditates on the wonder of how God has made him. We often struggle to value the unique and wonderful way God has made us. Giving thanks can shift our attention to the powerful truth that we are created in God's image.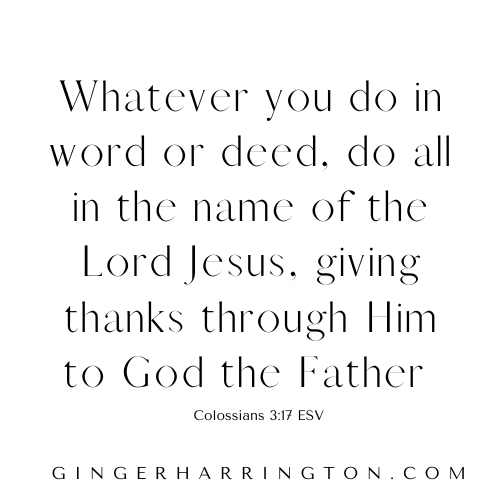 Surely the righteous will give thanks to Your name; the upright will dwell in Your presence (Psalm 140:12-13).
This verse links thankfulness and dwelling in God's presence. Let your gratitude take you into a deeper relationship of abiding with God.
"Bring my soul out of prison, so that I may give thanks to Your name; the righteous will surround me, for You will deal bountifully with me" (Psalm 142:6-7).
David prays while hiding from his enemies. He turns to God in the midst of danger and discouragement making the decision to entrust his circumstances to God. This passage gives us a powerful example to follow of trusting God with a thankful heart in life's challenges.
"For although they knew God, they did not honor him as God or give thanks to him, but they became futile in their thinking, and their foolish hearts were darkened" (Romans1:21 ESV).
This sobering passage show us the danger of slipping into patterns where we do not honor God or give Him thanks. Habitual ingratitude darkens thinking and perspective.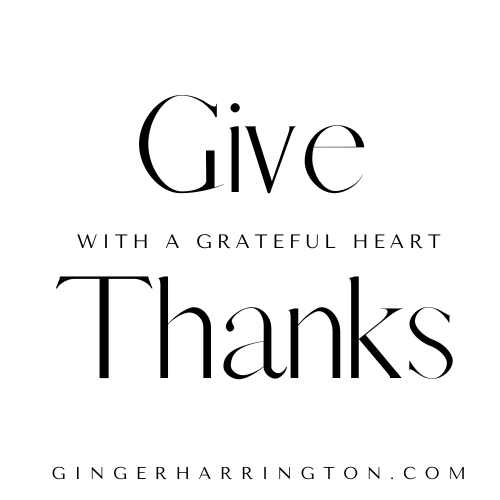 "The sting of death is sin, and the power of sin is the law; but thanks be to God, who gives us the victory through our Lord Jesus Christ. Therefore, my beloved brethren, be steadfast, immovable, always abounding in the work of the Lord, knowing that your toil is not in vain in the Lord" (1 Corinthians 15:56-58).
No matter what we face, we can thank God that in Christ we will be victorious over sin and death. Remembering this truth strengthens our motivation and resolve to stand firm as we do God's work.
"But thanks be to God, who always leads us in triumph in Christ, and manifests through us the sweet aroma of the knowledge of Him in every place (2 Corinthians 2:14).
This passage reveal several reasons to give thanks to God for his continual leadership and presence in our lives.
"I do not cease to give thanks for you, remembering you in my prayers…" (Ephesians 1:16 ESV).
Paul affirms the Ephesians, sharing how he regularly thanks God for them in prayer. It's important to thank God for the people in our lives in prayer.
"And there must be no filthiness and silly talk, or coarse jesting, which are not fitting, but rather giving of thanks" (Ephesians 5:4).
Paul instructs us on the importance of our words—both the attitude and content of what we say.
"Be anxious for nothing, but in everything by prayer and supplication with thanksgiving let your requests be made known to God" (Philippians 4:6).
This is one of my favorite passages on prayer. When we feel anxious about the uncertainty of life, Paul reminds us ask for God's help with a thankful heart. Thankfulness helps us focus on God's faithfulness when we feel anxious.
"And let your living spill over into thanksgiving" (Colossians 2:7 MSG).
I love the simplicity of The Message in this verse. How purposeful are we about gratitude? When we cultivate grateful hearts, there is a natural overflow into the way we live.  Thankfulness becomes an organic way of being rather than a set activity or action.
"Let the peace of Christ rule in your hearts, to which indeed you were called in one body; and be thankful. Let the word of Christ richly dwell within you, with all wisdom teaching and admonishing one another with psalms and hymns and spiritual songs, singing with thankfulness in your hearts to God" (Colossians 3:15-16).
This passage on thankfulness focuses on characteristics of the body of Christ and the power of God's word within us.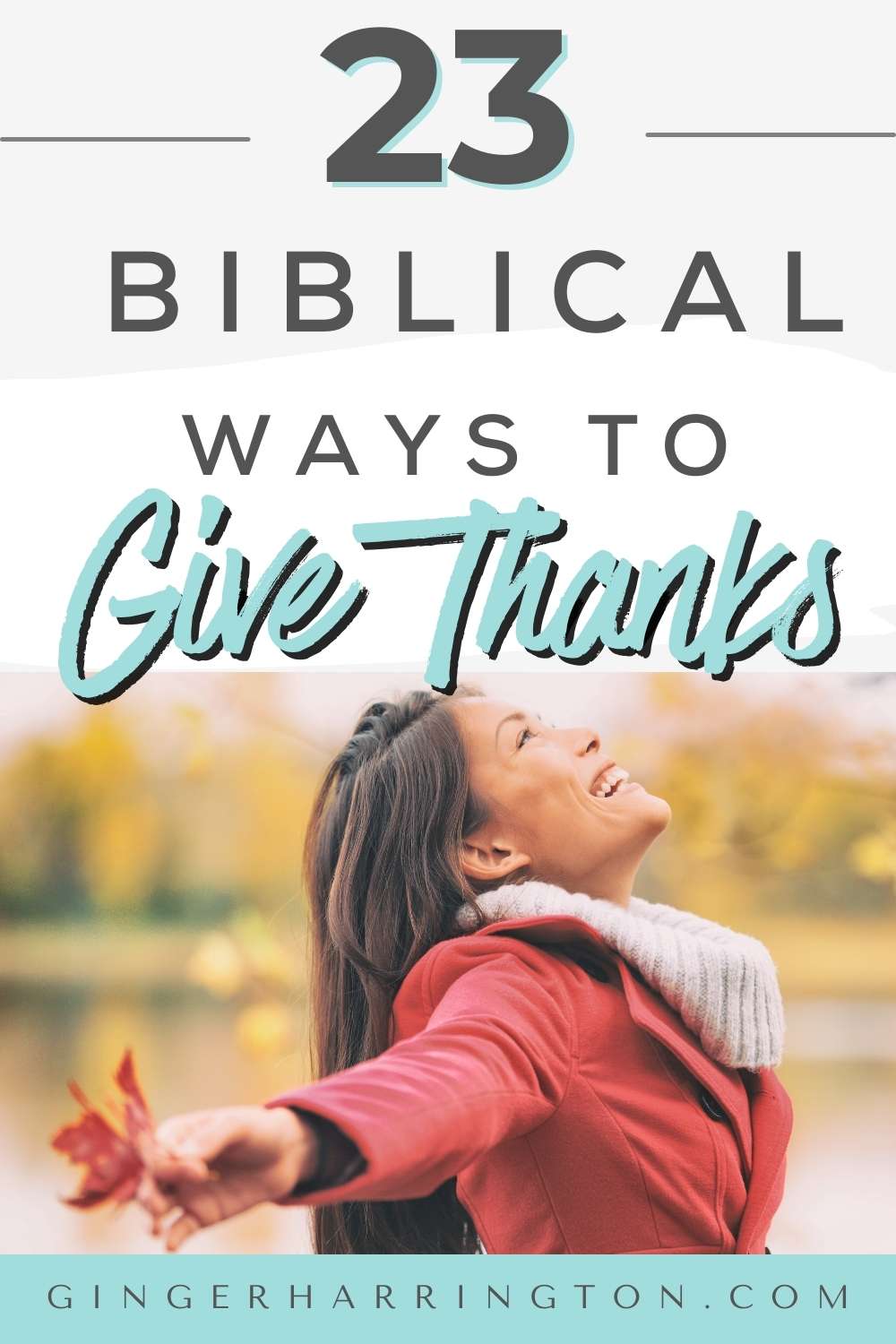 "Whatever you do in word or deed, do all in the name of the Lord Jesus, giving thanks through Him to God the Father" (Colossians 3:17).
Honoring Jesus through motivation and gratitude is a habit to infuse all of life.  Whatever you do in word and deed—that covers it all. This verse shows us that gratitude should be a natural part of our life with God.
"Continue steadfastly in prayer, being watchful in it with thanksgiving." (Colossians ESV 4:2).
In this instruction on effective prayer, Paul encourages believers to develop a consistent prayer life with a thankful heart. Prayer and giving thanks are paired together, highlighting the importance of gratitude to God.
"Rejoice always, pray without ceasing, give thanks in all circumstances; for this is the will of God in Christ Jesus for you" (1 Thessalonians 5:16-18 ESV).
The words "always," "without ceasing," and "in all circumstances" point to a prayerful way of living that includes joy and thankfulness no matter what challenges we face.
"First of all, then, I urge that supplications, prayers, intercessions, and thanksgivings be made for all people, for kings and all who are in high positions, that we may lead a peaceful and quiet life, godly and dignified in every way. This is good, and it is pleasing in the sight of God our Savior…" (1 Timothy 2:1-3 ESV).
Supporting leaders in prayer is an important role for believers. We may not always agree with the decision's leaders make, but they need God's guidance and help. It's interesting that praying for leaders includes gratitude.
Building the Spiritual Habit of Giving Thanks in Your Life
Cultivating a thankful heart impacts our lives in countless ways. It isn't always easy to choose to give thanks, but it is an important spiritual habit to pursue reaping mental, physical, and spiritual benefits drawing us into a deeper life with God. Which of these verses could help you have a more thankful life? Leave a comment and share what resonates with you about gratitude today.
Download Your Free Gratitude Challenge Journal
Challenge yourself to apply the tips in this post with your free gratitude journal. 30 days of prompts and encouragement to cultivate a more grateful heart. Join thousands of readers who have benefitted from this simple resource. Download and print your copy today!

Related Posts
References
Dr. Caroline Leaf, Switch on Your Brain:The Key to Peak Happiness, Thinking, and Health (Includes the '21-Day Brain Detox Plan')
The Top 10 Scientific Benefits of Gratitude
Can Expressing Gratitude Improve Your Mental, Physical Health