Loving summer! School is out and the kids are home.
We love lazy days of summer where  soft sand calls our name, lulling us with invitations to spend the days swimming or combing beach for sea treasures. Camps, activities and vacations beckon us toward memories to be made for a lifetime.
Whether your calendar is brimming with plans or open to quiet days, summer provides a chance to take a deep breath of the soul. [tweetthis]Enjoy a change of pace and refresh your spiritual routine.[/tweetthis]
The purpose of spiritual refreshment is to reframe our perspective, opening up our spirits to enjoy God afresh. Too often, we make our spiritual lives complicated, heaping on guilt, and trying to earn what we've already got. We can get bogged down and feel stale instead of inspired.
This summer, relax and relate to God in some new ways. Let relationship overtake routine and reconnect with God.
Draw near to Him and He WILL draw near to you. (James 4:8).
Try these ideas for enjoying God in the midst of your summer days. Mix it up and let go of any misplaced pressure to devotional duty. Refresh by spending time with God in different ways. The intent of this list is not just another thing to do–we've got more than enough of that.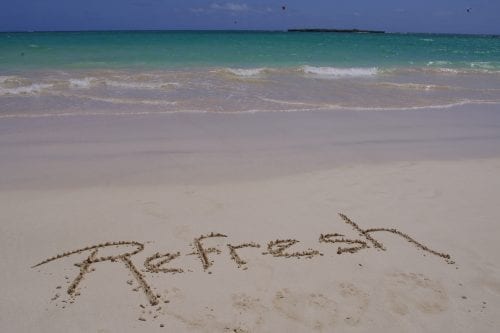 [tweetthis]21 ways to refresh your spiritual routine this summer.[/tweetthis]
Try a new devotional.
Read a Psalm every day.
Take a regular prayer walk.
Look with new eyes–worship with your camera to appreciate the beauty of life.
Embrace goodness–keep a running list of joyful moments.
Write thankful notes to God on slips of paper and place in a pretty container.
Pray Scripture– soak in truth, letting your prayer be guided by God's Word.
Make a spiritual scrapbook–collect scriptures, insights, moments, and pictures.
Sit with Jesus on your porch–practice the art of being still.
Hang out with friends with intentional conversation of truth and joy.
Read a spiritual book as a family or gathering of friends.
Rest–invite Christ into your rest and be intentional about recharging.
Lay on your back, watch the clouds drift by and talk to God from the heart.
Expect God–look for God moments in your day.
Let go of one thing that has been causing stress by releasing it to God.
Celebrate life and cherish love.
Practice meditating on Scripture–it's easier than you think!
De-clutter your mind and schedule.
Laugh loud and look at life from the perspective of a child.
Download this content in Ginger's  Summer Soul Refresh, one of the free resources in the Subscriber Library!